Who's Who In The Aaron Hernandez Murder Trial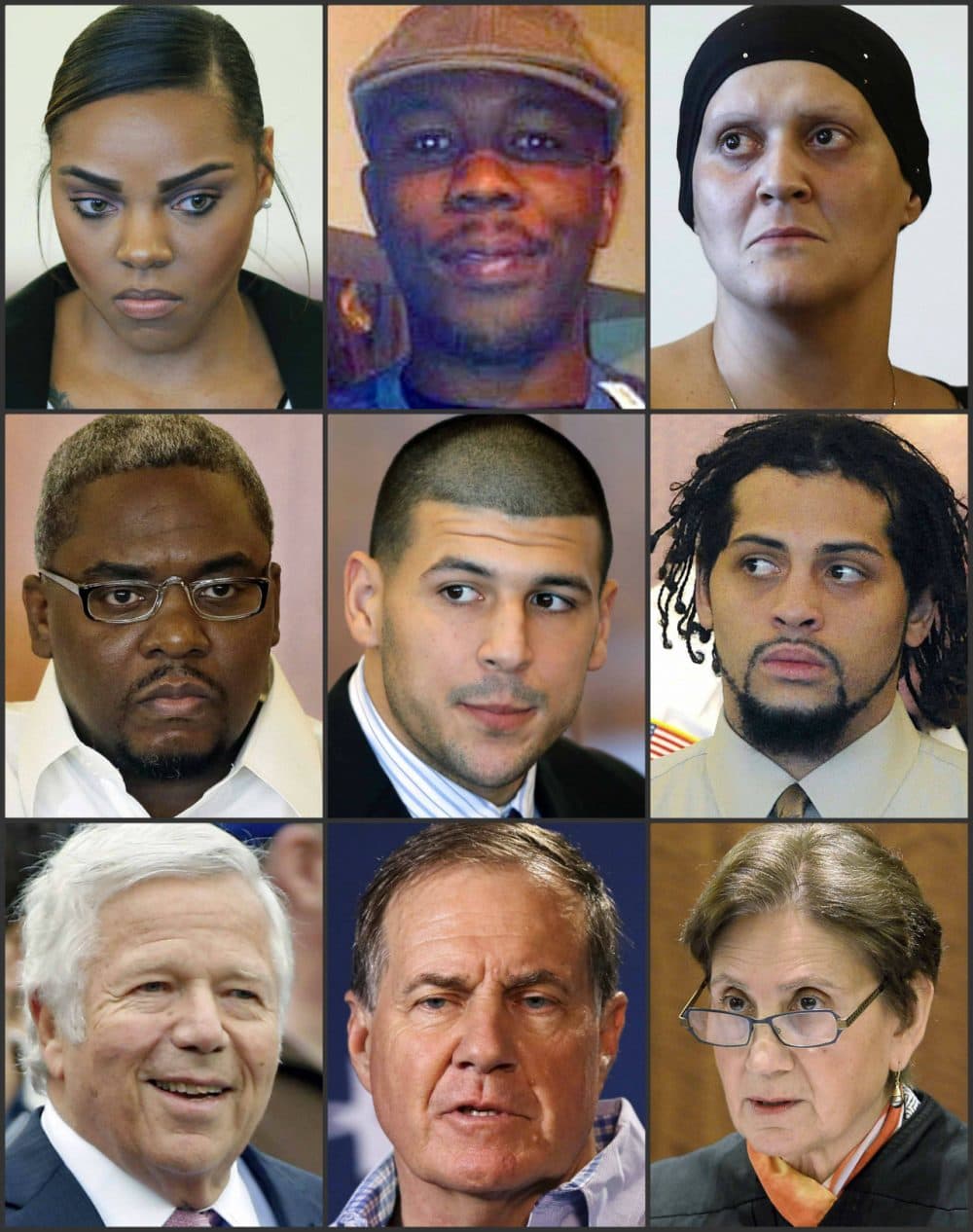 This article is more than 6 years old.
With a jury seated, opening arguments are set to begin Thursday in Fall River in the trial of former New England Patriots player Aaron Hernandez, who is charged with the 2013 killing of Odin Lloyd, a 27-year-old semipro football player from Boston.
Here is a look at the key people likely (or less likely) to take part in the trial, which is expected to last between six and 10 weeks.
---
Aaron Hernandez
The Defendant
Who is he? The 25-year-old was a star player with the Patriots with a $40 million contract when, prosecutors say, he killed Odin Lloyd. Hernandez has pleaded not guilty. He has also pleaded not guilty to murder charges stemming from a 2012 double slaying in Boston, where he is accused of killing two men after someone accidentally spilled a drink on him at a nightclub. No trial date is set in the Boston case, and prosecutors in the Lloyd case will not be allowed to tell the jury about the double slaying.
Related:
---
Odin Lloyd
The Victim
Who is he? Lloyd, 27, was a semipro football player for the Boston Bandits and was dating the sister of Hernandez's fiancee, Shayanna Jenkins. He was found shot to death June 17, 2013, in an industrial park near Hernandez's home in North Attleborough, Massachusetts. Investigators believe he was killed with a .45-caliber Glock, which has never been found.
---
Ernest Wallace and Carlos Ortiz
Alleged Accomplices In Lloyd Murder | Potential Witnesses
Who are they? Both men have pleaded not guilty to murder. They hail from Hernandez's hometown of Bristol, Connecticut. Prosecutors say they and Hernandez picked up Lloyd shortly before he was killed. They are not listed as witnesses by the prosecution but could be called by the defense. They will be tried separately.
Related:
---
Shayanna Jenkins
Defendant's Fiancee | Potential Witness
Who is she? Jenkins, Hernandez's fiancee, is charged with perjury and has pleaded not guilty. Prosecutors have said she lied dozens of times to a grand jury investigating Lloyd's killing. Jenkins is listed on the prosecution's list of potential witnesses, and prosecutors petitioned the court to grant her immunity for the murder trial. The matter was sealed, and the outcome of the request was not clear. Jenkins and Hernandez have a 2-year-old daughter together.
Related:
---
Tanya Singleton
Defendant's Cousin | Faces Charges
Who is she? Singleton, Hernandez's cousin, has pleaded not guilty to conspiracy to commit accessory after the fact. Singleton, of Bristol, pleaded guilty last year to criminal contempt for failing to testify before the grand jury, and she was given probation. A judge spared her prison time because she's being treated for advanced cancer.
Related:
---
Bristol County Superior Court Judge Susan Garsh
Trial Judge
Who is she? Garsh has been a judge for more than 20 years after being appointed to the bench in 1993 by Republican Gov. Bill Weld. Prosecutors had asked Garsh to step aside from the case because they said she had an antagonistic relationship with prosecutor William McCauley. Garsh declined.
Related:
---
James Sultan, Charles Rankin and Michael Fee
Defense Team
Who are they? James Sultan and Charles Rankin lead the firm Rankin and Sultan and are highly respected criminal defense lawyers. Michael Fee, a former federal prosecutor, is a well-known defense attorney mostly focusing on white-collar crime and business matters.
---
William McCauley, Patrick Bomberg and Roger Michel
Prosecutors
Who are they? Assistant District Attorneys William McCauley, Patrick Bomberg and Roger Michel are the lead prosecutors on the case. There was recently a change atop the Bristol County office, as Thomas Quinn is now the district attorney.
Related:
---
Robert Kraft and Bill Belichick
Patriots | Possible Witnesses
Who are they? New England Patriots owner and coach. Both are listed as a potential witness for the prosecution. It's not yet known whether either will be called.
Related:
---
Mike Pouncey and Brandon Spikes
NFL Players | Potential Witnesses
Who are they? Pouncey, a center for the Miami Dolphins, and Spikes, a Buffalo Bills linebacker this past season, are also listed as potential witnesses for the prosecution. The two played football with Hernandez at the University of Florida. Spikes also played with Hernandez on the Patriots.
Produced by WBUR's Alyssa Creamer