Gov. Baker Wants To Overhaul State Medicaid Program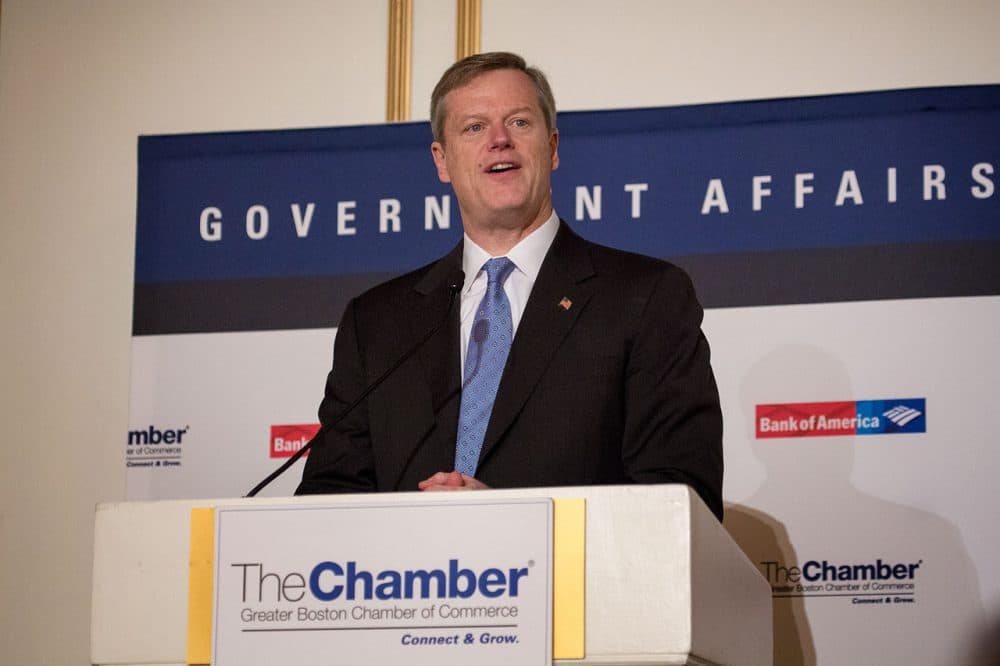 This article is more than 6 years old.
Gov. Charlie Baker said Thursday that overhauling the MassHealth program will be an early priority as he looks ahead to crafting his budget proposal for the new fiscal year.
Baker said spending on MassHealth, the state's Medicaid program, has surged ahead of other health and human service programs and is growing at an unsustainable rate.
Baker told the Greater Boston Chamber of Commerce that one problem is individuals who are enrolled in both MassHealth and private insurance plans because no one from the state has contacted them. He said the state has to work to find double-enrolled individuals and remove them from the program.
He said spending on the program was going up 13 percent this year, while other health and human service programs were going up by about 2 percent.
"If we don't solve that problem, we're going to create problems everywhere else," he said.
Baker released a plan Tuesday designed to plug an estimated $768 million budget gap - a combination of spending cuts and additional revenue, including diverting capital gains taxes intended for the state's rainy day fund. But he will need legislative approval for some of his plan.
Baker said the proposal will help lay the groundwork for his budget plan for the new fiscal year that begins July 1.
The Republican said his goal as he works with the Democratic-controlled Legislature to finalize a spending plan for the 2016 fiscal year is to "make sure we put together a budget that actually creates a sustainable platform."
Baker also said during his breakfast address he plans to meet with governors from neighboring states soon to discuss energy policy.
He said energy prices in the region are higher than in other areas of the country in part because the region hasn't created the capacity to sufficiently handle the demand.
Addressing the cost of health care, Baker said he wants to push forward with a campaign promise to make it easier to compare costs from different hospitals and other health care providers. The former Harvard Pilgrim Health Care CEO said the cost for the same medical procedure can vary by as much as 400 percent in the same region based on the provider.
He said there needs to be a way to shine a light on those differences.
Asked about the troubles plaguing the MBTA this week following two big snowstorms, Baker said he's anxious to sit down with his Secretary of Transportation Stephanie Pollack to review the situation with the public transit system.
Baker said lawsuits are holding up manufacturing of new Red and Orange Line trains to replace aging ones that are prone to breaking down.
But he said he wants to get a better handle on the problems with the MBTA "before we hit the revenue button."
Baker has repeatedly said he is opposed to new taxes.
Baker also said his proposed $40 million in cuts to transportation funding included in his budget-balancing plan won't hurt MBTA service.
MBTA General Manager Beverly Scott said Tuesday that of the $40 million, $12 million would come from the MBTA, but she said the cut wouldn't erode service.