Saxophonist Donny McCaslin Continues To Push Jazz's Boundaries With EDM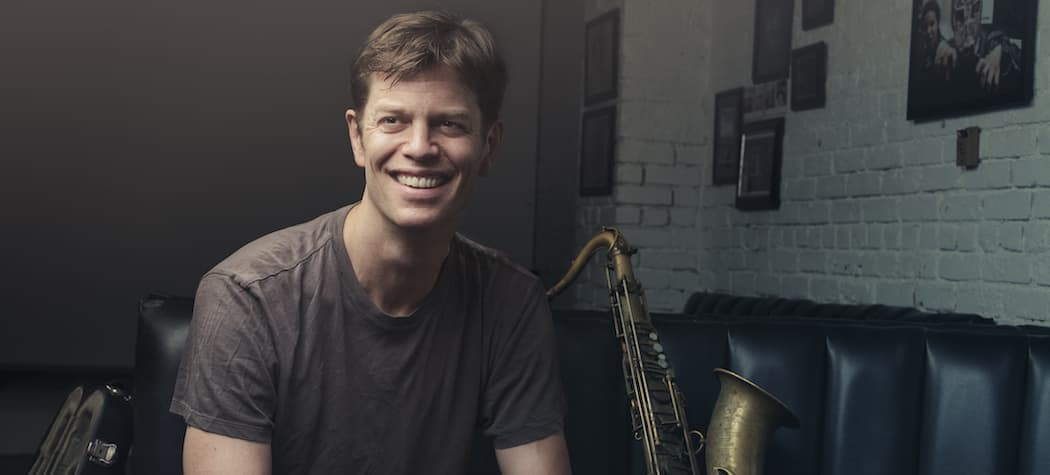 This article is more than 6 years old.
Electronica/EDM (Electronic Dance Music) has moved past remixed DJ tracks and the mainstream "rave" music it is often associated with. It has become more than just the umbrella of house, techno, trap, dubstep and trance genres that falls under it.
Jazz saxophonist Donny McCaslin has proved this with his new record, "Fast Future" (set to release on March 31), inspired by EDM artists ranging from Aphex Twin to Ellie Goulding. The album dives deeper into the realm of integrating electronica with jazz, a territory that has not been explored by many artists and that exposes new listeners to this modern jazz genre.
This is the second EDM-influenced jazz record for McCaslin, who will be performing these songs for the first time at the Regattabar in Cambridge on Feb. 12. His 2012 album, "Casting For Gravity," one that earned him a 2014 Grammy nomination for "Best Instrumental Jazz Solo," was the first time he explored integrating electronica/EDM into Jazz. "Fast Future" follows the same lead, but goes beyond, especially in the record's production.
"I think the [electronic] influence is more overt on 'Fast Future,'" McCaslin says in a phone interview from New York City. "It's mining a territory that has not really been explored too much, this meeting between improvised music and EDM. I think it's a really interesting record in that realm."
The electronic beats smoothly sink in with McCaslin's saxophone melodies followed by electric piano chords and drumbeat tempos played by McCaslin's bandmates — keyboardist Jason Lindner, bassist Tim Lefebvre and drummer Mark Guiliana. McCaslin's record producer, David Binney, also provides some vocals on a few of the tracks. Though the EDM influence plays a key role throughout the album, the jazz element remains prevalent—it's redefined jazz inspired by EDM. Here's "Alpha and Omega" (a Boards of Canada cover) from "Casting For Gravity," where McCaslin adds his hypnotizing saxophone tunes, giving a jazz feel to an electronic track:
McCaslin isn't the first artist to incorporate jazz into electronic music. Big Gigantic, an EDM group composed of saxophonist Dominic Lalli and drummer Jeremy Salken, integrate electronic beats with live instrumentals. They have over 100,000 Soundcloud followers and play in large, sold-out music festivals. Last April, EDM artist Pretty Lights performed with the Preservation Hall Jazz Band at Jazz Fest by Nite in New Orleans.
So what makes McCaslin different from these EDM artists?
He wants to expose the EDM audience more to jazz, the often forgotten genre among the younger generation. Other EDM artists have instrumental and some jazz influence in their music, but they are still heavily electronic based, where the jazz aspect gets lost.
"I mean this is just the music that I am into and trying to express myself through. With that being said, I think this music definitely can reach beyond the typical jazz audience, now especially the younger audience who maybe have not even been exposed to jazz." McCaslin says.
"I got a lot of feedback on my last record from folks who kind of fell into that category of people who didn't necessarily, well how would I put it, they were just excited on this kind of exploration of electronica and improvised music. So I'm hoping ['Fast Future'] would be a continuation of that and it can have a farther reach than just the mainstream jazz audience and get people excited about interesting combinations and genres."
When writing the record, Skrillex, Ellie Goulding, Deadmau5 and Knower were a few artists who inspired McCaslin. He found compelling tunes and vibes from each, listening to these artists' records on repeat until he was fully able to understand, get inspired, and absorb it.
For example, the track "Love What Is Mortal" was written with Ellie Golding's "Burn," a pop-EDM song, in mind. The album features a cover of "Cymru Beats" by Aphex Twin, an artist who has greatly influenced McCaslin over the years. He replaces Twin's piano chords with saxophone sounds, adding his own jazzy spin to the song. He also covers "No Eyes" by Baths, an LA-based musician named Will Wiesenfeld. McCaslin calls it "a pretty compelling track" that isn't a jazz song but contains EDM elements with improvisation.
As a Berklee alum and an instructor at New England Conservatory for four years, he is excited to bring his music to Boston, a city that had profound influence on his musical career for over 30 years.
"I was getting put into a lot of situations with big band gigs, funk gigs, just sort of all over the map musically," McCaslin says about his time in Boston as a Berklee student in the late '80s. "It was great to have access to that kind of musical community when I was in my formative years."
"I think EDM is just a different blanket for me to wrap around myself in and for me to express myself with and improvise in. The jazz influence for me is the improvising but the blanket around that is the sonic landscape of EDM."
Katherine Lam is an editorial intern at The ARTery. She is currently a fourth year undergraduate at Boston University studying International Relations and Journalism. Read more of her work at katherinelam.co