Watertown First Responders Honored For Confrontation With Bombing Suspects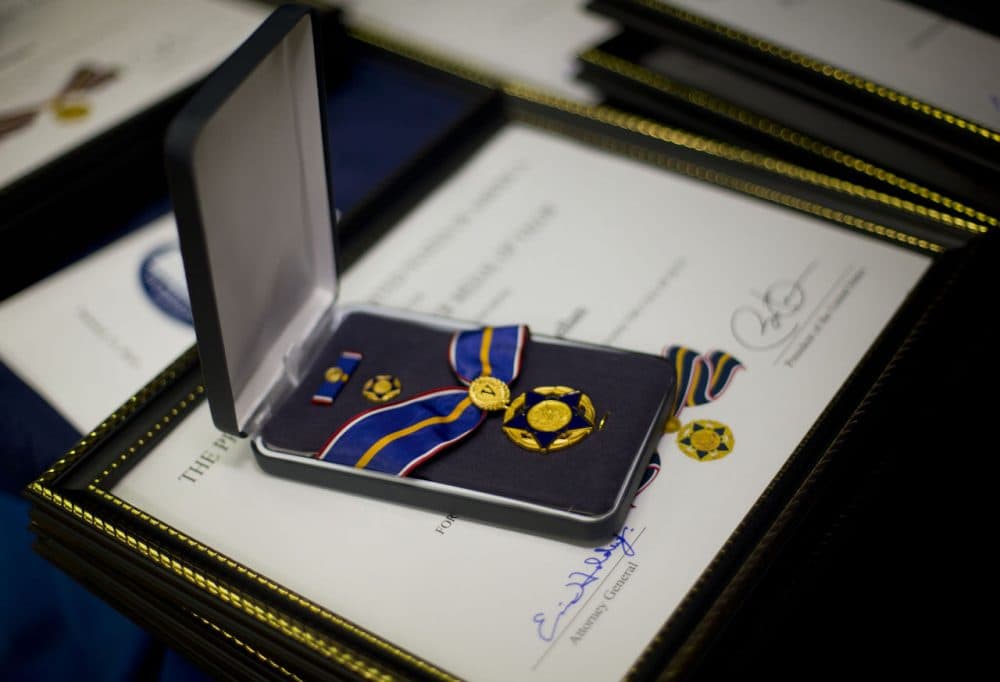 This article is more than 6 years old.
Several first responders from Watertown were among those who received the Public Safety Officer Medal of Valor at the White House Wednesday morning for their actions during a confrontation with the Boston Marathon bombing suspects in 2013.
"Today we honor you, not just your bravery, but your professionalism, your commitment, your example," Vice President Joe Biden said during the ceremony.
"Every one of you acted consistently with your training, and above your training," he added.
The medals were given to the honorees by Biden and U.S. Attorney General Eric Holder. Two of those honored at the ceremony were killed in the line of duty.
In an interview Tuesday, Watertown Police Chief Ed Deveau said his honored officers are among only 95 people ever to receive the medal.
"To have five of my officers be recognized by the vice president and the attorney general, I'm just so proud, I'm like a proud father," he said.
Sgt. John MacLellan said he's humbled to be honored, and believes all of the officers who responded to calls for help on April 19, 2013, should be recognized.
"You know, I just wish they were all standing right next to me, I wish I could thank every single one of them," he said Tuesday.
Two Watertown firefighters were also honored for rescuing a police officer injured at the scene.
With reporting by WBUR's Daniel Guzman
This article was originally published on February 11, 2015.