Snow, Winds Strike Mass. Again; Very Cold Lingers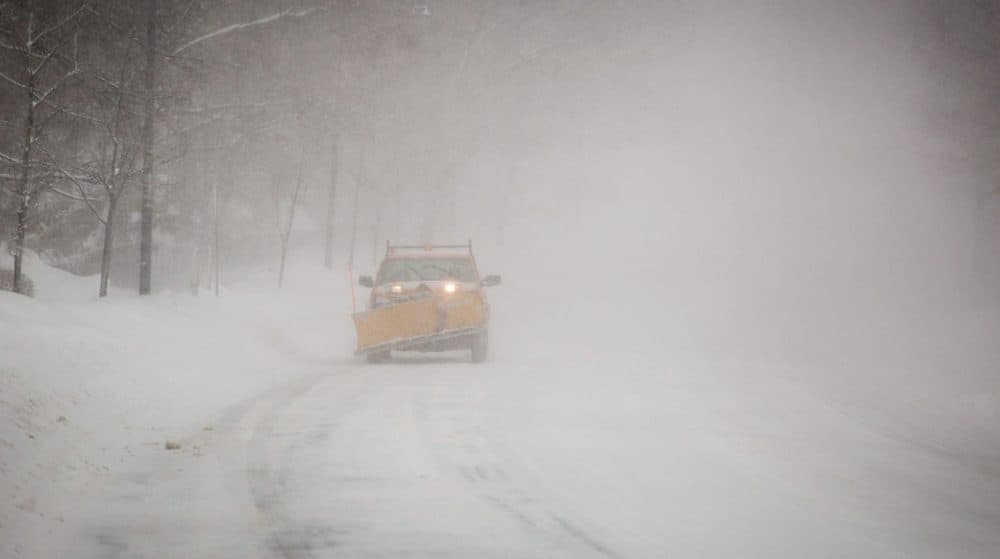 This article is more than 7 years old.
Another snowstorm swept through weather-weary Massachusetts on Sunday, bringing heavy winds and dangerous cold for the overnight.
For parts of the state, temperatures are expected to be the coldest of the season, according to the National Weather Service. A wind chill warning is in effect until 10 a.m. Monday.
"We're dropping below zero and wind chills will be dropping to 20 below and maybe minus-25 by morning," National Weather Service meteorologist Bill Simpson told The Associated Press on Sunday. "People should take it seriously. It is the coldest in Massachusetts in many years."
Another 13 inches of snow fell on Boston Saturday night and Sunday. With just under 96 inches so far, it's now the third-snowiest season in Boston history. The winter of 1995-1996 holds the record with 107.6 inches.
Other towns recorded nearly 2 feet of snow by midday Sunday.
"There's a little bit of deja vu all over again in this," Gov. Charlie Baker said Sunday morning, referencing the spate of storms that have whacked Massachusetts in recent weeks. He had not imposed a driving ban, but urged people to stay off the roads Sunday.
Baker also encouraged residents to clear their roofs as soon as it is safe to do so, adding that there had been four roof collapses as of noon Sunday.

All MBTA service was suspended Sunday because of the storm. The transit agency has struggled mightily with the recent winter conditions.
On Sunday evening, the T announced it will run limited rail and bus service on Monday, President's Day. (See here for more.)
There were no scheduled flights at Logan Airport Sunday morning, with flights coming back as the storm moved away in the early afternoon.
Ahead of the storm, forces gathered to remove piles of snow and ready for the next round.
Massachusetts called up hundreds of National Guard troops to assist with snow removal, and the Hanscom Air Force base outside Boston became a staging area for heavy equipment pouring in from eight other Northeast states to help in the effort.

State officials urged people to clear snow from their outdoor heating vents and to shovel out cars' tailpipes before turning them on to avoid carbon monoxide poisoning.
The Boston Public Health Commission reported nine people had been hospitalized for carbon monoxide poisoning between Jan. 26 and Feb. 12.
Dr. Huy Nguyen, the commission's interim executive director, said heavy snowfall can clog vents, and when heating systems fail, people tend to look for alternatives.
"This includes using their ovens, their gas winches," Nguyen said. "Sometimes people use charcoal grills, their camp stoves, their non-vented fireplaces...and these are particularly dangerous ways to heat your home, because they are a very big source of carbon monoxide poisoning."
On Sunday afternoon, Boston Mayor Marty Walsh asked people to stay home and remain patient as the city digs out again.
"This has been now nearly a month's worth of snow that we're getting here, one weekend after another," Walsh said. "I know it's getting frustrating for everyone. It's getting frustrating even for myself."

He said a snow emergency and parking ban would continue.
In South Boston, many two-way streets were turned into one-way streets, with even-numbered streets blocked to eastbound traffic and odd-numbered streets blocked to vehicles going westward.
Walsh said that the experiment in Southie could be applied in other parts of Boston.
"Other neighborhoods aren't shaped like a grid, though, so South Boston is like a temporary test case for us to use," Walsh said.
Gov. Baker asked residents to remember that while the winter seems endless, spring is coming next.
"I think it is important for all of us to remember this," Baker said. "It's 58 days until Opening Day at Fenway Park."
With reporting by the WBUR Newsroom and The Associated Press
This article was originally published on February 15, 2015.