At The MEMA Bunker: Hoping For The Best But Prepared For The Worst
04:56
Play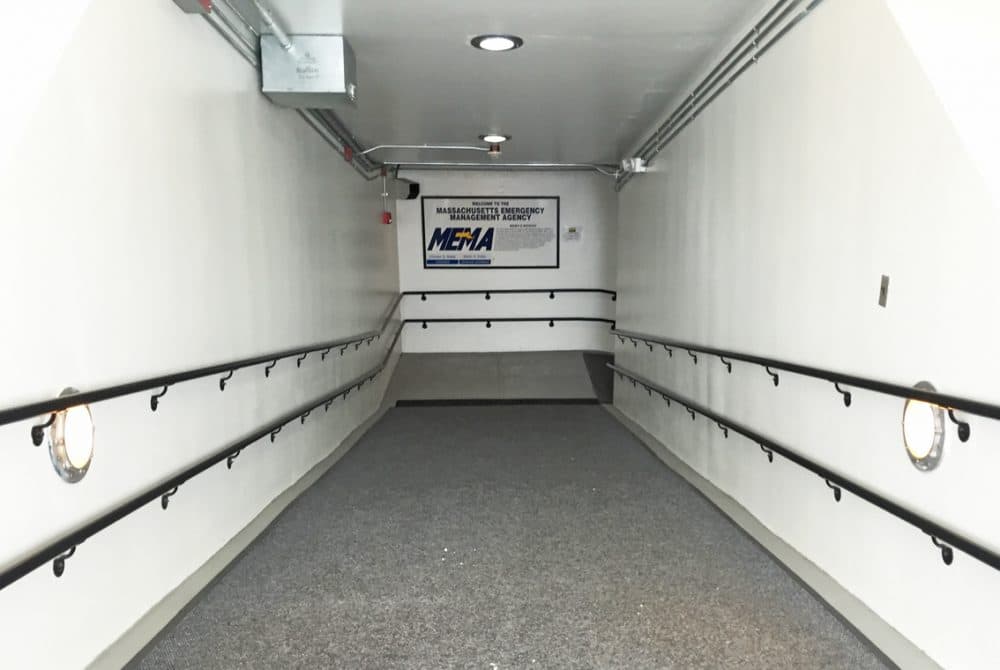 This article is more than 6 years old.
As Massachusetts continues to dig out from the historic snowstorms that have bombarded the state recently — the latest left Sunday evening — it's been business as usual at the bunker -- ground zero for the Massachusetts Emergency Management Agency.
If it weren't for the three giant communication towers and tall flag poles, it would be easy to miss the nondescript granite block house along Route 9 in Framingham where workers coordinate the state's response to freezing storms, natural disasters and other crises.
A series of ramps leads down to the bunker and at the bottom, 40 feet below the surface, is something you don't see every day.
The solid steel blast door, open during even the worst of storms, weighs nearly three tons. If it's ever closed, it means it's a very bad day.
"The building was built with the idea of a potentially atomic blast in the Greater Boston area," explained Peter Judge, MEMA's public information officer. "So the building, although it's an acre in size, is actually on springs."
The bunker was built half a century ago at the height of the Cold War during the Cuban Missile Crisis. A picture of JFK and a letter from the White House dated Nov. 22, 1963, are on the wall near the receptionist's desk.
"President Kennedy, it was sort of his brain child. He felt every state should have a facility for continuity of government in case the worst happened," Judge said. "So 10 days before he was assassinated the building was dedicated."
The doomsday facility was built to accommodate 300 people — the governor and state officials for up to 30 days. There's a kitchen and cafeteria, barracks with bunk beds and extra cots and blankets. There's a special high security room, sort of a bunker within the bunker, for the state's director of public safety.
"We looked at some of the original blueprints in here and what are now offices at one point there was a birthing room, there was a chapel," Judge said. "It's pretty self sufficient."
Electricity to the bunker comes from two separate power sources from the above-ground grid, but just in case they're knocked out there are three fail-safe diesel generators that back up each other, and a month's supply of fuel.
Freshwater for the subterranean shelter comes from two 40-foot deep wells.
Judge says the bunker was designed with life and death in mind.
"They figured out just the stress of the situation at least two people would probably die of natural causes during that 30 day period, so in that regard we have our own two body morgue here," Judge said. "I mean, right now we have just some storage, paint supplies in there, but it actually could function if necessary.
"To the best of my knowledge over the 50 years it's been here it's never been utilized," he added.
The heart of the bunker is a large room with huge video screens and desks in a semi-circle, where officials from state agencies can monitor everything from helicopter surveillance cameras to state parks. It's like something out of the Cold War movie "Dr. Strangelove." (Although on these stormy winter days it's more like Dr. StrangeGLOVE.)
"We gather all the information here whether it be media or direct phone calls or radio broadcasts or scanner activity, and then we do the nuclear power plants as well," communications supervisor Paula Cutten said. "We monitor all three nuclear power plants and we can set the sirens off if we need to, and then we push it up the chain depending on the standard operating procedures."
The state emergency bunker operates 24/7/365 — watching, waiting and responding. It's serious business, but above a computer screen in the communication center is a beach ball. Stress release, Cutten says.
"Some days when you have long activation and you're here 12, 16, 24 hours, it tends to wear on you a little bit. But on a day to day, it's like a job anywhere else. We come in, do our job and go home at the end of the day... hopefully. Some days we don't," she said, laughing.
Hoping for the best but prepared for the worst at the Massachusetts Emergency Management Agency's bunker.
This segment aired on February 16, 2015.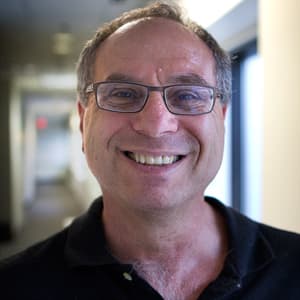 Bruce Gellerman Senior Reporter
Bruce Gellerman is an award-winning journalist and senior correspondent, frequently covering science, business, technology and the environment.