'Uncle Jack' Loads Up The Van And Moves Chekhov To The Berkshires
This article is more than 8 years old.
Chekhov has been hopping stateside vacation spots this season. Christopher Durang's "Vanya and Sonia and Masha and Spike" planted a few of the Russian master's creations in a country house in Buck's County, Pennsylvania. Now, in "Uncle Jack," accomplished actor/director and fledgling playwright Michael Hammond transfers "Uncle Vanya" to modern day and the Berkshire hills, where a familiar cadre of characters are gearing up for the 23rd season of a venerable theater company that might as well be called Chekhov & Company. What next for the holidaying Russian? The Hamptons? The Vineyard? Orlando?
Unlike Durang's Tony-winning comedy, "Uncle Jack" is neither mash-up nor send-up. The play, which is in its world premiere courtesy of Boston Center for American Performance and Boston Playwrights' Theatre (at Boston University's Lane-Comley Studio 210 through March 1), is actually an ingenious, close-hewing "variation" on "Uncle Vanya" in which a floundering theater company housed on a bucolic Berkshire estate stands in for the denizens of the provincial plantation in the play Chekhov subtitled "Scenes from Country Life." It's questionable whether the transfer wholly works: If these people are so bored, why don't they hop in the car and head off to Tanglewood or the Berkshire Mall? Moreover, there is little evidence in "Uncle Jack" of the backstage workings of a theater company about to open its season. But turning Chekhov's characters into pompous or failed theater artists actually adds to their conflicts and pathos—and fits right in with their tendencies toward self dramatization.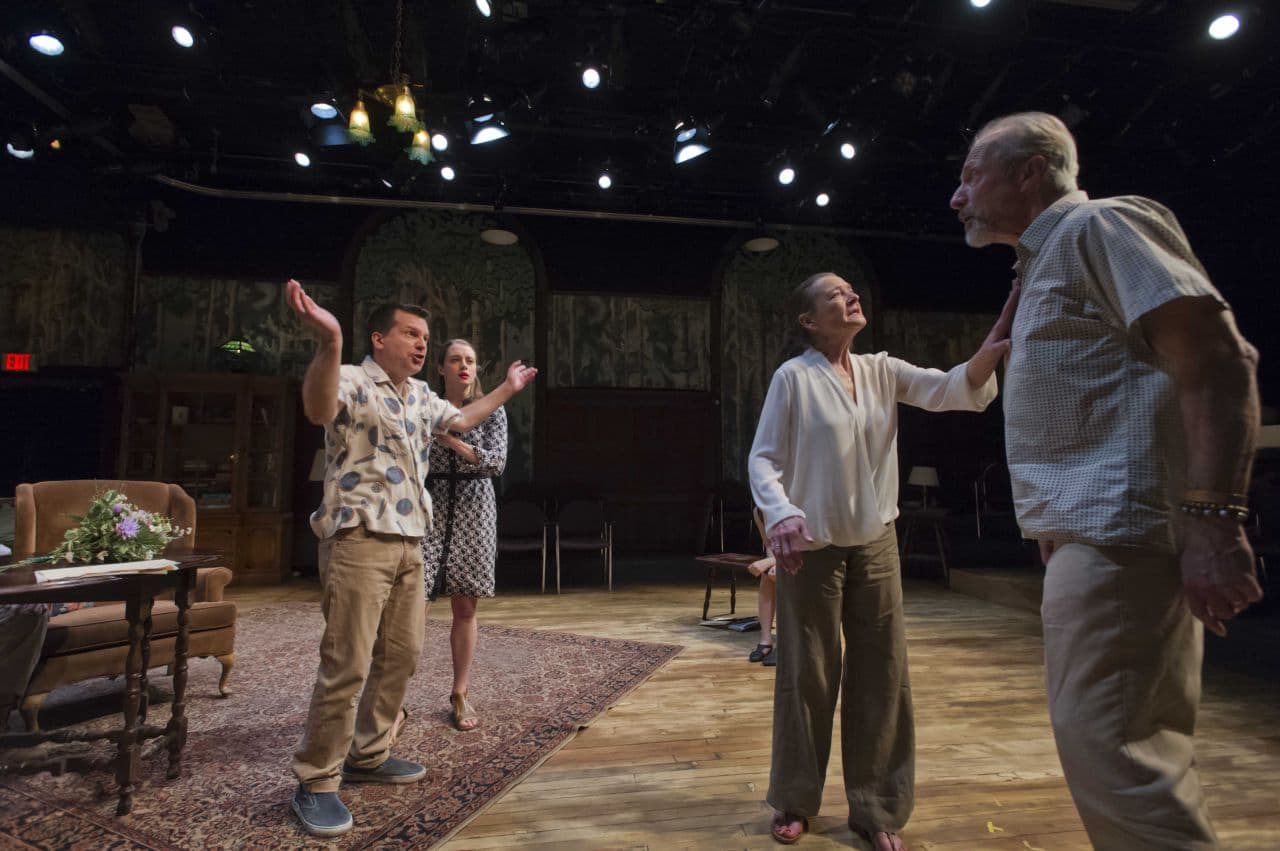 Hammond may not be Chekhov, but he has one leg up on the Russian writer: Rather then let some famed director frustrate him by turning his play all lugubrious, he helms it himself. And the production is assured and well acted, with both the audience and the scattered furnishings threaded into a setting by Courtney Nelson that wallpapers the playing space in towering Berkshire pines. Chekhov's freeloading hanger-on, nicknamed Waffles, is replaced here by a similarly self-effacing flake named Tug, who both maintains and worships the natural beauty of the estate. And indeed, the setting suggests both the makeshift, threadbare quality of the aging house and the natural grandeur of its locale (which, to the consternation of several characters, is being encroached on by developers).
The plot, well, the plot is lifted straight and fairly seamlessly from "Uncle Vanya." The embittered and depressive title character, managing director of the fictional theater company, and his business-manager niece, Sonya, are year-round residents of the estate (which bears some resemblance to Edith Wharton's Berkshire manse The Mount, where Shakespeare & Company, of which Hammond was a longtime member, was once housed). Now, however, summer has come, and the theater troupe's once visionary, now old and ill, artistic director, a conceited English émigré called Derek, has descended on the place with his lovely, languid, much younger wife, Elena. Rounding out the squabbling, unrequited group are disenchanted local doctor and crusading environmentalist Wolfe and the theater troupe's dramaturg, Clare, an Irish Catholic given to perusing Dante and doing philosophical battle with spiritual renegade Wolfe. Like Chekhov's play, Hammond's begins with an expository, intellectual chat between the visiting physician and Clare, standing in for Vanya's old nanny, Marina. But instead of presiding over the samovar, Clare is dispensing iced tea on a sultry afternoon.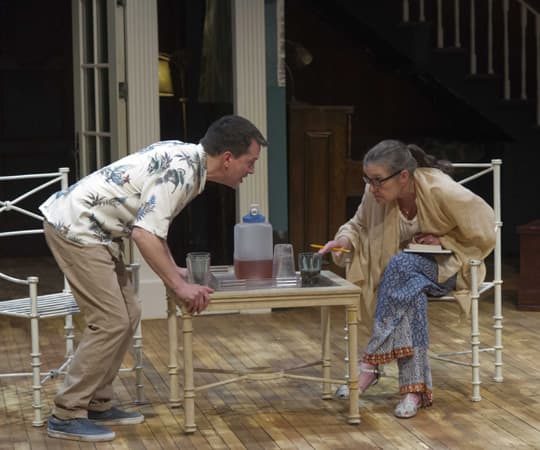 The beverage does little to cool down Uncle Jack, who is, as usual, infuriated by the flowery, crotchety and disruptive Derek and unhappily in love with the great man's wife. Echoing Uncle Vanya, Jack compares Elena to an exotic sea creature who, if she won't wriggle into his net, at least ought to swim off to warmer, more turbulent waters. Likewise smitten is Wolfe, who nonetheless finds the repressed Elena's beauty "problematic" and "misleading." Certainly the love object's motives are mixed: Sympathetic toward Sonya, who pines for Wolfe, she courts him on her stepdaughter's behalf while at the same time beckoning him to herself.
Inevitably, as in Chekhov's play, the love and resentments blow up and a firearm (of close to Chekhovian vintage) is brandished. But there are longeurs as the characters talk themselves silly, and the existentially inclined Wolfe's map-making hobby seem out of date. What Hammond does bring to the table is an interesting perspective on Jack, who here feels that, in addition to having wasted his life, he has wasted his talent—a bravely improvisatory one that one day went up in smoke, leaving him in terror. John Kooi's performance in the title role can be curmudgeonly and blunt, but his anguish and shame are moving.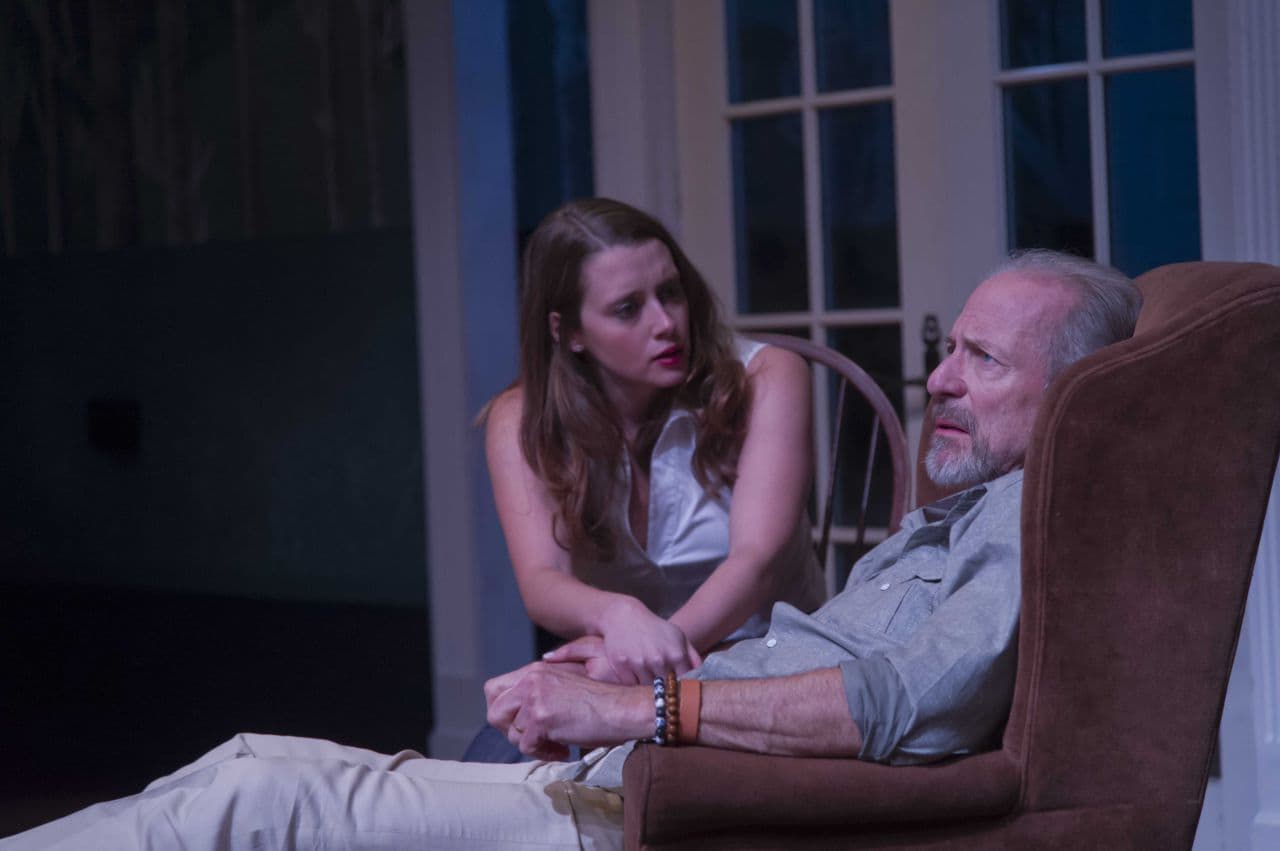 The other characters are similar to if less humanely etched than those of "Uncle Vanya." Derek, in the capable hands of Will Lyman, is a once charismatic artist gone to grumpy seed and such Shakespeare-inspired pronouncements as "Never trust a fairy whose name rhymes with 'fuck.'" Madeleine Lambert's voluptuous Elena sends all the right mixed signals, and BU School of Theatre senior Maria DeCotis is a touchingly earnest Sonya, who puts some soul into songs self-accompanied on the ukulele. Nancy E. Carroll brings her usual deadpan command to Clare, and Timothy Spears is amusingly spacey as the nature-loving Tug. What Hammond does with this reconfigured lot is undeniably clever. But it's hard to get the point of moving Chekhov's melancholy comedy from its natural habitat to a new neighborhood.
Carolyn Clay was for many years the theater editor and chief drama critic for the Boston Phoenix. She is a past winner of the George Jean Nathan Award for Dramatic Criticism.