'Screening Room': Alan Lightman Crafts A Captivating Narrative Out Of Memphis Childhood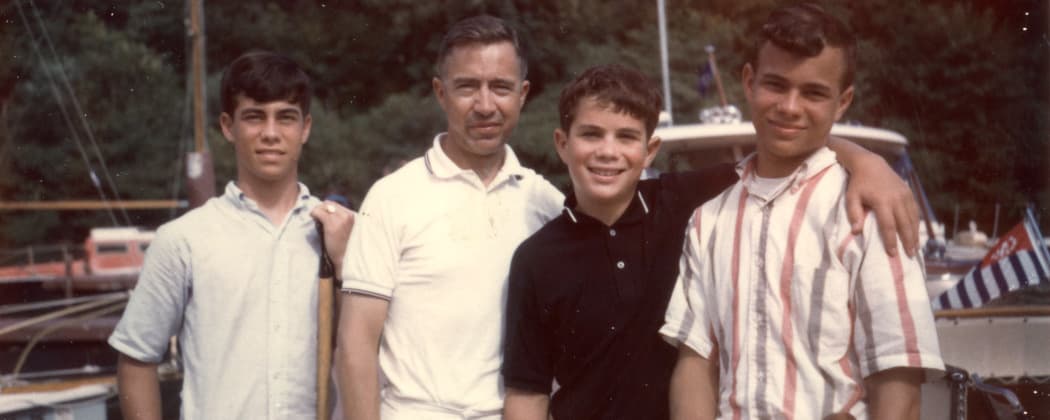 This article is more than 6 years old.
They say you can't go home again, but in his new memoir, "Screening Room: Family Pictures," Alan Lightman not only makes the journey, but turns it into a captivating narrative about his family and himself—as well as the Memphis he left behind four decades ago.
The literary trek left an indelible mark on the scientist and international bestselling writer.
"I think I have a much deeper appreciation of Memphis and the South as to how it shaped me, and of the rich character and the soul of Memphis," Lightman said, during a phone interview from his home outside Boston. "I also think I have a more nuanced understanding of my relationship with my father and my grandfather. That understanding definitely was transformed by the experience of writing the book."
The theoretical physicist turned writer is the author of six previous books, including "Einstein's Dreams" and "The Diagnosis," the latter a finalist for the National Book Award. He now divides his time between writing and teaching others how to do so at Massachusetts Institute of Technology, where he is known by the official title of professor of the practice of the humanities.
It was the death of an uncle about six years ago that took Lightman back to his family home in Memphis for what turned out to be a month-long visit and the jumping off point for the book. He'd been contemplating for a few years a memoir that would aid in sorting through the events of his life and the feelings they'd engendered.
"I'd wanted to write a book about Memphis for many years and also to explore more of the complex relationship between my grandfather, my father and myself," he said. "But I also wanted to write a book that involved storytelling that sort of revealed something about the culture of the South through personal stories. That was the impetus."
Impressionistic in form and divided cinematically into short chapters, or scenes, "Screening Room" moves back and forth in time as it tells the story of the Lightman family and the city of Memphis in the decades of the 1930s through the 60s. Recollections, family stories and present-day reflections paint a picture of a well-to-do family replete with the good times and travails its members have lived through.
The saga begins with the author's grandfather, M.A. Lightman, as complex a character as one would want to meet on the page or in real life. The founder of a movie theater empire, he was also a champion wrestler in college and a world-class bridge player who died when the author was 10. His domineering nature gives shape to the narrative just as it did those around him.
"I think I've seen him as a more complex person than I did before writing the book," Lightman said. "He was an enormously ambitious, but he was also very charming in person. Though I can't forgive him for what he did to my father. He treated our father like he was a bug, like he was an ant. And I don't know exactly why he did that. My father was a retiring man and a quiet man, and I think he was quiet from a young age, that was just his personality, very modest and quiet, and he was an easy target. My grandfather just crushed him."
Ultimately, Lightman comes to see his father as anything but weak. In fact, Richard Lightman, to whom his son dedicates this book, boldly desegregated the Memphis movie theater he ran in the 1960s, and was a man who led a life of quiet dignity and principles.
"The great tragedy of our relationship was that I was unable to convince him that I'd come to admire him," Lightman said.
His mother, Jeanne, was as outgoing as her husband was withdrawn. A dervish who gave such strenuous dance lessons that her young students were left gasping for breath, she was known for her fainting spells whenever things got too chaotic – "a very dramatic and theatrical phenomenon," as her son describes these episodes.
The memoir is full of such memorable characters, including Lennie, she of the five husbands, and a family maid, Blanche, who will steal your heart. Elvis makes a cameo along with other musicians and actors, as well as Martin Luther King, Jr.
Memphis serves not only as a backdrop for the story, but almost as a character. Lightman recalls its music scene, teenage hangouts, barbecues and the ever-present racial strife. It is the latter that soured him on the city and caused him to head north when it came time for college. By book's end, he comes to see his native city in a new light.
The book ends with the 2013 death of his father. In fact, the book was ready to publish about four years ago, but Lightman put on the brakes.
"I decided at the last minute it would be too upsetting to my father to publish it, so I put it on the shelf for three years," he said. The hiatus allowed him even more perspective, and the author subsequently added to his tale more about Memphis and his paternal forebears.
"Screening Room" is not a straight memoir: parts of the story are fictionalized and some characters are actually an amalgamation of several relatives. This helps make the story a real page turner, and at the same time allows Lightman to strike at a deeper reality.
"I wanted the book to have a literary quality to it, to be a book of storytelling," he said. "I wanted the book to feel like real life. When I partly fictionalize or embroider it's to bring out a larger truth and all of the main characters I tried to present as truthfully as I could."
Alan Lightman will appear at the Concord Bookshop on Thursday, March 5; Harvard Bookstore in Cambridge on Friday, March 6; and Porter Square Books in Cambridge on Tuesday, March 31. All events begin at 7 p.m.
More from John Winters at johnjwinters.com.