'Slope Fest': Lawn On D's Pop-Up Winter Playground At The Convention Center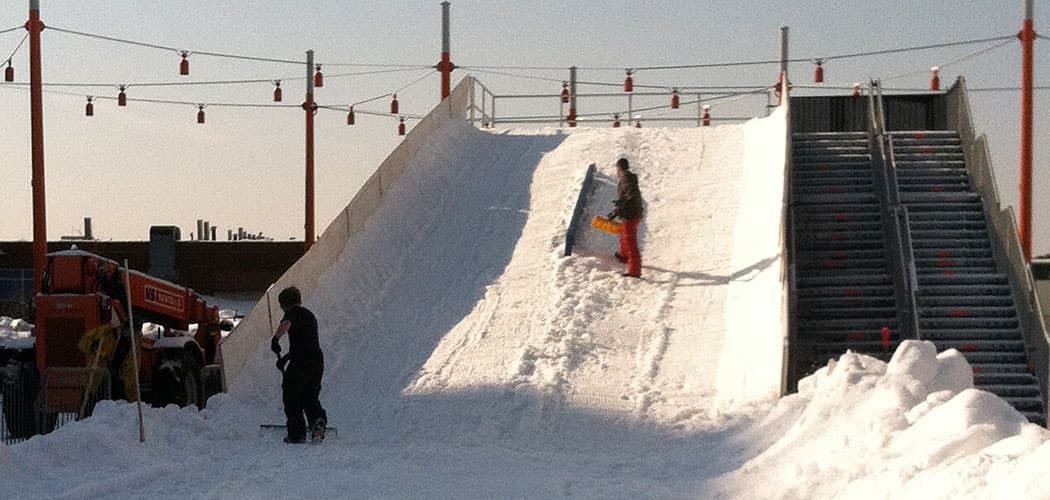 This article is more than 6 years old.
A two-story tall, 70-foot-long sledding hill appearing from scratch in Boston. Sounds like the sidewalk outside your home? No, it's this weekend's "Slope Fest," the latest pop-up, all-ages playground at Lawn on D, next to the Boston Convention & Exhibition Center.
The three-day winter festival at 420 D St. in Boston begins with "Rail Jam," a downhill winter sport exhibition by SnowRiders from 6 to 8 p.m. Friday and between 11 a.m. and 8 p.m. Saturday. Then the temporary slope is open to the public for snow tubing from 11 a.m. to 8 p.m. Saturday and Sunday. This is how it looks:

Last run for Sarah Grace @insufficient @MILLER_AL thanks @MassConvention @lawnond pic.twitter.com/B3JHb1g2nl

— meremiller (@meremiller) February 20, 2015

Tubing costs $3 for one run or $5 for two. Tickets can only be bought on-site. Youths younger than 18 must be accompanied by an adult.

"Slope Fest" also offers "a hot Latin dance party" with performances by MetaMovements; "winter activities for families and the young at heart"; "Frost Ice Bar," a bar carved out of ice serving beer and wine; and Bon Me and The Taco Truck food trucks.

Previous Lawn on D events have included the Jan. 2 and 3 "Fire & Ice Festival," which offered an ice maze for visitors to wander, and last summer's light-up swings for adults designed by Boston architects Eric Höweler and J. Meejin Yoon of Höweler + Yoon Architecture. It's all a project of the Massachusetts Convention Center Authority, which calls Lawn on D an 18-month try-out for its plans to develop year-round programming next the Boston Convention Center.

Greg Cook, co-founder of WBUR's ARTery, loves snow—no matter what you say. Join the winter manic on Twitter @AestheticResear or the Facebook.