The Boston Ballet Revives 'Lady Of The Camellias' — A Heartbreaker In Any Form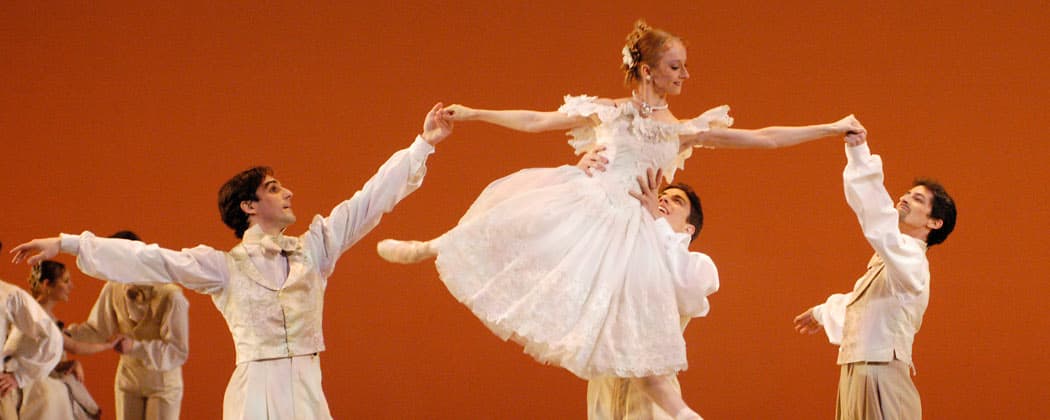 This article is more than 6 years old.
"Stop nattering at me, Barbara, I'm reading the plot of 'Giselle'!!"
Years ago at a Boston Ballet intermission, I giggled when I heard the pompous man behind me slap down his companion with this complaint. But hey, reading the plot of "Giselle" is hard work. I get that. And the payoff for studying up on story ballets isn't likely to be uplifting. The central character will be dead by the end, or turned into a bird and then killed, or cursed to a netherworld because she was left at the alter. But yes, Cinderella and Sleeping Beauty, happily ever after does sometimes happen in ballet — just not in this one.
The Boston Ballet revives its 2004 production of Val Caniparoli's "Lady of the Camellias" at the Opera House, Feb. 26 through March 8, and yes, the lady is dead by the final curtain. Should I have yelled "spoiler alert"? Well, fact is that if you haven't run into this story in some of its other forms and incarnations, maybe you'd be rooting for her to survive. But she's kind of sick and hacking and blotting at her mouth from the start, so if you don't see this Lady's demise coming, don't count on a career in medicine. By the way, the lead dancers for Boston's 11-day run, in the roles of Marguerite and Armand are: Kathleen Breen Combes with Yury Yanowsky; Erica Cornejo with Lasha Khozashvili; Ashley Ellis with Sabi Varga; and Anais Chalendard with Eris Nezha.
"Lady of the Camellias" is a story first told in the 1848 Alexander Dumas, fils, novel about a Parisian courtesan with expensive tastes (is that trait a given?) who loves deeply, makes a noble retreat from her beloved and dies of tuberculosis. Dumas wrote a stage adaptation in 1852, and the juicy plot was irresistible to composer Giuseppe Verdi, who told the story in his opera "La Traviata" the following year. "Camille," as it's called in English, is a much reinterpreted tale: first told in literature, then stage, then opera, then as a ballet and finally, in film, with many versions within most of these disciplines.
But hold it, there are other forms available now, further opportunities to capture and tell this story. How about a "Camille" app to tell us how and where to see the many spin-offs and adaptations of the story? And not yet in the repertoire are some adaptations we might want to see. How about a walking dead version? When will the world be introduced to "Zombie of the Camellias"? And that'll naturally inspire choreographers to rethink other ballets: "Sleeping Zombie," "Zombie Lake," "Cinderzombie." There is indeed nothing new under the sun, but, well, there's a lot of room under the moon.
Caniparoli created his "Lady of the Camellias" in 1994 for Ballet Florida and Ballet West, using a Chopin score. In an online video, he says: "My inspiration came from the Greta Garbo film 'Camille' … I based this ballet on her performance." Garbo was nominated for an Academy Award for her emotionally intelligent, subtle portrayal of the tragic courtesan in the 1936 "Camille," directed by George Cukor. It's easy to see how the delicate and courageous Camille woven by Garbo would be intriguing to choreographer Caniparoli.
A much-cherished version of the Camille story, created by Sir Frederick Ashton for Margot Fonteyn and Rudolf Nureyev to music by Liszt, is entitled "Marguerite and Armand." A website called garboforever.com says that Garbo attended the U.S. premiere, but didn't like it, or, apparently any other ballet. "Those poor fellows, having to lift all those big girls," Garbo reportedly said. "It's so silly."
Not so, Greta. Lifting all those big girls is part of the magic of ballet. And the fairy tales that comprise the plots of many story ballets are part of what makes them ethereal and transporting. Camille actually boasts one of the more believable plots, with a mortal heroine who has never been a nymph, bird or supernatural spirit. It's a heartbreaker, no matter whether it's written, danced, sung or acted.
Sharon Basco is a journalist, critic and public radio producer.
Sharon Basco Contributor, The ARTery
Sharon Basco is a a journalist, critic and public radio producer.