Why To Exercise Today: Protection (In Mice) From Diabetes Effect On Heart
This article is more than 8 years old.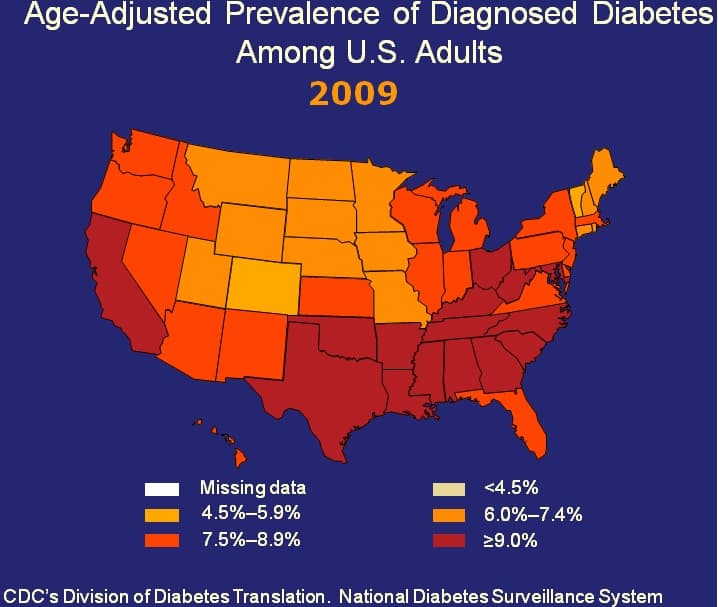 You've probably seen those scary maps showing a wave of obesity engulfing the country over the last generation, as state after state converts to more-overweight-than-not. The map above comes from a similar animation, only the wave is diabetes. Watch the states turn alarming colors over time here.
For many of us as we age, Type 2 diabetes is not so much a question of "if" as "when." So even if you don't have diabetes now, here's a bit more inspiration to help fend it off with exercise: Researchers report that -- in mice, at least — exercise appears to protect powerfully against a potentially fatal heart complication of diabetes.
The complication is called diabetic cardiomyopathy, and it can lead to heart failure. It may not be first on your list of fears (especially if you've never heard of it before, as I hadn't), but these new findings serve as yet another demonstration of the countless ways that exercise may defend you against health harms.  From the University of Virginia Health System's press release:
"This is a proof of concept. It shows that an antioxidant coming from skeletal muscle that can be induced by exercise training can provide profound protection against an important detrimental disease condition," said UVA researcher Zhen Yan, PhD. "The implication is if we can come up with a strategy to promote [this effect] in people who are vulnerable to, or already developing, diabetes, that could prevent the development of diabetic cardiomyopathy."

Yan and his team used genetically modified mice to show that enhancing the production of a molecule called EcSOD - which is produced in skeletal muscle and promoted by regular exercise - would prevent the damaging effects of diabetic cardiomyopathy. These effects include stiffening and enlargement of the heart, which can lead to heart failure.

While the work amplified the expression of the molecule to levels beyond what normal exercise would produce, Yan said it's an important demonstration of the concrete benefits of regular exercise in people. "Our studies show that even as little as two weeks of exercise could significantly elevate the level in the blood and the heart," he said.
Yan says he's also hoping to develop a pill that could help patients who can't exercise, or boost the effect in people who can. Ah, yes, the eternal search for the exercise pill. Don't hold your breath — better to huff and puff instead.