'She's Beautiful When She's Angry': A Rousing Documentary On Women's Liberation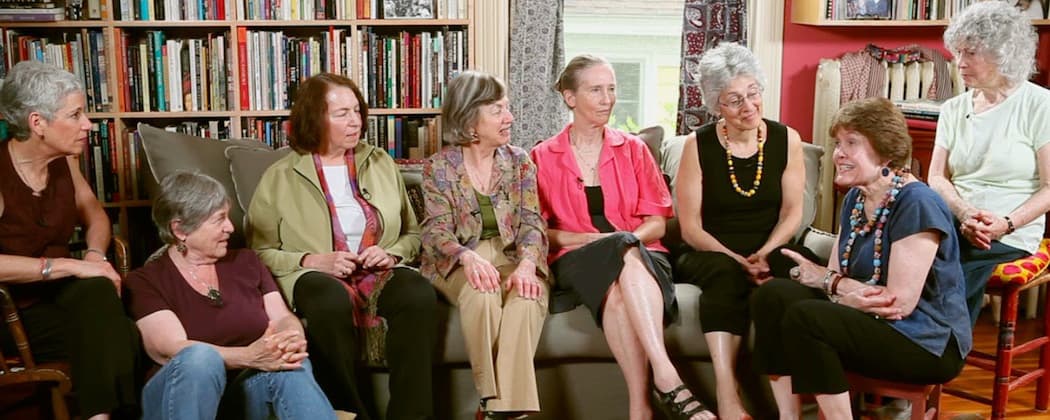 This article is more than 6 years old.
In the late 1960s, one way that feminists made the personal political was by starting consciousness-raising (or CR) groups. In these, women had forthright conversations about their lives and the inequities they collectively faced.
Mary Dore joined such a group after moving to Boston from Maine in 1969. The experience sparked in her a lifetime commitment to feminism, so potent that she's spent the last 21 years developing a feature documentary about the women's liberation movement.
Dore's film, "She's Beautiful When She's Angry," opens at the Coolidge Corner Theatre on Friday, Feb. 27. A post-film panel discussion with the director as well as founders of Our Bodies Ourselves (OBOS), also featured in the film, is planned for Sunday, March 1 at 2 p.m.
"She's Beautiful" begins with a reminder that present-day reproductive rights are under threat, and then spirals through 1966 to 1971, between some of the better- and lesser-known efforts that shaped feminism's second wave. Here's the trailer:
Betty Friedan makes Dore's cut as the author of the groundbreaking "The Feminine Mystique" and a founder of the National Organization of Women (NOW). So does Boston's still active OBOS project. These may be the more familiar efforts, but even astute historians will find new or forgotten gems among the film's dense use of archival imagery and footage.
An image of bra-burning, for example, has stuck in the American consciousness, but it was news to me that graduate students such as Ruth Rosen set fire to their degrees in protest. "We realized we'd learned nothing about women," she says in a present day interview. "I felt duped."
In 1971, Congress passed legislation to create and fund a national network of child care centers. Then President Nixon vetoed it. (Now I feel duped.)
Then there are the movement's detractors: A newscaster smugly signs off as a "male chauvinist" in Iowa; when a shirtless man in a hard hat is asked, "Are you afraid [women will] take your job?," he says, "No, I don't think they could do my job." Injustice, this film is not shy to point out, came from male comrades in the anti-war and civil rights movements and even from within women's liberation itself.
While there have been dozens, if not hundreds of books that cover similar terrain, few films have been so encompassing or ambitious. "I wanted to show [the movement's] breadth, with so many approaches, so many biases and interests," said Dore in a phone conversation. She also wanted to engage audiences in one sitting in the hopes that they'd dive in deeper on their own.
One of Dore's most successful approaches is to show activists then and now. There's Roxanne Dunbar-Ortiz as a fiery twenty-something who started Cell 16 in response to a string of Boston murders in 1968. The group set-up street patrols and started women-only self defense classes. And there's Dunbar now, an influential writer and scholar on the topic of indigenous people's rights, recounting how she dropped out of graduate school after being sexually harassed by a professor.
(Of course it wasn't called sexual harassment then, nor was the phrase domestic violence commonly used. In the film Rosen sums, "We named it, then made it illegal.")
The interplay between now and then allows both viewers and interviewees to reflect on themselves and their place, relative to the movement. It's poignant to hear the older (and now departed) Ellen Willis, with long curls asunder, talk about how freeing it was to simply let "your hair go wherever it wanted." It's a subtle example of one of the freedoms that second wave feminists have said younger women take for granted.
And yet, as OBOS founding member Vilunya Diskin, one of the scheduled panelists, says in the film, "Only people in their 20s would have the chutzpah to make a list from birth to death, [and then write a book about it]."
By phone Diskin, her OBOS colleague Joan Ditzion, who will also serve on the panel, and Dore all mentioned the generational chasm between feminists (or feminists and the people who agree with the philosophy but shun the label) and how they think this film could mend that gap.
With the intent to visually underscore OBOS' collective approach, Dore spent nearly a year coordinating, and then several days shooting, the OBOS founders as a group. Ditzion said that seeing everyone in one shot reflects the point of the old CR groups and OBOS, even now: to get women together to talk.
"What's happened in our culture," Ditzion said, "it tends to focus on individuals, celebrities and all. That wasn't the nature of the movement."
That's also why Dore has arranged post-film discussions, such as the one at the Coolidge, after as many screenings as possible. She said that nine women who appeared in the film attended screenings in the Bay Area. "The Q & As are never quick. People really want to talk about their own experiences and issues," she explained.
Ditzion said that appearing in and then seeing the film made her reflect on the legacy she and fellow OBOS founders are leaving behind. "It's so important that the wisdom we've accumulated is carried on and preserved," she said.
"Maybe 'cause I'm old school, and of course I'm biased," confessed Dore, "but there's a lot to be said for seeing this film in a group."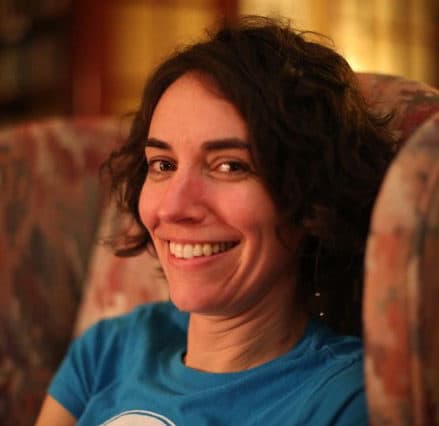 Erin Trahan Film Writer
Erin Trahan writes about film for WBUR.