Sip Of Latte With Binky? Study Finds Coffee Drinking 'Not Uncommon' Among Boston Toddlers
When Boston researchers asked mothers what types of fluids they were feeding their babies, they expected typical answers: breast milk, formula, water, juice.
But what they heard was surprising: a number of moms were giving their 1- and 2-year-olds coffee to drink. Not much, but still.
According to a new study on the links between early feeding and childhood obesity, researchers report approximately 15 percent of 2-year-olds were receiving up to 4 ounces of coffee every day (though the average was just over an ounce). Among the 1-year-olds in the Boston-based study, the rate of coffee consumption was 2.5 percent of children.
"We didn't ask if it was decaf," says the study's principal investigator, Anne Merewood, PhD, MPH, director of the Breastfeeding Center at Boston Medical Center and associate professor of pediatrics at Boston University School of Medicine. The majority of the coffee-drinking children had Hispanic mothers who were born outside the U.S., the researchers wrote; and female infants and toddlers were more likely than males to drink coffee.
Merewood said while she was surprised by the findings, the practice does make cultural sense. "I'm English and I've been drinking tea since I was a very small child," she said. "It's a cultural thing, they just feed the baby what everyone else is eating."
The researchers did not ask whether the children's minimal coffee consumption impacted behavior, or whether the kids got hyper with the additional caffeine. Still, Merewood said: "It's probably not a great idea to give caffeine to young children. We we need to investigate more."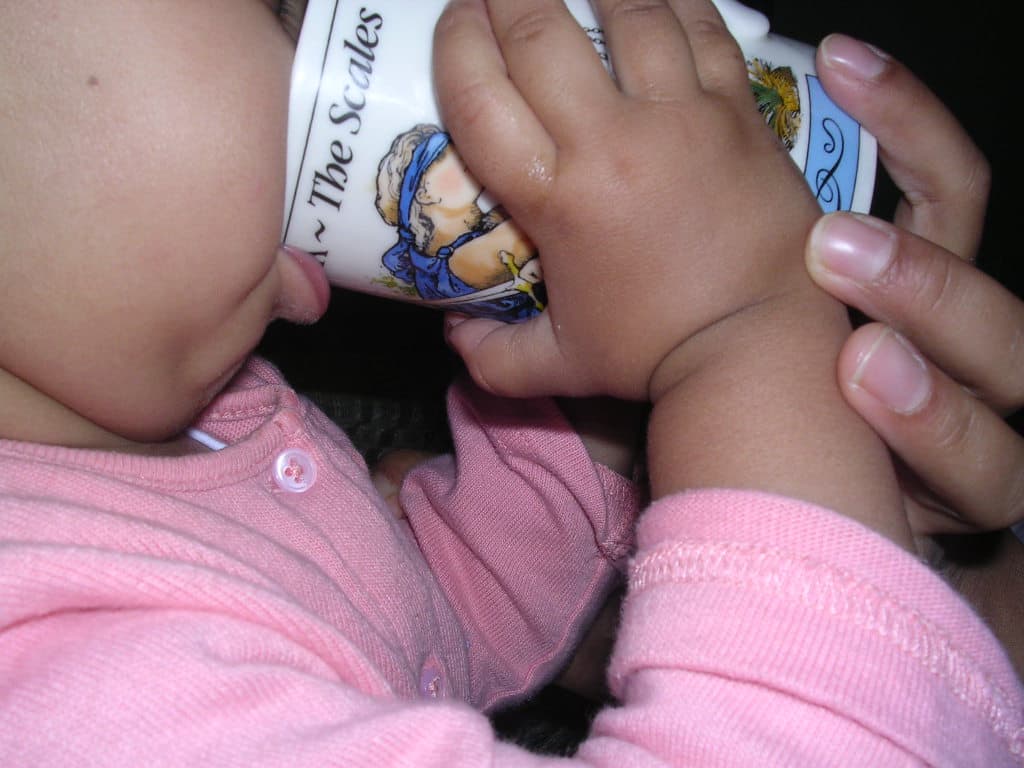 The study of 314 pairs of mothers and babies specifically looked at breast feeding and other eating habits of children at age 1 and 2 years. The findings, published in the Journal of Human Lactation, which is edited by Merewood, cites some earlier research on the downside of coffee drinking by young children:
Although coffee consumption in the first years of life has not been well documented, several risks of coffee and caffeine consumption in older children and adolescents have been identified. Research suggests an association between coffee consumption and higher rates of type 1 diabetes in children. Caffeine use among children and adolescents has been associated with depression, sleep difficulties, substance use, and concerning physiological, behavioral, and psychological effects...

It is unknown if these same risks apply to very young children and coffee. One study that did explore the risks of coffee consumption among toddlers found that 2-year-olds who consume coffee or tea between meals or at bedtime had "triple the odds of severe kindergarten obesity."
The researchers also point out that: "In a recent statement, the US Food and Drug Administration expressed an intent to establish an acceptable limit for caffeine use by children, recognizing that the AAP discourages this practice."
Here's more from the BMC news release:
Using data from a prospective cohort study on infant weight gain and diet, the researchers looked at 315 mother-infant pairs to determine what and how much infants and toddlers were consuming. They looked at breast milk, formula, water and juice – and were surprised to find that many mothers also reported they had given their baby coffee to drink.  At one year, the rate of coffee consumption reported was 2.5 percent of children. At two years, that number increased to just above 15 percent, and the average daily consumption for these children was 1.09 ounces. The results also indicated that infants and toddlers of Hispanic mothers were more likely to drink coffee than those of non-Hispanic mothers, and female infants and toddlers were more likely than males to drink coffee.

Previous research studies done internationally have demonstrated that children between birth and 5 years of age are given coffee in some countries, including Cambodia, Australia and Ethiopia. Additional studies have also shown that it is not uncommon for children raised in the Hispanic culture to also be given coffee.
Merewood says she doesn't think coffee consumption is in any real way driving the childhood obesity problem in the U.S. Nor, she says, does she think mothers have a particular goal in mind when they give babies coffee. "I don't think it's a conscious desire, like, 'Oh, why don't we give the baby coffee,' " she said. More likely, it's just what everyone else is drinking, so "that's just how it happened."
In addition to not asking the mothers about what type of coffee they were offering the children, researchers also didn't ask about the method of delivery. "Given the ages of the children, it is possible that coffee was added to bottled milk, however, we did not examine this in our study," researchers wrote.
Clearly, Merewood said, more research is needed to better determine the potential short and long-term health implications of coffee consumption among this younger age group in Hispanic and other populations.