Baker, Healey Join Filings Of Pro-Gay Marriage Briefs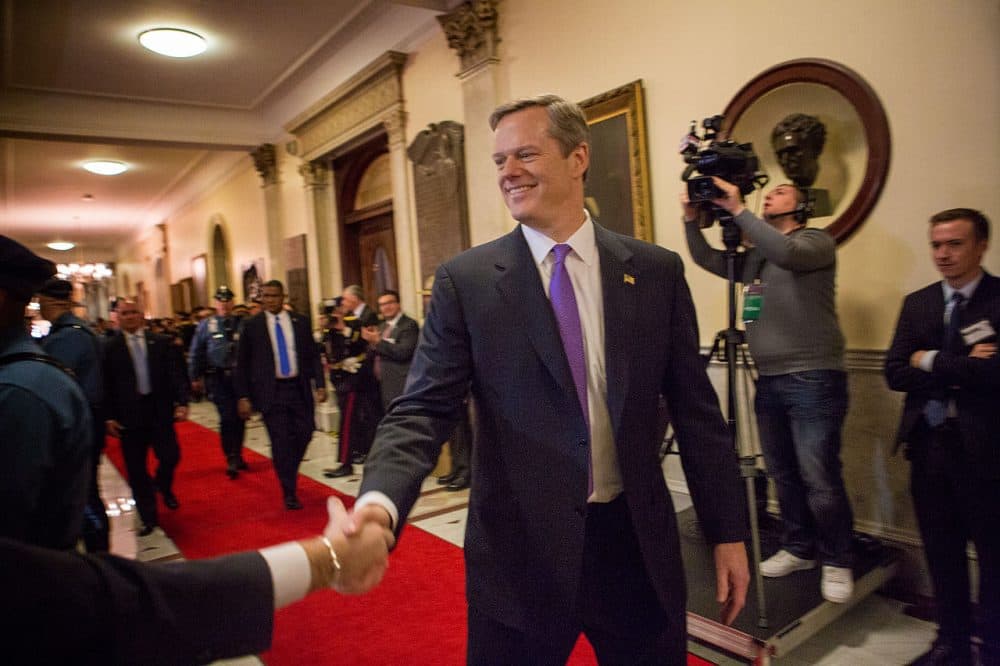 This article is more than 6 years old.
Massachusetts Gov. Charlie Baker and state Attorney General Maura Healey were among those joining in briefs filed Friday that urge the U.S. Supreme Court to strike down remaining state bans on gay marriage.
The high court is scheduled to hear a case on April 28 that could decide whether same-sex couples can marry nationwide.
Baker, who took office Jan. 8, is the only sitting governor among a group of more than 300 prominent Republicans who signed on to a "friend of the court" brief in support of the plaintiffs.
During a conference call with reporters, Baker said his own family experience led him to conclude that there was no moral or legal justification for states to prohibit gay marriage.
"I have a brother who is gay, he lives in Massachusetts, he's married," Baker said. The state was the first to legalize same-sex marriage, beginning in 2004.
"I'm a big believer in individual rights and as I watched this play out in my own family and around Massachusetts and frankly around the country, I just came to believe that we should simply permit people who are in love to marry the people they are in love with," he added.
Healey, a Democrat and the nation's first openly gay attorney general, led the filing of the brief on behalf of 16 states - including all six New England states - and the District of Columbia.
The brief argued that existing state bans on gay marriage hurt legally married couples when their unions are not recognized across state lines.
"Families worry that they are not going to be able to visit a loved one in the hospital, or worry that their relationship with their own children won't be honored in the same way as it is here in Massachusetts if they visit or move to another state," Healey said in an interview.
Twelve states do not permit same-sex marriages or recognize those legally performed in other states, the attorney general said, and 21 honor same-sex marriages because they are required to by federal court decisions. The Supreme Court challenge specifically targets laws against gay marriage in four states - Kentucky, Michigan, Ohio and Tennessee.
Healey had invited same-sex couples from Massachusetts to post on Facebook testimonials about how being able to get married had improved their lives.
The New England Patriots are among hundreds of U.S. businesses that also submitted a brief with the high court in support of allowing same-sex marriage nationwide.
This article was originally published on March 06, 2015.