Dempsey, Martins Power Sounders Past Revolution, 3-0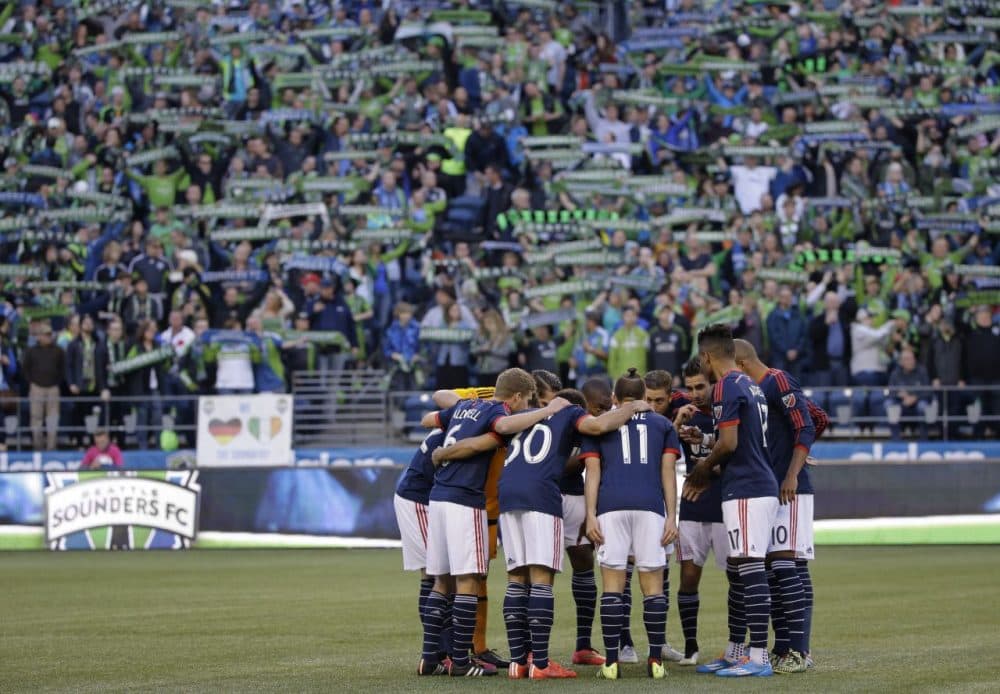 This article is more than 6 years old.
Clint Dempsey and Obafemi Martins have picked up right where they left off last season.
Dempsey scored twice and Martins added a goal to help the Seattle Sounders beat the New England Revolution 3-0 on Sunday night in the opener for both teams.
The Sounders are coming off the best year in franchise history, winning the Supporters' Shield with a 20-10-4 record and 64 points. But they fell short of an MLS Cup appearance once again, losing the Western Conference final to the eventual champion Los Angeles Galaxy on an away goal.
Dempsey and Martins had plenty to do with those 20 wins. Dempsey scored 15 goals with one hat trick; Martins set a club scoring record with 17 goals. On Sunday, Dempsey had an assist on Martin's first-half goal, and Martins returned the favor on Dempsey's tally in the second half.
"The stuff they pull off is unique and special," Sounders coach Sigi Schmid said. "They're just so dangerous individually. Then collectively, it's hard for center backs. You're not sure when to step up and who to step up to because they take turns dropping into that hole."
Dempsey put Seattle on the board midway through the 25th minute. He was taken down in the box by New England's Juan Agudelo. Dempsey then stepped up to the penalty spot himself and drove his shot just under the crossbar and into the roof on the right side, beyond the reach of goalkeeper Bobby Shuttleworth.
Martins scored in the 41st minute. Sounders defender Tyrone Mears, the only newcomer to Seattle's starting lineup, sent in a well-placed cross from the right side. Martins was playing just in front of the 6-yard box, and left Shuttleworth no chance on a header to the back left corner. Dempsey also was credited with an assist.
The Sounders put the game out of reach with a breakaway goal late in the 67th minute. Dempsey and Martins exchanged two short, quick passes just beyond the midfield line, and Dempsey sent it over to Marco Pappa on the left wing. Pappa sent a through ball forward that Martins caught up with and could have put into the net himself. Instead, he tapped it back to Dempsey for the easy score.
"He's one of the players I've enjoyed playing with the most in my career," Dempsey said. "He reminds me of being a kid and playing pick-up style, just knowing that if you make the right run, he's going to find you. He makes players better around him. Hopefully, we can do this season what we did last season."
As for passing up what could have been his second goal of the night in favor of Dempsey, Martins said: "It was me and the goalkeeper 1-on-1. I didn't want to risk it, so that's why I gave it to him."
The Revolution went to the MLS Cup last year as the Eastern Conference champions, but fell short against Los Angeles. On Sunday, they had an 8-6 edge on shots against Seattle, and nearly tied the game at 1 late in the 40th minute. But a shot by Kelyn Rowe from just outside the penalty area on the right side was denied at the far post on goalkeeper Stefan Frei's diving save.
New England was without the services of midfielder Lee Nguyen, who set a club scoring record last year with 18 goals. He was not on Sunday's roster because of a groin irritation.