Republicans Scott Walker, Jeb Bush Make New Hampshire Debuts
04:48
Play
This article is more than 5 years old.
There are no official Republican candidates yet in the 2016 presidential race, but plenty of would-be candidates have already begun the stump speeches and schmoozing in New Hampshire.
This past weekened, four possible GOP contenders swung through the Granite State, including the two big names considered early front-runners: former Florida Gov. Jeb Bush and Wisconsin Gov. Scott Walker.
For both men, it was a political debut of sorts, and a chance to make a first impression in a crucial early primary election state.
This was Bush's first public political visit to the state in 15 years. And he introduced himself to a packed crowd at a house party in Dover by pointing out the elephant in the room: his last name.
"Before I start, I wanna talk a little bit about myself," Bush said, "cause people do know me as George's boy, Barbara's boy, everybody knows that. And George W.'s brother."
But George W. Bush lost the New Hampshire primary to John McCain in 2000. And so Jeb Bush seems well-aware that any possible presidential ambitions in the Granite State wouldn't be a coronation. His brother was criticized for dismissing New Hampshire's personal, retail politics — not shaking enough hands, not answering enough one-on-one questions.
Jeb Bush seems keen to avoid those same mistakes.
In his New Hampshire debut, he eagerly shook hands, took selfies and answered questions. He even joked about his paleo diet when someone offered him cheesecake.
Among the crowd was Emma Wilson, 25, who said she's been attending New Hampshire primary shindigs since she was about 2 years old.
"I thought [Bush] was really relatable," she said. "I was very impressed with just how he was able to hold the crowd. I really liked how he talks about how divisive Washington's been, and how he'd really like to see that not be as divisive."
But that same message worried former state Sen. Fenton Groen.
"I'm concerned in his rhetoric that he's moving to the center," the 65-year-old Groen said. "We need people with the courage to move us back toward conservative values."
During his New Hampshire visit, Bush spoke about the need for immigration reform that offers "earned legal status" for people who enter the country illegally. And he defended Common Core standards, even though many conservatives criticize the education program.
"Yeah, it's controversial," Bush admitted. "But I've learned, though, that although something's controversial, you don't abandon your core beliefs. You go persuade people … I think you need to be genuine, I think you need to have a backbone."
He tried to highlight his distinct political identity and differentiate himself from Bush 41 and Bush 43, but some folks, such as former New Hampshire state Rep. David Scott, are still concerned about the "dynasty" factor.
"I think that's important to have a turnover. Two in a family is fine. But I think three, three's a crowd," Scott said with a laugh.
He admitted that after hearing Bush, he thinks more highly of him. But for now, he's leaning toward Walker, the Wisconsin governor.
And the next morning, he went to see Walker in action at the Concord High School auditorium.
"I think one of the best ways we reform this federal government is by taking power out of Washington and sending it back to the states," Walker told a crowd of grassroots activists.
He never called out Jeb Bush by name, but he was eager to contrast their personal narratives.
"My father was a preacher," Walker said. "My grandparents on one side were farmers, where my mom didn't have indoor plumbing until she went off to junior high. From all my parents and grandparents, I didn't inherit fame or fortune."
Walker proudly noted the brown sweater he was wearing cost him just $1 at Kohl's.
"I loved his humbleness. I think he's bright and sharp and what we need," said Republican activist Liz Thomas. "Scott Walker embodies, I mean, he's the man, the common man who has risen and has proven that [in] this country, you can do anything."
Early polling shows Bush and Walker nearly tied in New Hampshire.
But, in some ways, Bush has the advantage, according to some local analysts. He has money, name recognition and a more moderate political message (which tends to resonate in New Hampshire).
"The way it looks [on the Democratic side] is that Secretary [Hillary] Clinton will not have anything other than token opposition, so independents go where the action is. And that means more independents will take Republican ballots," explained Tom Rath, a Republican operative who advised Mitt Romney and George W. Bush but is currently uncommitted this election cycle.
And that shift in the makeup of the Republican electorate could benefit a more moderate candidate such as Bush.
"It's a question of who can catch fire, who can put an organization together," Rath said. "It's a very open, probably the most open primary since 1980, and maybe even before that."
And with such an open field comes a lot of hungry politicians. Just as Bush arrived, former Texas Gov. Rick Perry was wrapping up a visit to New Hampshire. And as Walker left, Texas Sen. Ted Cruz started making the rounds.
Mind you, none of these would-be candidates has officially announced a run for president — yet.
This story was produced with the help of Rebecca Sananes.
This article was originally published on March 16, 2015.
This segment aired on March 16, 2015.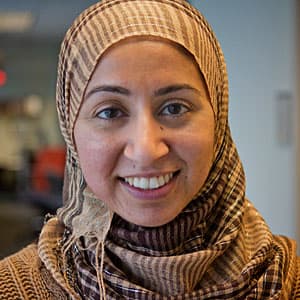 Asma Khalid Reporter
Asma Khalid formerly led WBUR's BostonomiX, a biz/tech team covering the innovation economy.