Boston Inequality Ticks Down — But It's Now The 3rd-Most Unequal Big City
This article is more than 8 years old.
Inequality in Boston ticked down from 2012 to 2013, but the city's position among the most unequal U.S. big cities actually rose one spot — to No. 3 overall — the Brookings Institution found in a new report.
The analysis, out Tuesday, is an update to a report last year that found that in 2012, Boston households in the 95th percentile of income earned 15.3 times what the poorest 20 percent made.
In 2013 that ratio ticked down to 15.0, Brookings calculated.
Here's what that means in real dollars: In 2013, the richest Boston households — those at the 95th percentile — took home $239,837 in income, while those at the 20th percentile made just $15,952.
Both the richest and the poorest Boston residents saw income gains from 2012 to 2013, but the dip in this "95/20 ratio" means a dip in inequality.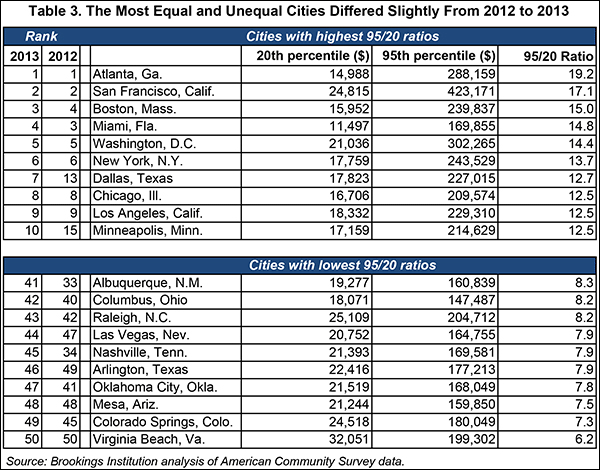 Inequality fell more in Miami in 2013 — from a 95/20 ratio of 15.7 to 14.8 — "thanks to modest income growth among its poorer households," the report said. Now No. 4 overall, Miami flip-flopped with Boston in the rankings of most unequal of the 50 largest U.S. cities.
Atlanta and San Francisco maintained the top two spots, respectively, as the most unequal big cities. In contrast to Boston and Miami, though, both saw inequality rise from 2012 to 2013. Atlanta's richest households earned more than 19 times what its poorest made in 2013.
Here's more from what I wrote last year:
Overall, the study from the Washington think tank found that inequality in big cities exceeds the national average, as big-city rich households are richer than their counterparts elsewhere, and big-city poor households are poorer than their counterparts elsewhere.

As Brookings wrote: "Large populations, diverse housing types, and generally progressive politics mean that most cities will always have higher shares of the rich and poor than smaller places."
The new Brookings analysis is based on 2013 American Community Survey data, from the U.S. Census Bureau.