SpeakEasy Stage Tries To Reel In The 'Big Fish' Musical
This article is more than 8 years old.
Is Edward Bloom a hero? A liar? A harmless fabulist?
The question swims through the entirety of "Big Fish," the stage-musical incarnation of a 1998 novel by Daniel Wallace that also yielded the Tim Burton film. It never gets a satisfactory answer, and that's an outgrowth of the manner in which this show shies away from sharp insight in favor of sentimental glibness.
But the question is still great fun to ask, and if "Big Fish" feels, in the end, a bit aimless, it's no doubt a diverting entertainment with the power to send a sympathetic audience out the door at curtain's fall with a lump in its collective throat. Yet though this energetic staging offers plentiful helpings of eye candy, it's probably best not to look too closely.
"Big Fish" bowed on Broadway in 2013 with a $14 million production helmed by Tony Award-winner Susan Stroman, of "The Producers" and "Contact." Despite, or perhaps because of, an abundance of special effects and pageantry — much of the run-time is given over to enactments of Bloom's improbably tall tales, something more readily accomplished on film than onstage — the show was not a hit.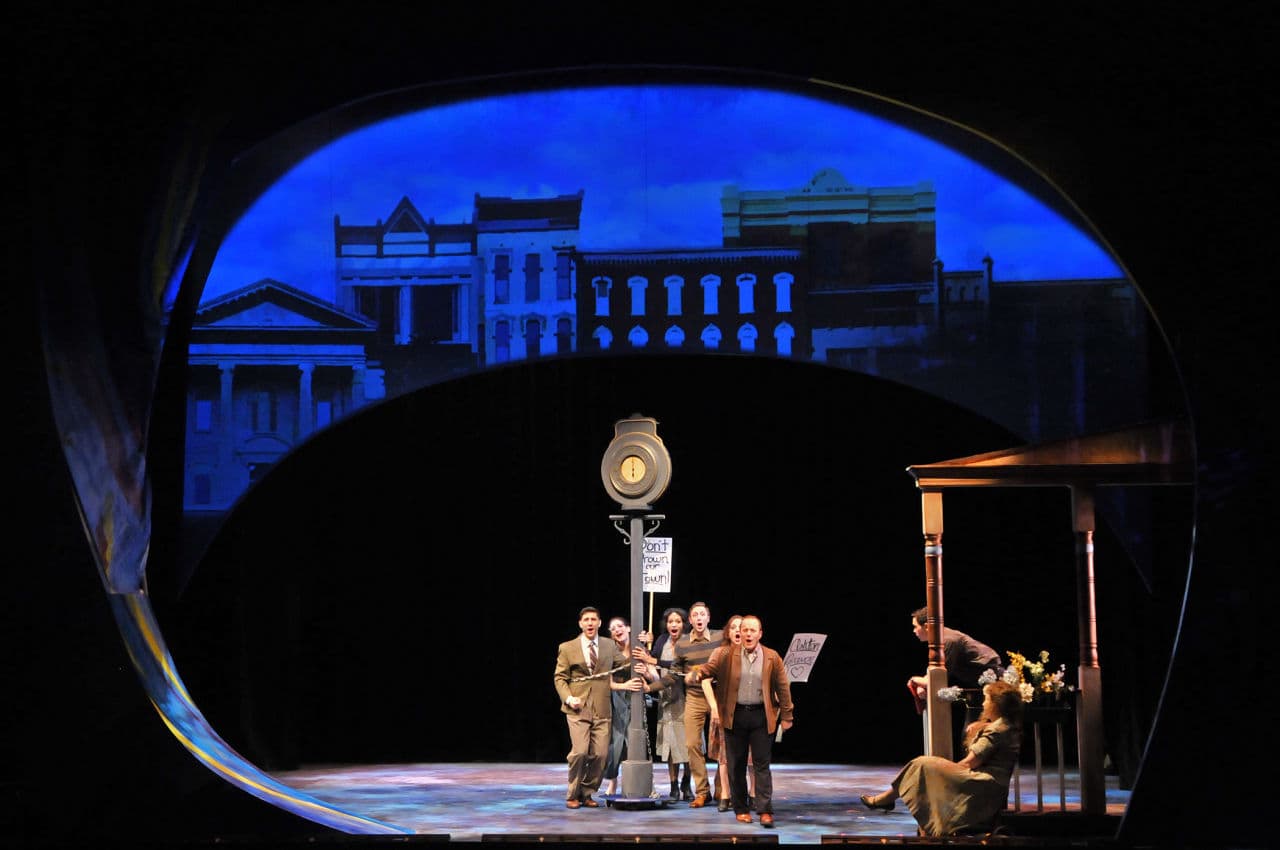 The SpeakEasy Stage Company production at the Roberts Studio Theatre in the Calderwood Pavilion (through April 11) is a pared down iteration of that show, with a reduced cast size and smaller band. That is, it's an attempt to make "Big Fish" a feasible option for regional theater companies, while preserving a measure of spectacle as demanded by the story.
But isn't the power of imagination the most potent special effect? Well, no, according to the latest trends on Broadway. But yes, as Edward Bloom might have it, and as the story of "Big Fish" warmly implies.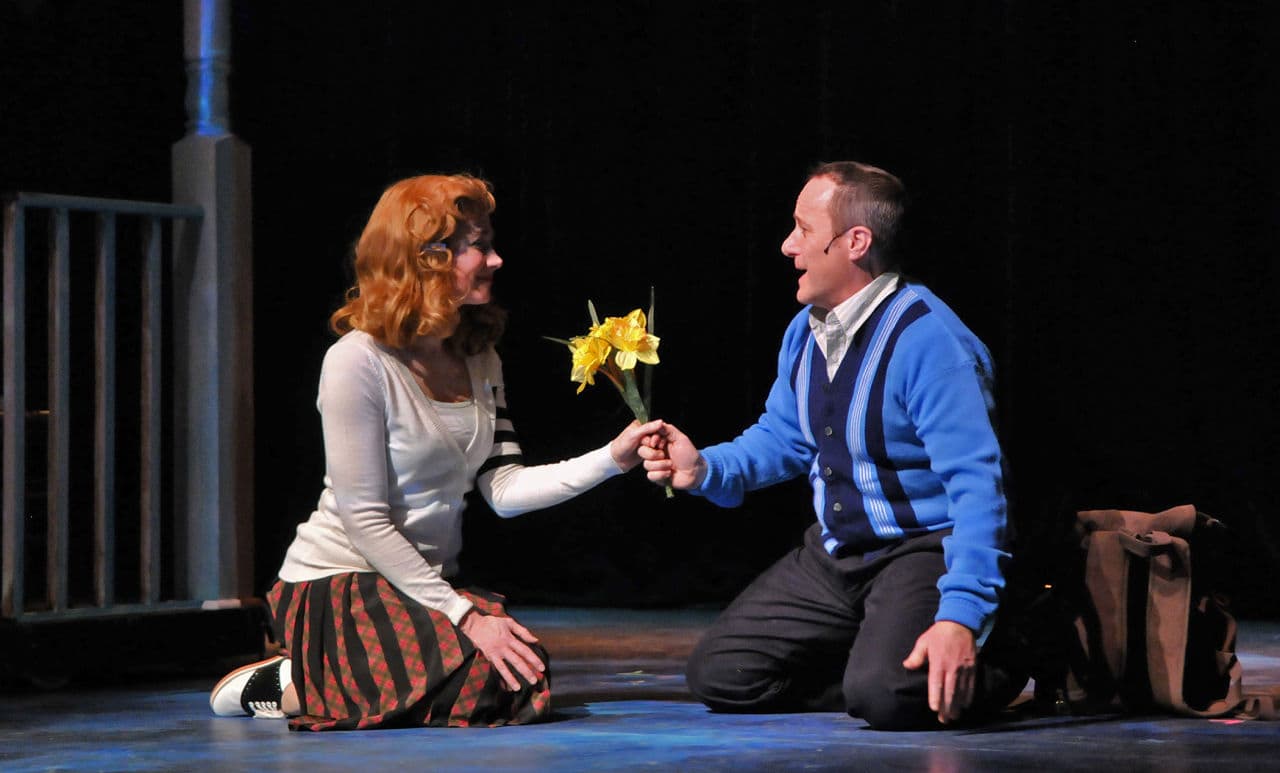 Steven Goldstein's Bloom cuts a diminutive figure onstage but bears a big presence; though the character is presented at first as a bit of a gauche dawdler. Goldstein has to make us sympathetic to the insistence of Bloom's wife Sandra (Aimee Doherty somehow coming off as both folksy and glamorous) that there indeed is "magic in the man."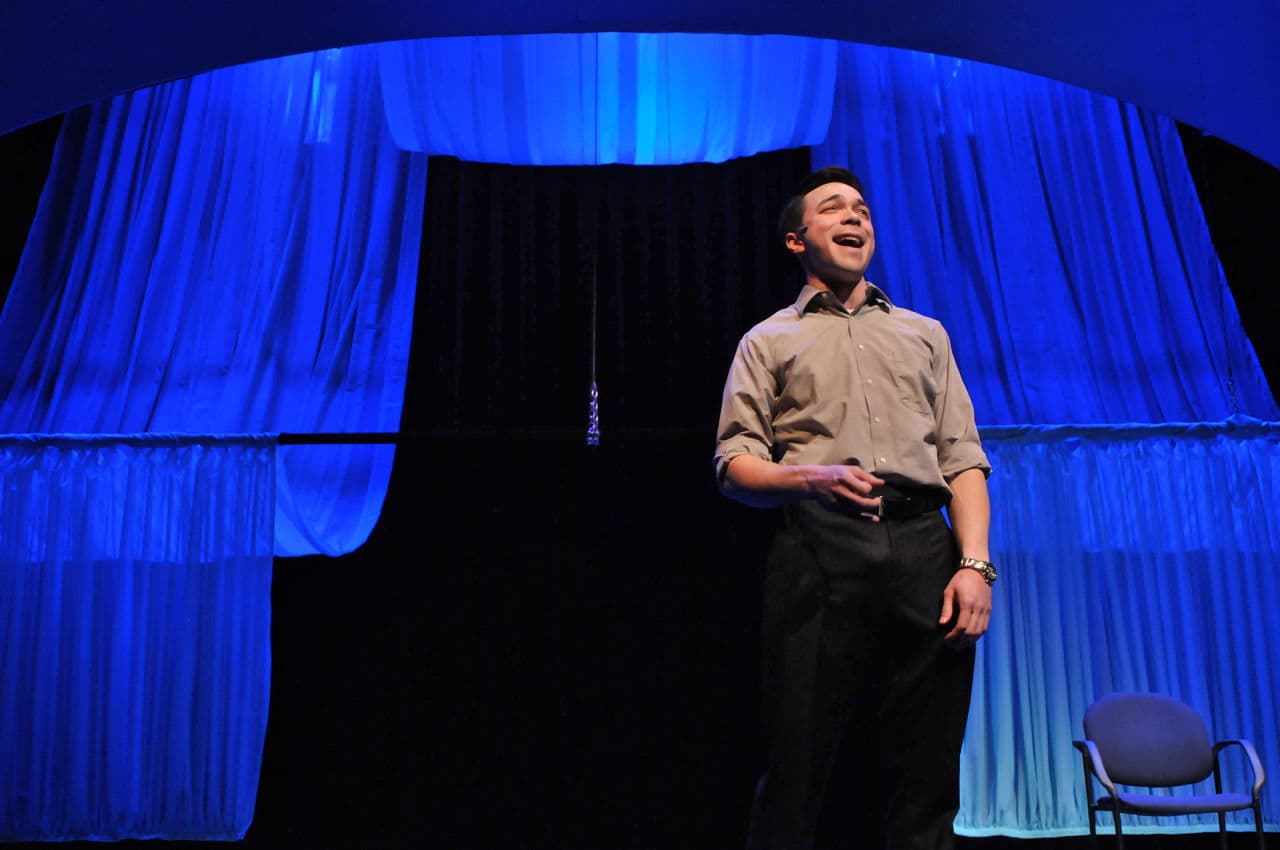 His son, a very fine Sam Simahk playing the not-so-subtly named Will Bloom, learns of his father's illness just as he and his new bride await their first child. It's a chance to mend the obligatory filial fences and, perhaps, learn the truth behind a still-mysterious figure. As a traveling salesman, Bloom was on the road throughout Will's childhood and has told so many fantastic yarns — involving witches, a mermaid and a very savvy giant named Karl, all of whom the audience gets to see in action — his son feels he knows little that is actually true. He fears that the stories are hiding a darker history — and they are. Sort of. Maybe.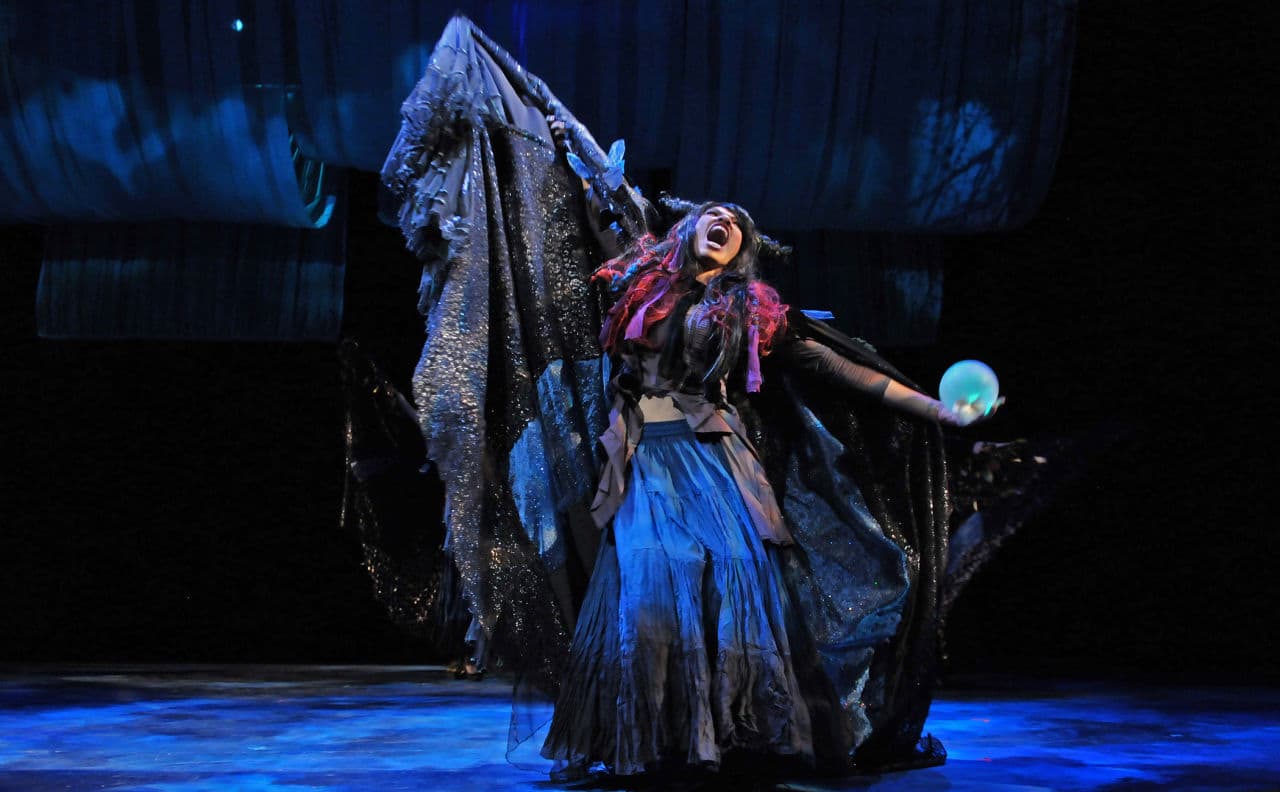 Though there's little evidence of the "bluegrass band" promised by the show's creators, a muscular six-piece group under the musical direction of Matthew Stern breathes a little extra life into Andrew Lippa's rather standard score. (John August, who also wrote the screenplay, penned the book.) Goldstein, a veteran of several opera productions, and Simahk acquit themselves particularly well as vocalists. The ensemble is uniformly capable, even if not boasting an apparent breakout-star.
Director Paul Daigneault, who is also the artistic director at Speakeasy, has crafted a fluid, visually pleasing production. Jenna McFarland Lord's scenic design makes thoughtful use of hanging curtains and a static framing device around the front of the stage; these set elements receive Seághan McKay's busy projections and imply a sense of the uncanny.
The effect is to shrink the playing space, such that Bloom's fantastic conjurings seem to spring to life in large fashion. A giant (a charming Lee David Skunes, on stilts) jumping up and down, in a dance number by choreographer Larry Sousa, doesn't hurt either.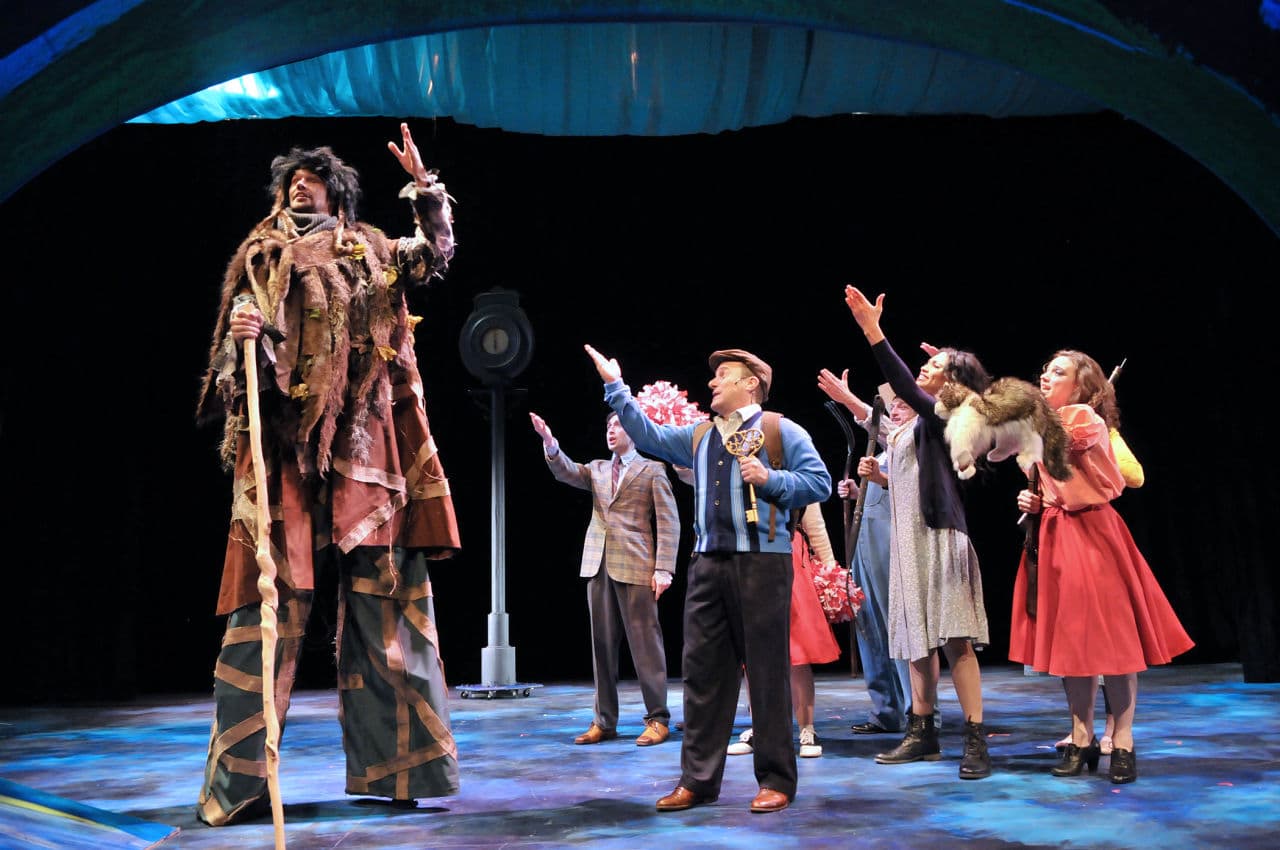 With the lighthearted tone of these proceedings — given salty seasoning only by Will's angst — it isn't a real surprise that "Big Fish" skips the chance to provide a more unsettling inspiration for its hero's self-aggrandizing myth-making. This salesman is no Willy Loman, concocting fabrications as threadbare covering for the pain of a life poorly lived. Indeed, both the film and the musical suggest but then skip past one crucial motive referenced in the novel.
In turning away from just a glimpse of the darkness that might have put the show's latent themes in a clearer light, "Big Fish" ends up not making a terrible amount of sense. (Even the wildest fables follow their own internal logic.) Though the climactic onstage hugs and tears seem a little too cheaply won, there indeed is a case made here for the power of imagination as a force to bring us together. And that makes for a good-enough catch.