Dr. Seuss Museum—The 1st In The World—Is Coming To His Mass. Hometown
Springfield—the hometown of Dr. Seuss—plans to open the first museum in the world honoring the creator of "The Cat in the Hat," "How the Grinch Stole Christmas!" and other beloved children's books, the Springfield Museums in Massachusetts announced Thursday.
"That's the right place," Seuss's stepdaughter Lark Grey Dimond-Cates says. "That's where all his ideas come from."
The Amazing World of Dr. Seuss Museum, which its leaders estimate will cost more than $3 million when all done, is being developed by the Springfield Museums in the institution's downtown complex. The first floor, scheduled to open in June 2016, will be a children's museum, offering pint-sized recreations of local landmarks that inspired Seuss's books. The second floor, which is expected to debut in 2017, will showcase Seuss art and artifacts.
"I think this has immense potential," says Eric Lesser, a state senator from neighboring Longmeadow who chairs the Legislature's Joint Committee on Tourism, Arts and Cultural Development. "It's a very exciting opportunity for a couple reasons—with Dr. Seuss, you've got the opportunity for a cultural attraction and a literacy and education center."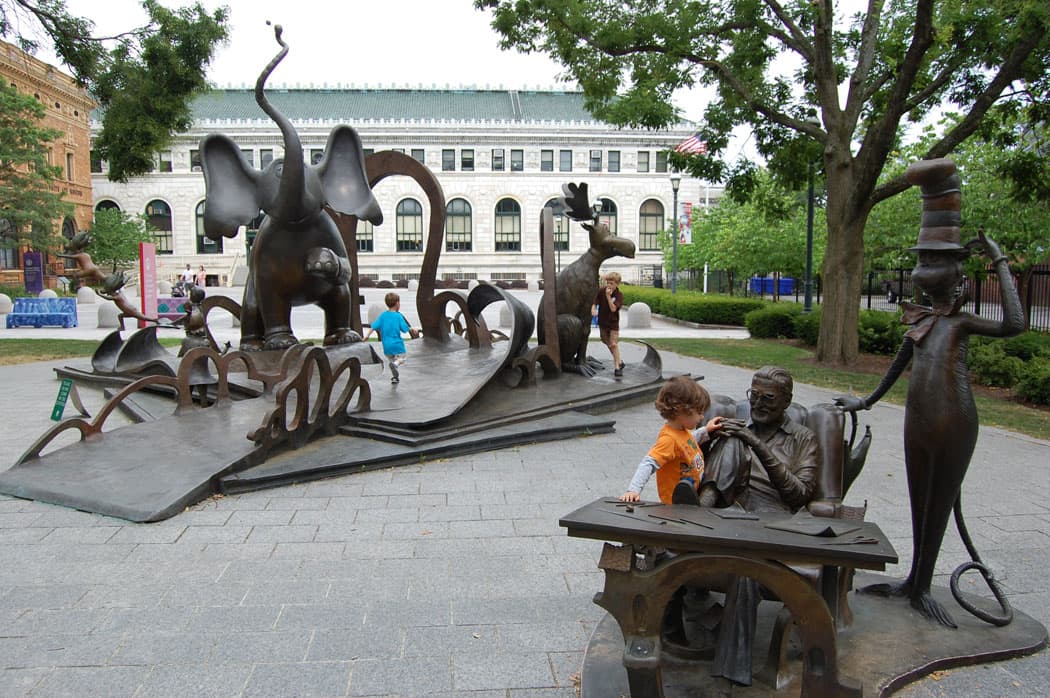 The museums' Dr. Seuss National Memorial Sculpture Garden—a cluster of bronze representations of the Cat in the Hat, Horton the elephant, the Lorax and other beloved Seuss characters sculpted by Seuss's stepdaughter Lark Grey Dimond-Cates—is already "one of the biggest attractions in western Massachusetts," Lesser says. The Seuss museum, he says, will add to the memorial's appeal and compliment the existing Eric Carle Museum of Picture Book Art in Amherst and the Norman Rockwell Museum in Stockbridge—as well as the Basketball Hall of Fame in Springfield and the planned MGM Springfield casino.
"The opening of the sculpture garden [in 2002] really positioned the museums for a flood of visitors from around the country," says Kay Simpson, vice president of the Springfield Museums. "They immediately started requesting we have a Dr. Seuss museum." Now the institution aims to finally satisfy that demand.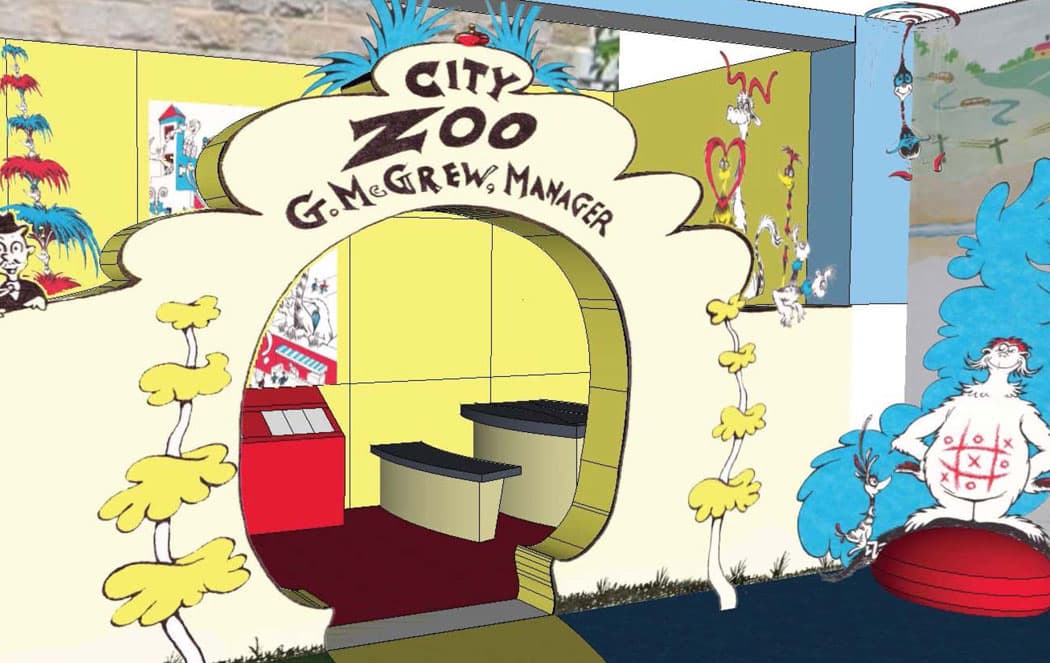 Dr. Seuss was born Theodor Seuss Geisel in Springfield on March 2, 1904, and grew up in the city. After studying at Dartmouth College in New Hampshire, he moved to New York in 1927 and worked in the metropolis until he settled in California in 1946. He resided there (living in La Jolla much of that time) until his death in 1991. (Seuss's second wife, Audrey Geisel, still lives in La Jolla at age 93, but has "some issues with dementia," so she hasn't been much involved with museum plans, Dimond-Cates says.)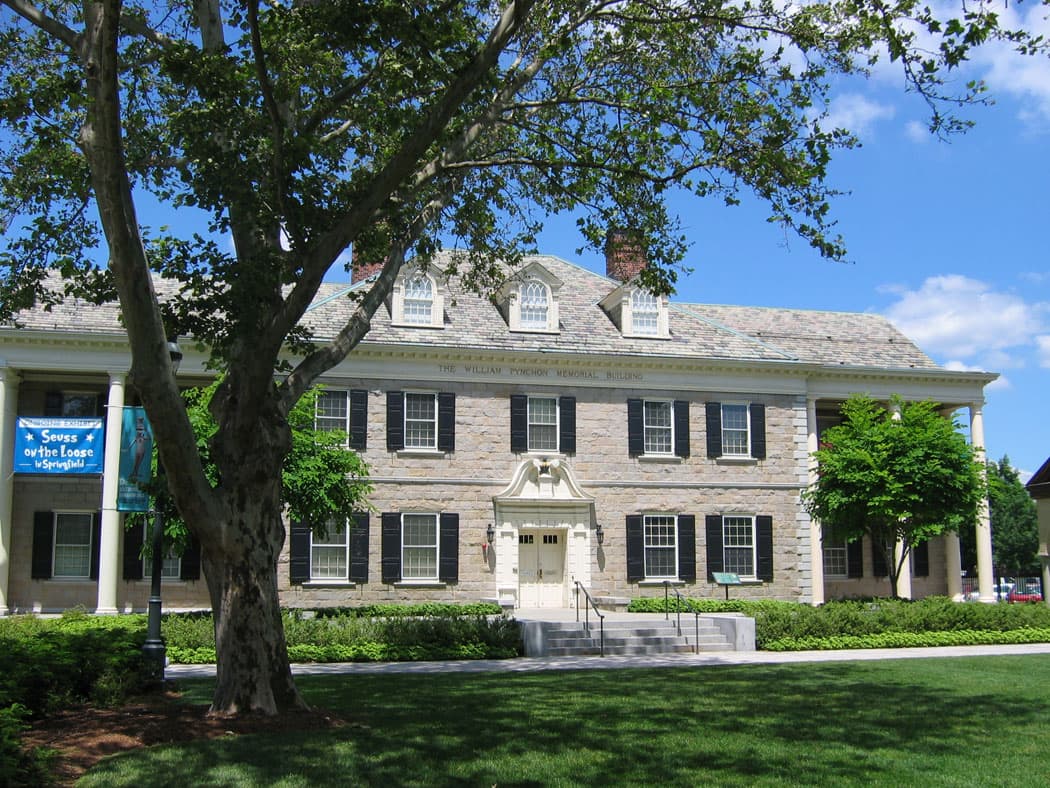 On the first floor of the Springfield Museums' Pynchon Memorial Building, in space freed up when the Wood Museum of Springfield History there moved into a renovated and expanded office building nearby in 2009, will be an interactive 3,200-square-foot, Seussian version of Springfield.
"The places he saw in Springfield as a boy, some of the characters that he encountered, had such a profound effect on him that they are later manifested in the books he created," Simpson says.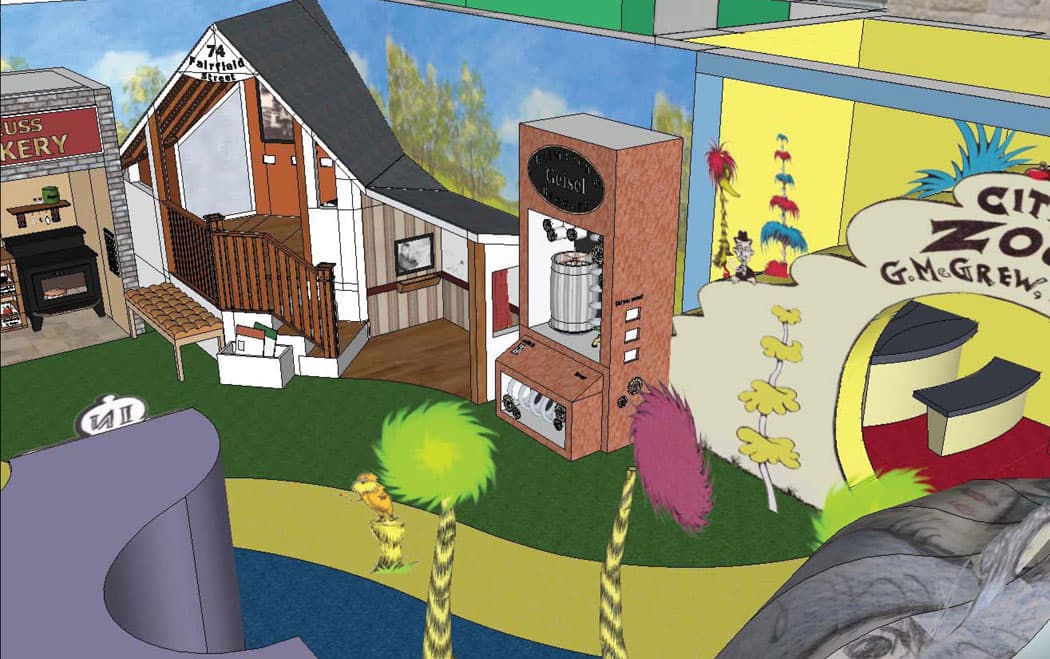 Designers from 42 Design Fab in Springfield, 5 WITS in Foxborough and Boston Productions in Norwood are developing kiddie versions of Seuss's childhood home at 74 Fairfield St., the Seuss Bakery run by his mom's parents, the Kalmbach and Geisel Brewery (nicknamed "Comeback and Guzzle") run by his father's family (the museum will highlight manufacturing machines, Simpson notes, not booze), the zoo ("He grew up next to the zoo and his father actually became a superintendent"), "the flowering dogwood trees in Forest Park that are believed to be the inspiration for the truffula trees in 'The Lorax,'" and, of course, Mulberry Street, the real-life Springfield road located two blocks from the museum campus that inspired Seuss's first book in 1937, "And to Think That I Saw It On Mulberry Street."
Initial conceptual sketches for the museum include an archway for the "City Zoo, G. McGrew, Manager" as in Seuss's 1950 book "If I Ran the Zoo." Which could be a sticky issue since the original book includes a number of racist caricatures. "That won't be something we'll be focusing on," Simpson says. "It's always a dilemma with any historical document. You actually see the stereotypes of the time. It's very uncomfortable."
Also planned are vocabulary and literacy activities—a word-building wall, a book-making section—inspired by Seuss's "Beginner Books" series, the first of which was 1957's "The Cat in the Hat."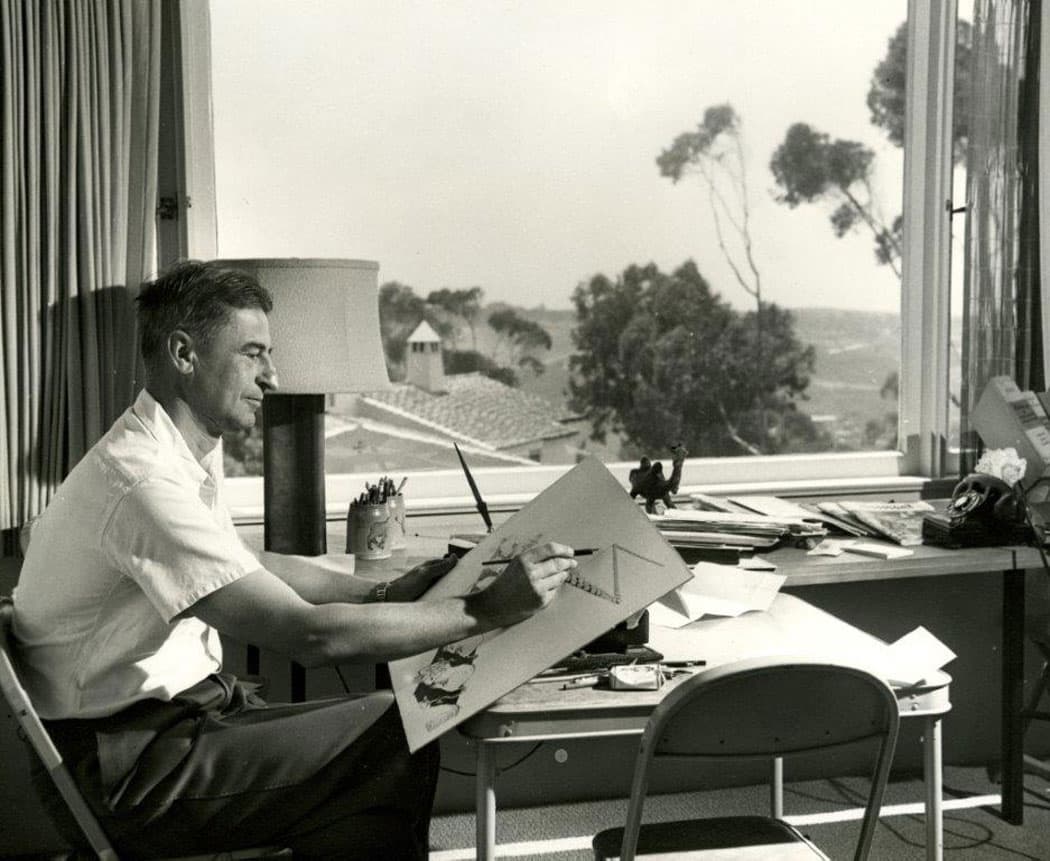 When the museum's second floor opens in a couple years, visitors will find a recreation of Seuss's La Jolla studio—his actual furniture, lamps, inscribed books, examples from his wacky hat collection and the "unorthodox taxidermy" that he began making in the 1930s. "When Ted last visited Springfield in 1986," Simpson says, "he was presented with a sign from Forest Park, which has the words 'Geisel's Grove.' And actually that was a part of Forest Park that was named for his father. That is one of the artifacts that is coming with this collection."
These artifacts are being donated by Seuss's stepdaughters Lark Grey Dimond-Cates of San Diego and Leagrey Dimond of San Francisco, where she runs Thidwick Books (as in "The Big-Hearted Moose").
"Lark and Leagrey just feel that Springfield is really special and important to Ted," Simpson says. "The National Memorial is here. They see it as Ted is coming home."
Even though Seuss ended up spending the majority of his life in California, there was never a proposal for a Seuss museum there, Dimond-Cates says. Springfield is "where it belongs," she says.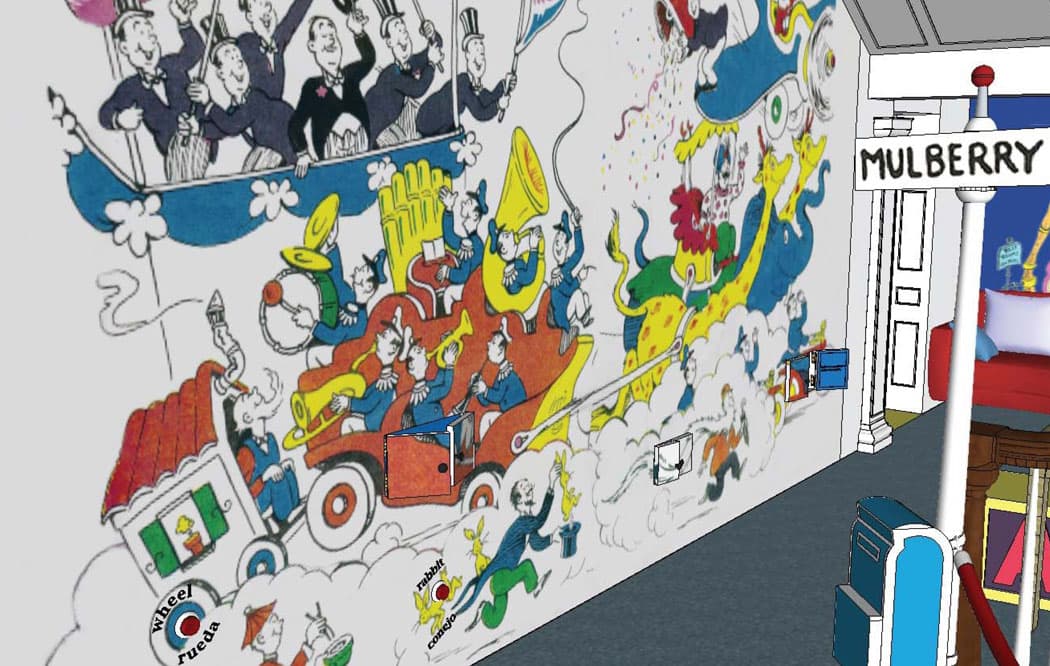 "Other children's book series have kind of faded over time, but Dr. Seuss has seemed to keep growing in popularity. It's a phenomenon," Simpson says. More than 600 million copies of his books have been sold, she says. Random House plans to publish a new Seuss book, "What Pet Should I Get," based on a rediscovered manuscript, in July— with at least two more previously unpublished Seuss books in the pipeline.
Seuss's innovation was to make books that teach children how to read and offer moral lessons ("A person's a person, no matter how small," "I speak for the trees") via wild wordplay and flights of fantasy, via "lots of good fun that is funny," as the Cat in the Hat put it.
"The spirit that Ted put into that work, it's so gentle and thoughtful and sweet," Dimond-Cates says. "And those characters that he came up with—the Lorax and even the crummy, little Grinch—there was always a sweet message in those books. It was Ted. He was a sweet man."
Join Greg Cook, co-founder of WBUR's ARTery, for "lots of good fun that is funny" on Twitter @AestheticResear or the Facebook.