Boston's Health, By T Stop: Neighborhoods Near But 'Health Worlds Apart'
This article is more than 7 years old.
If you went on a little T ride with Dr. Sandro Galea, the new dean of the Boston University School of Public Health, the urban landscape would never look quite the same to you, I bet. You wouldn't just see neighborhoods, anymore; you would see health neighborhoods.
In his latest "Dean's Note" post, Dr. Galea uses images like the one above to illustrate the yawning gaps in health statistics among Boston's neighborhoods. (Get off at Dudley Square, the diabetes rate is 11 percent; get off at Arlington, it's just 3 percent.) He also posts T-stop numbers on low birth weight, physical activity and homicide, among other health-related stats. And he writes:
Inured as we are to inequalities in health, we might well shrug off these health differences as ones between far-apart worlds. But are they? In fact, the geographic space we are talking about here is remarkably small. We are dealing with geographic differences of roughly four miles, or about an hour's walk. In many respects, it is remarkable that areas so close to one another should have such dramatically different health indicators—"health worlds apart" that are simply down the street from one another.
Those health worlds may be far apart indeed. A new "Child Opportunity Index" suggests that Boston may be the worst city in the country for Hispanic kids in terms of healthy development.
Developed by researchers at Brandeis University's Heller School for Social Policy and Management and Ohio State University's Kirwan Institute for the Study of Race and Ethnicity, the index finds that 58 percent of Hispanic children in Boston live in neighborhoods with the lowest level of access to "healthy development resources," from parks to high-quality child care.
The index also found Boston to be the sixth-worst metro area in the country for African-American children.
From the press release, headlined, "Boston has the Highest Concentration Nationally of Hispanic Children Living in the Worst Neighborhoods for Healthy Development:"
When it comes to healthy development resources, not all of Boston neighborhoods are equal — and the areas with the lowest level of access are typically home to the city's minority children. 57.6 percent of Hispanic children in the Boston metro area—the highest percentage in the country—live in neighborhoods that have the least access to healthy development resources, according to the newly developed Child Opportunity Index.

Boston is also ranked the sixth-worst metro area for black children's healthy development, with 57.8 percent living in the lowest opportunity neighborhoods. Conversely, just 9 percent of Boston's white children live in the lowest opportunity neighborhoods. A graphic summary of Boston's numbers is available here.

"Previously, studies have looked at neighborhood conditions in one or a few areas. This is the first time data on neighborhood resources that matter for children—and where children of different racial and ethnic groups live in relation to those resources—is available for the 100 largest metro areas," says lead researcher Dr. Dolores Acevedo-Garcia of the Heller School's Institute for Child, Youth, and Family Policy.
...
The index shows considerable variation across America. For example, the proportion of Hispanic children living in very low opportunity neighborhoods ranges from about 10 percent in New Orleans to the aforementioned 57 percent in Boston. In Albany, 60 percent of the area's black children live in its lowest opportunity neighborhoods, compared to McAllen, Texas, which is the best at 8 percent.
The release notes that pediatricians at Boston Medical Center are using the index along with medical records to try to understand how neighborhood conditions affect health issues, including obesity and asthma.
The Boston numbers, in graphic form below, are part of the Heller School's diversitydatakids.org project, which aims to use data to help reduce inequality in child health.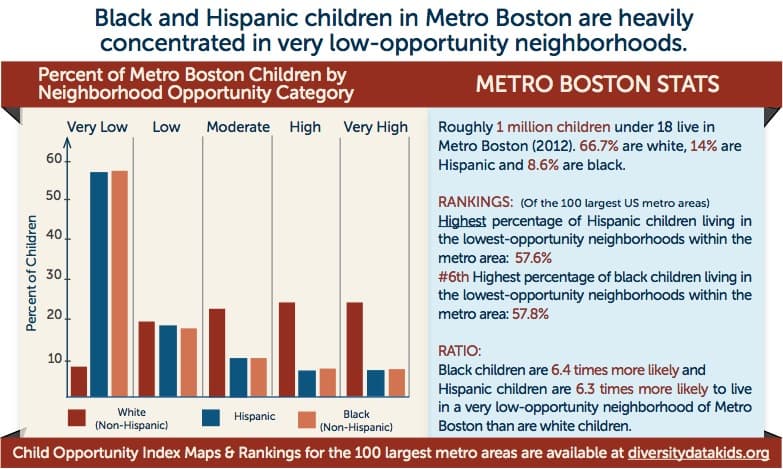 Readers, thoughts? New sense of the city?
Further reading: Robert Wood Johnson Foundation maps of other cities