Jazz Vocalist Cassandra Wilson Tips Her Hat To Billie Holiday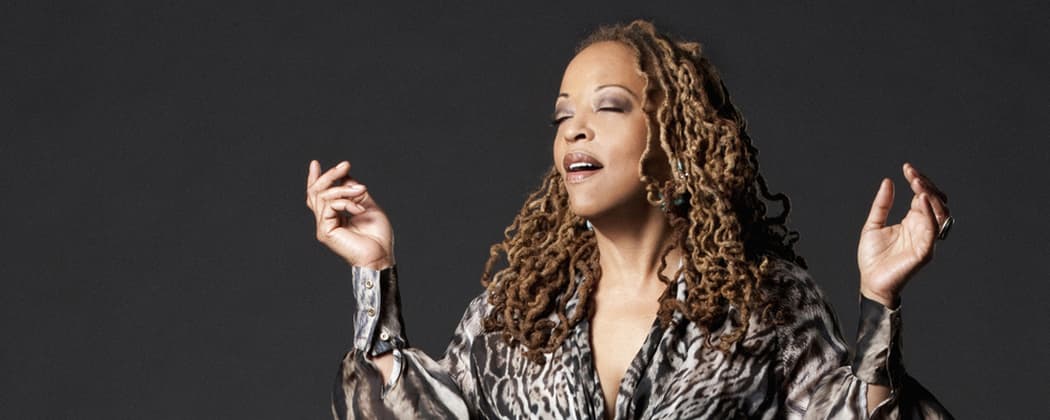 This article is more than 6 years old.
Billie Holiday is quoted as saying, "You can't copy anybody and end with anything. If you copy, it means you're working without any real feeling. No two people on earth are alike, and it's got to be that way in music or it isn't music."
This leaves a special challenge for the singer who wants to pay tribute to Lady Day in the year she would have celebrated her 100th birthday.
Vocalist Cassandra Wilson has taken on this challenge and gives Holiday's songs an unusual musical accompaniment.
World Music/CRASHarts will bring Wilson and her band to the Berklee Performance Center on April 11.  The concert coincides with Wilson's new Billie Holiday tribute, "Coming Forth By Day," released on CD and LP on April 7. The concert will likely be filled with selections like "Don't Explain" and "Good Morning Heartache" — songs that Holiday composed or made famous. The unexpected part of the evening will be the accompaniment to the songs, which, judging from the new album, will catch listeners by surprise.
Wilson has been a significant figure in the jazz scene going back to the 1970s. She was part of Steve Coleman's M-Base Collective, released more than 15 solo albums, two of which have won Grammy Awards, and received the Miles Davis Award from the Montreal International Jazz Festival. She is, as she says to Tavis Smiley, "in that lineage of singers." These seem like ample qualifications for her latest project, making up for the relative jazz inexperience of the producer, indie-rock connoisseur Nick Launay.
Launay, who's worked with artists like the Yeah Yeah Yeahs and Talking Heads, does know his strengths. He brings them to Wilson's album with atmospheric steel guitar twangs and slow bluesy tempos. A rhythm section heavy on the cymbals, a string section, a horn section, the occasional loop machine, electronic effects, lots of guitar and noticeable reverb construct what Wilson says is "not so much the dark side, but the beauty and the power and the majesty of her [Billie Holiday] work."
This backdrop is most successful when used to capture the spirit of Holiday. Similar to how music from a different era might be the soundtrack for a movie, the arrangements could be the soundtrack to Holiday's life. "All of Me" was performed by Holiday as a medium tempo swing tune. Wilson slows it down and reharmonizes to create a swirling eeriness that makes one reflect on the loss that Holiday experienced in her life: an absent father, abusive relationships and drug addiction.
Similar to Holiday, Wilson takes a simplistic approach to the songs, using the sheer emotional draw of her voice to catch the ear of the listener. However, while Holiday used her robust moan with a gravely edge, Wilson uses her deep, light whisper. Wilson says of Holiday, "I think she had a great gift for reaching inside the heart." If her new album is any indication, Wilson's upcoming performance will have a similar effect.
Claire Dickson Contributor, The ARTery
Claire Dickson is a jazz vocalist and writer studying at Harvard College.