Former Rhode Island Gov. Chafee Considering 2016 Campaign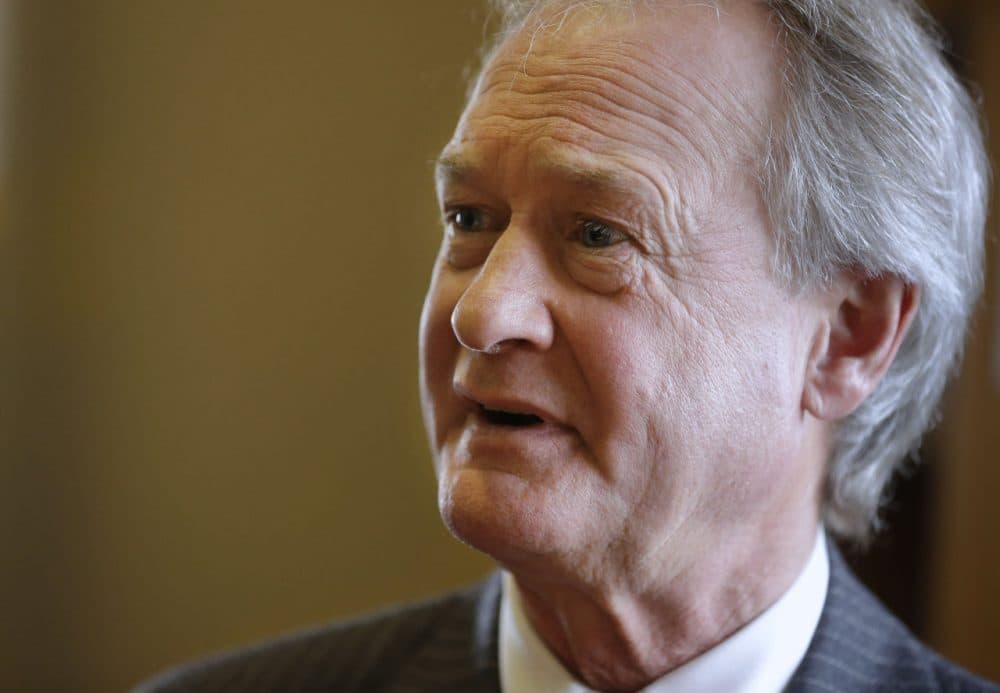 This article is more than 6 years old.
Former Rhode Island Gov. Lincoln Chafee, who has often confounded the political establishment, said Thursday he had formed an exploratory committee to consider a Democratic presidential campaign and quickly labeled Hillary Rodham Clinton's 2002 vote to authorize the Iraq war a mistake.
Chafee, a Republican-turned-independent-turned Democrat, said Clinton's Iraq war vote was a "disqualifier" and the decision remained relevant to U.S. policies in the Middle East and North Africa, returning to an issue that helped derail her 2008 primary race against Barack Obama.
"I don't think the next president of the United States should have voted in favor of that mistake," Chafee said in an interview with The Associated Press. "And I don't think the Democratic party nominee, in particular, should have voted for that mistake."
On the eve of Clinton's expected presidential announcement, Chafee made the surprising declaration of his own, saying in a video on his website that he would consider a White House bid and spend the next few months in the early voting states of New Hampshire and Iowa.
Chafee said Obama has "led admirably" but said he remains "alarmed" about instability in the Middle East and North Africa.
"I care very passionately about where we're going in the world and what we're leaving for our children," he said.
Clinton remains the dominant potential candidate in the Democratic primaries and is expected to announce a presidential campaign within days. Chafee would face long odds in a field that could include former Maryland Gov. Martin O'Malley, former Virginia Sen. Jim Webb and Vice President Joe Biden. Vermont Sen. Bernie Sanders, an independent, is also considering a Democratic bid.
But Chafee's entry was significant because he was the first Democrat to directly criticize Clinton and he signaled plans to emphasize her hawkish foreign policy stances, which proved to be a major vulnerability against Obama in 2008.
"The voters should have choices and have debates about some of our decisions," he said.
The 62-year-old Chafee, who also served in the U.S. Senate, has often bucked members of his own party and demonstrated an independent streak during his political career. He was the mayor of Warwick, R.I., when his father, John Chafee, a former governor, died while serving in the Senate in 1999. The younger Chafee was appointed to his seat.
Lincoln Chafee won re-election to the Senate the following year but distanced himself from fellow Republicans, casting the lone GOP vote against the Iraq war and refusing to vote for President George W. Bush in the 2004 presidential election. He lost the Senate seat in 2006 to Democrat Sheldon Whitehouse, became an independent in 2007 and narrowly won a four-way race for governor in 2010.
Facing poor poll numbers as governor, he joined the Democratic party in May 2013 but ultimately decided not to seek re-election in what would have been a difficult campaign. He has expressed distaste for raising campaign money and negativity in politics.
In the video, Chafee makes no mention of Clinton but cites the need for voters to "assess the character and experience of those offering ideas."
Chafee has poured millions of dollars of his own wealth into his past campaigns but declined to say in the interview if he would use any family money to support a presidential campaign. "I've always been competitive in all my races," he said.
Chafee's plans were first reported by Rhode Island Public Radio.