Providence Beats Boston University 4-3 For NCAA Hockey Title
Providence defenseman Tom Parisi thought he was just dumping the puck in from the red line so the Friars could get some fresh skaters on the ice.
Boston University goalie Matt O'Connor thought he had it. Easy.
But after the puck fluttered into his glove, more a blooper than a line drive, O'Connor lost track of it. He opened his hand, the puck dropped below him, and as the BU junior scooted back to cover the net, he kicked it in for the tying score.
"I go back to the bench and guys are saying, `That went in,"' Parisi said. "I don't even know what to say. I was stunned. The second that went in, I knew we had it."
Officially, it was a couple of minutes later that Brandon Tanev scored to give the Friars the lead with 6:17 remaining. Frozen Four Most Outstanding Player Jon Gillies stopped 49 shots, and Providence held on to beat BU 4-3 on Saturday night for its first NCAA hockey title.
It was the third straight year that the NCAA has crowned a first-time champion.
Anthony Florentino and Mark Jankowski also scored for the Friars (26-13-12). The Hockey East runners-up earned the last at-large berth in 16-team NCAA Tournament, but they won it all by beating the school that edged them out for the conference title.
"I think that's what makes it a little bit sweeter. That BU team is, they were terrific," Providence coach Nate Leaman said. "It's kind of a little bit like our season: We started a little bit slow but we got better and better. We played a pretty good third period, and obviously got a big bounce.
And we had a heck of a bounce, and I think that got our bench alive a little bit."
BU (28-8-5) was seeking its sixth championship in a virtual home game, protecting a 3-2 lead when O'Connor seemed to field a harmlessly lofted puck. But then he doubted whether he had caught it after all.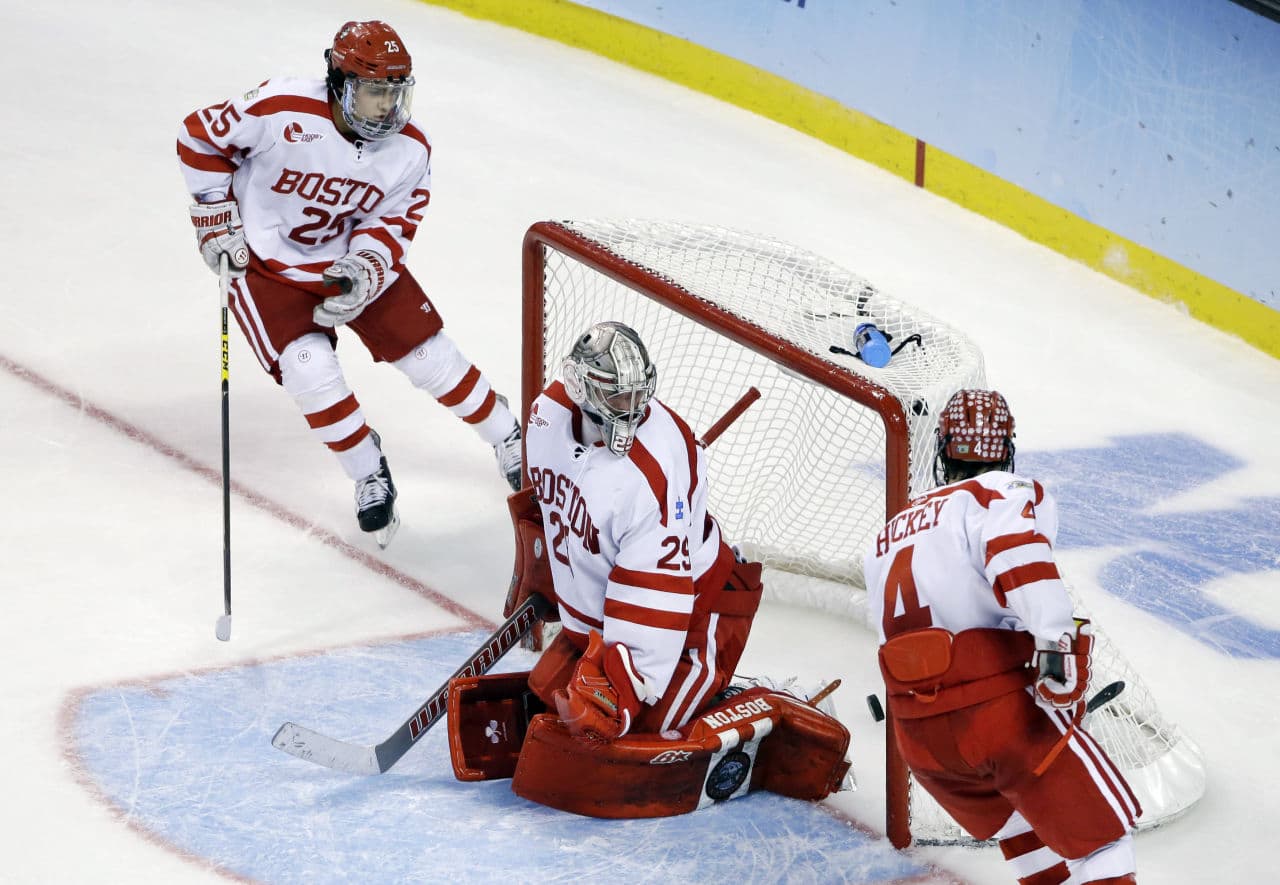 "I couldn't really see it in my glove. I thought it rolled out of it. I tried to drop and throw it to Jack (Eichel) and it was too late," O'Connor said. "Everyone in this locker room deserves a lot better. They deserve to be hoisting the national championship right now."
Tanev scored off a faceoff to give the Friars the lead, and Gillies helped protect it with a diving save against Nick Roberto in the final minutes.
The PC fans who made the hour drive from the Rhode Island capital drowned out the sound of the final buzzer, and the players stormed over the boards to celebrate. It was the school's second trip to the Frozen Four, its first since 1985.
BU players skated slowly over to O'Connor to console him after the loss. Providence players also tried to lift his spirits in the handshake line.
"As a goalie, you feel for a bounce like that," Gillies said. "And you've been there, so you know the bottomless feeling that it presents. ... You know that nothing you say right there can help, but just trying to get him lift his head up and realize he played an unbelievable year as a whole."
Ahti Oksanen and Danny O'Regan scored an NCAA Tournament-record 4 seconds apart for the Terriers to overcome an early deficit, and Cason Hohmann gave BU a 3-2 lead in the second period. O'Connor stopped 39 shots.
But his gaffe cost BU the lead in a building where it had won so many times in the Beanpot and Hockey East championships - including both tournaments this season. In all, the Terriers came into Saturday night with a 42-22-0 record at the TD Garden since it opened in 1995.
Oksanen tied it at 1 midway through the first period, then Hobey Baker Award winner Eichel won the ensuing faceoff and skated into the Friars' zone before sliding the puck over to O'Regan for another goal. The previous record for fastest goals was 5 seconds apart, set by Michigan in the 1948 championship game against Dartmouth.
Jankowski made it 2-2 early in the second and Hohmann put BU back on top midway through the period. It stayed that way for 20 minutes as the game settled into a lull before O'Connor's mistake gave new energy to the Friars.
BU called a timeout with 6:19 left. On the ensuing faceoff, Tanev picked up the puck in the slot and wristed it in for the go-ahead goal.
Terriers coach David Quinn, in his second season since replacing longtime mentor Jack Parker, pulled O'Connor with 1:50 to play, and BU put sustained pressure on Gillies. The Terriers came closest to tying it when Roberto picked up a rebound with Gillies out of position, but the goalie dove back and got his arm onto the ice to stop the shot and protect the lead.
The Friars were the preseason favorite to win in Hockey East, but they stumbled early and BU won the regular-season and conference tournament titles. PC won two games in the Providence regional to reach the Frozen Four, and then had another virtual home game against Nebraska-Omaha on Thursday to make it to the championship game.
This article was originally published on April 12, 2015.