Buchholz Hit Hard From Start In Red Sox's Loss To Yankees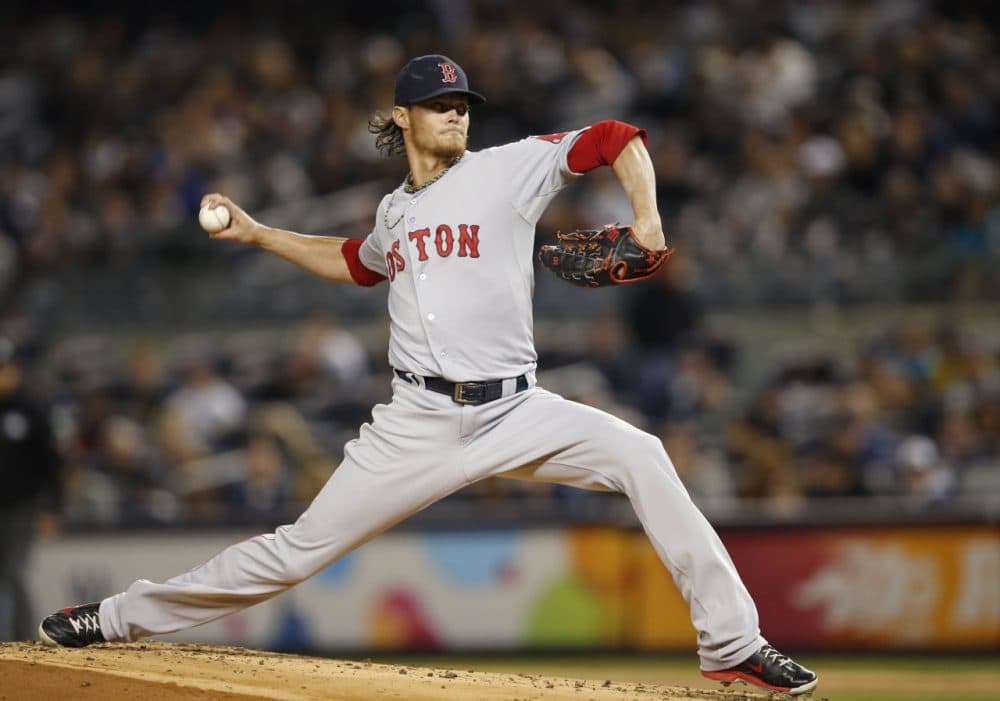 This article is more than 6 years old.
Clay Buchholz was tagged for 10 runs and still thought he pitched OK.
Buchholz gave up a three-run double to Alex Rodriguez in a seven-run first inning that the Boston Red Sox never recovered from, losing to the New York Yankees 14-4 Sunday night.
"Felt good with all of my pitches. The command was a little off at first but after that I felt really good," said Buchholz, who allowed nine hits and walked two.
Things didn't improve much for Buchholz after the startling first against a Yankees squad that came in hitting .193 in a 1-4 start. The right-hander was pulled with one out in the fourth having allowed a career worst for runs - only nine were earned.
The Red Sox were hoping to match their best start since 2006 at 5-1. Instead, they fell flat heading into Monday's home opener against Washington. Manager John Farrell is excited about his revamped club, which is looking this season to repeat the 2013 team's last place to World Series champion run after faltering last year.
"Two road series wins for us and now we go home," Farrell said. "To go back where we are with the record through the first six games - we've seen a number of positives out of our team so far."
Chase Headley and Stephen Drew had consecutive homers off Buchholz (1-1) to help New York avoid a three-game sweep and win for just the second time in six games.
Masahiro Tanaka survived one wild stretch to earn his first victory and with five solid innings somewhat put to rest concern about his right elbow.
Brian McCann hit his 200th career homer, Rodriguez walked with the bases loaded for a fourth RBI and Headley added a run-scoring single for New York, which had 16 hits. Carlos Beltran, who entered 2 for 20, singled twice, and Brett Gardner had a two-run single. Every Yankees starter had a hit and scored a run.
Tanaka (1-1) looked a whole lot more impressive than he did on opening day through three innings, mixing in more fastballs - topping out at 92 mph. He retired nine of his first 11 batters, allowing one hit and a walk.
But he lost control in a 38-pitch fourth, throwing two wild pitches and 17 balls as the Red Sox scored three times. Xander Bogaerts had a two-run double for one of Boston's two hits in the inning.
"After the first time we saw him, we adjusted to him and then he fell behind in the count and we got some walks in there and started getting hits," Bogaerts said, "but once we started scoring a few runs he got his groove back."
Overall, Tanaka allowed four hits and four runs - three earned. He struck out four and walked three.
The Yankees hadn't even had a hit in the first inning through five games, but on Sunday they had their highest-scoring first inning against the Red Sox since putting up eight runs on Aug. 15, 1954.
"It was fun," Headley said of the big inning. "It takes the burden off."
Hanley Ramirez hit his third homer, a solo shot off Tanaka in the fifth, and added a sacrifice fly.
The Yankees chased Buchholz with one out in the fourth after Mark Teixeira's sacrifice fly made it 10-3.
"I know he warmed up sharp and all of his pitches were being executed and then it was a different story once he got to the mound," Farrell said.