Key Moments From Day 1 Of Penalty Phase Testimony In Tsarnaev Trial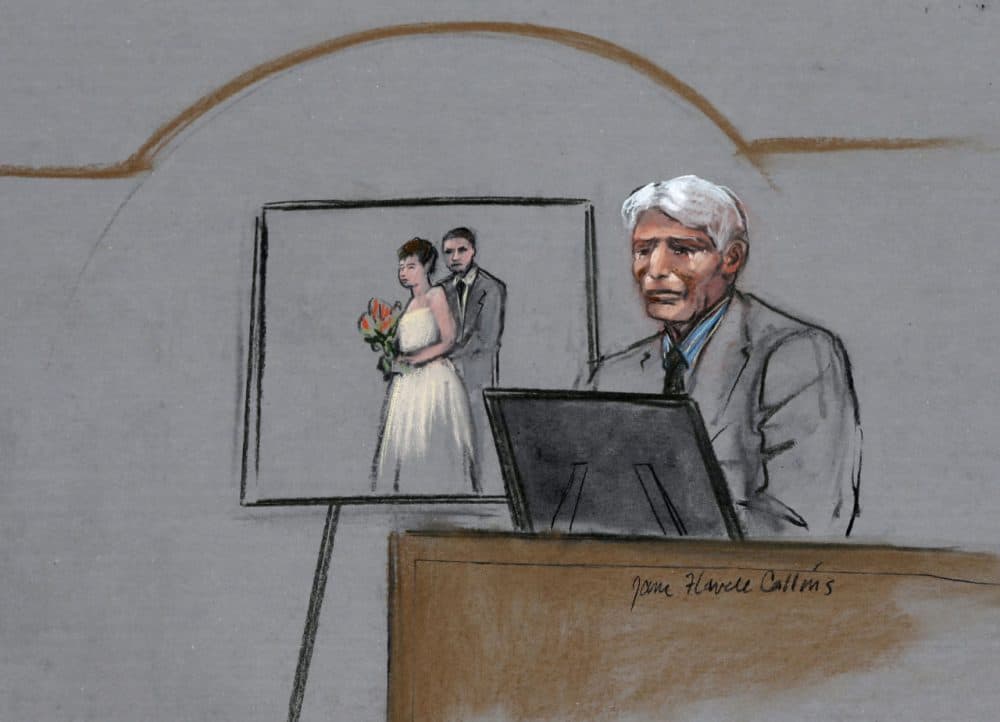 This article is more than 7 years old.
The penalty phase of the trial of convicted Boston Marathon bomber Dzhokhar Tsarnaev began Tuesday with some graphic testimony from bombing survivors and the relatives of victims.
Below find four key moments from Tuesday's testimony, and see all of Tuesday's live coverage here.
---
-Prosecutor Nadine Pellegrini delivered the government's opening statements for the penalty phase of the trial, immediately revealing pictures of Tsarnaev's four victims.
Pellegrini told jurors that during this phase of the trial they would begin to learn more about the four people killed, "How they lived ... why their lives mattered."
-Pellegrini closed her statements by revealing a previously unseen photograph of Tsarnaev just before his July 2013 arraignment.
In a courthouse jail cell, Tsarnaev is seen giving the middle finger to a security camera. "He is unrepentant, uncaring and untouched by the harm and sorrow that he created," Pellegrini said.
(4/22 Update: The photo has been released.)
-Gillian Reny was 18 years old when the bombs went off on Boylston Street and a piece of shrapnel carved out a chunk of her leg.
Reny delivered graphic testimony, sobbing as she remembered the moments immediately following the blast, how she thought she would die on Boylston Street. Although doctors were able to salvage her leg, it took months for her to be able to walk again, even on crutches.
-William Campbell Jr., the father of Krystle Campbell, smiled at times and struggled with his emotions at others. He testified that his nickname for Krystle was "princess ... because that's what she was."
After the bombings, Campbell initially heard that his daughter had survived. Twelve hours later he would learn that it was actually her friend Karen Rand McWatters. When he heard the news, Campbell testified that he "passed out on the floor," calling the two years since her death "horrible."