A 'Coerced' Confession And Its Aftermath, Onstage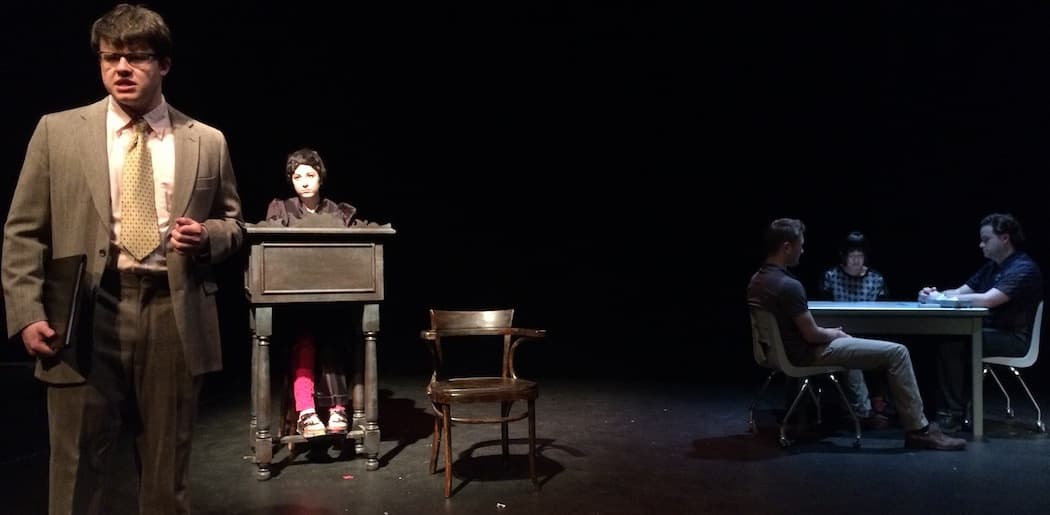 This article is more than 6 years old.
When "Coerced" receives its first public performances on Thursday and Sunday, it will signal much more than the completion of a school assignment. This documentary play—all of its dialogue is taken from real-life sources—reflects a deep dive by two Brandeis University students into the case of Nga Truong, the grieving Worcester 16-year-old who in 2008 was prompted by an intense interrogation to "admit" to a horrific crime—one that all involved now concede she didn't actually commit. The crime? Causing the sudden death of her 13-month-old baby boy by smothering him.
Truong spent nearly three years in jail awaiting trial before lawyer Ed Ryan successfully had the "confession" thrown out. The breakthrough in the case came with help from some tenacious reporting by WBUR's David Boeri, who successfully sued to make public the video recording of the interrogation. In a Kafkaesque denouement, the city of Worcester later argued in court that Ryan should help bear the cost of any damages eventually awarded, for taking too long to file his motion to suppress Truong's statement. The suit is ongoing.
"Coerced" is written by Brandeis seniors Julian Seltzer, 23, and Amanda Jane Stern, 21. The play is their joint senior thesis. They spoke with The ARTery on the phone from the school campus. (Interview has been condensed and edited.)
Jeremy D. Goodwin: How did you hear about Nga Truong's story?
Julian Seltzer: David Boeri was a guest lecturer one day talking about the Nga Truong case. I was really struck by this. I thought it was really powerful, an amazing story. I'd never heard of a case quite like this where there was such full documentation. It was astounding. At the end of the class I went up to him and I asked if he's heard of anybody trying to turn this story into a play.
Amanda Jane Stern: He brought it to me and said: 'I've found our next documentary play, we have to do this.'
What sort of research did you do?
Seltzer: We got every bit of documentation that we could. We started with David Boeri's coverage.
Stern: We read through the judge's ruling on the motion to suppress the confession. And then we also found all of the documents about when Boeri went to court to get the DVD of the interrogation and make it public. He gave us all the documents that he had in regard to the case—the transcript of the interrogation, transcripts of his interviews with Nga Truong and with her lawyer. We had all of his annotated copies of things as well, so we could see what his thinking was. A lot of that actually became dialogue in the play.
Seltzer: We also had two in-depth interviews with Ed Ryan.
Did you interview Nga Truong?
Stern: We have not spoken with her about the story. She's already spoken so intently about it that we felt there was enough there without making her relive it.
So how long have you been working on this?
Stern: For three years. Our original idea was to just write it immediately, to not even interview people and go straight ahead and do it in our sophomore year. As we studied the case more, we decided this was something that needed to be bigger than that. We needed to take our time and conduct interviews with the people involved and make it something really great.
What is it about her story that you are so captivated by?
Seltzer: I think it's a window into a much bigger story than just what happened to Nga Truong. There's a litany of other issues that this play raises—such as the nature of police, the nature of interrogation, how the legal process treats children or immigrants or perceived immigrants, and the role of the media in reporting these incidents.
Stern: To boil it down, when you watch that interrogation video, it's something that will never leave you. What we saw on that tape—and we've seen it quite a few times, in full—it's flooring. It's really atrocious what you see happen to someone who is a child, basically. Watching it will never ever leave you. Seeing that that made us feel we need to put this out there.
Seltzer: All of the words are taken from the historical sources. That reflects the accuracy and it also ups the drama of the whole narrative.
How so?
Stern: Instead of making the Lifetime Network version where we make up dialog, we use the actual words that are said. Every line of dialogue in the play was said by the actual, real-life counterpart. I feel there is nothing we could make up on our own that would be more interesting than what really happened.
Jeremy D. Goodwin contributes regularly to the Boston Globe. Among other venues, his work has been heard on New England Public Radio and WBUR and read in American Theatre. Follow him on Twitter here. Check out his website, with links to lots of other work, here.