A Homecoming For Cavaliers Coach David Blatt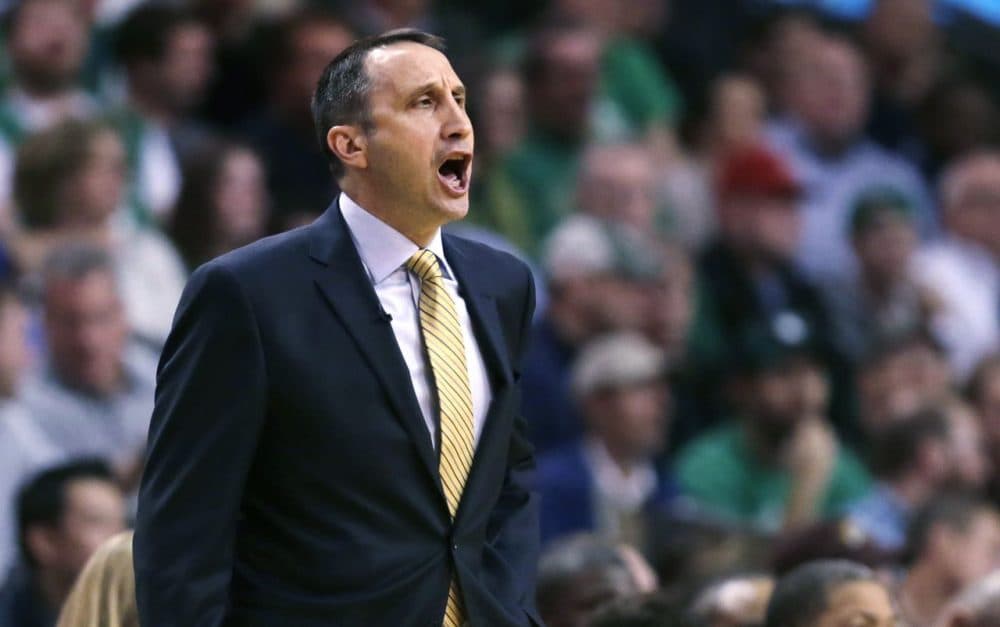 This article is more than 6 years old.
"Now you can ask me about Framingham."
Those were Cleveland Cavaliers head coach David Blatt's first words for the media following his team's 103-95 win over the Celtics Thursday night in Boston.
"It was moving as hell. I didn't even know if I was going to be able to start the second half to be honest with you."

David Blatt, Cavaliers coach
To reach his current position as head coach of the Cavs — who now hold a 3-0 lead over the Celtics in the first round of the NBA Playoffs — Blatt traveled the world over. He coached in Israel, Russia, Italy, Turkey and Greece. But his journey began just a few miles down the Mass. Pike.
Blatt, 55, grew up a Celtics fan in Framingham, Mass. where he attended Framingham South High School.
As fate would have it, Blatt, in his first season as an NBA coach, got matched up in the first round of the playoffs against his hometown team. Cleveland hosted the first two games in the series but on Thursday night Blatt was back in Boston.
And at the postgame press conference following his team's win, Blatt shared the story of an unexpected halftime reunion:
And I'll tell you something great happened to me: I'm walking in at halftime and a policeman stops me … And some of you are old enough to remember the days when the program of [school] busing started — which was a very, very significant and difficult time for the city of Boston and for that period of history. And he was a good friend of mine who was coming in from Boston to Walsh Middle School in Framingham, Mass.

And I saw him and we hugged and it reminded me of a few of the other guys that are still around and told me they follow me and it was just — it was moving as hell. I didn't even know if I was going to be able to start the second half to be honest with you. And I didn't — I think we went down 8-0 in the beginning. So I'm going to tell my friend, maybe he set me up.
That Celtics 8-0 run tied the score at 56-56, but it didn't take long for the Cavaliers to regain control. LeBron James nailed a jumper to put Cleveland back in the lead, and the Cavaliers led the rest of the game.
The teams will meet again in Boston on Sunday afternoon for Game 4, and Blatt will have a chance to send his hometown team home for the offseason.