The Space Lady—The Legendary, Helmeted Street Musician—Returns To Boston
One day in 2000, Susan Dietrich Schneider picked up the box of her life and threw its contents away.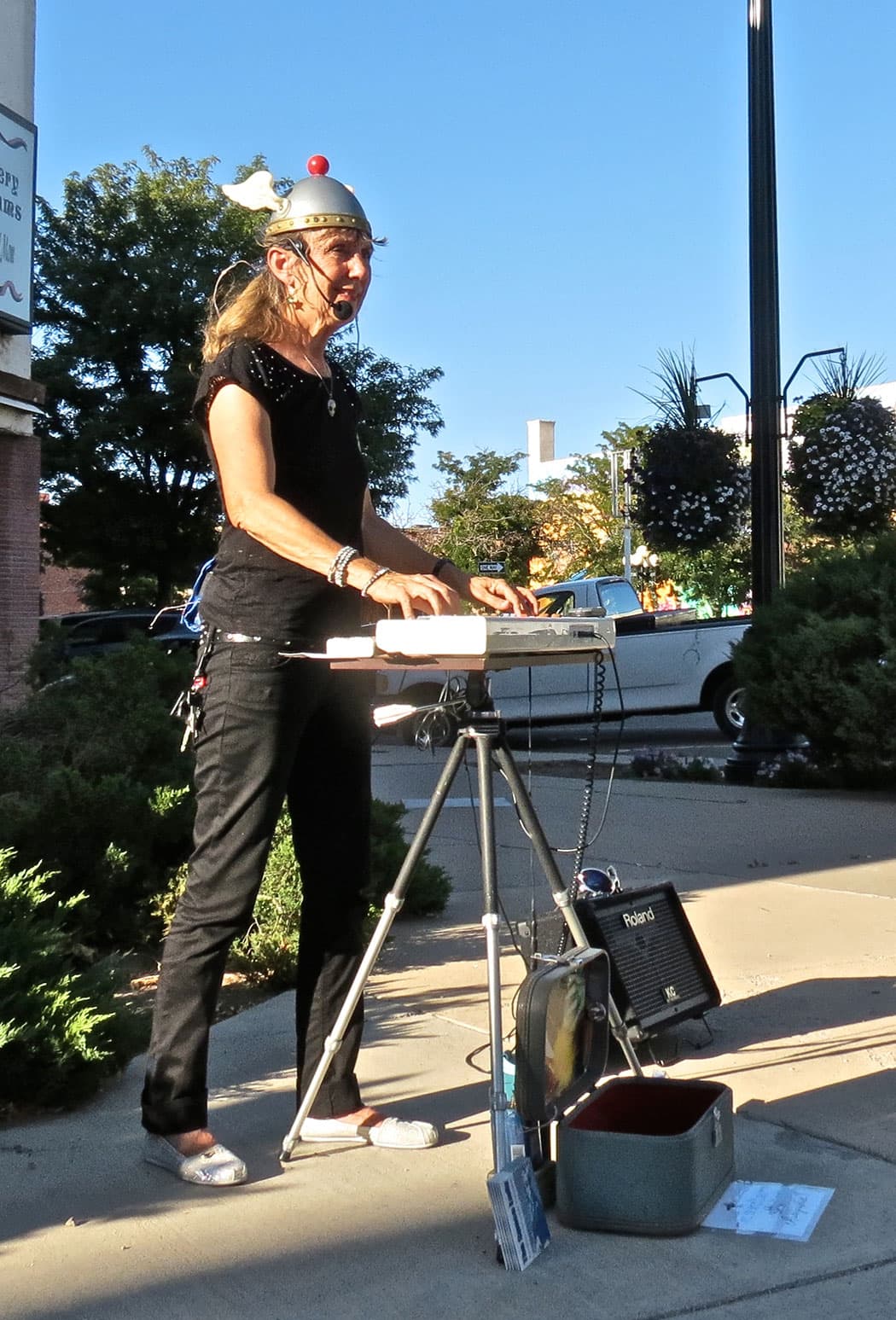 For 16 years, Schneider had supported her family by busking on the streets of San Francisco, and did the same for 12 years before that in Boston. Sporting a costume-shop helmet affixed with wings and a blinking red light bulb, she was known affectionately as "The Space Lady," and played futuristic rock 'n' roll covers on a dinky Casio keyboard with an effects pedal. But her parents, back in Colorado, were getting older, and her marriage was deteriorating. So she left her husband, moved home to Colorado, and enrolled in a nursing program at a nearby junior college.
"I couldn't bear to look back. I couldn't bear to think about how many years I'd spent on the street," she says. "Even my music, I thought, was a disgrace. I couldn't listen to it, I could barely even respond to emails from people wondering where I'd disappeared to. It was torture because I had this major disconnect."
At the moment, Schneider is in a period of rediscovery (or is it simply discovery?), embarking on her first series of tours at indoor venues in support of "The Space Lady's Greatest Hits," a compilation containing remastered versions of songs that she originally sold on cassette tapes in the '90s. She will appear at the Midway Cafe with Boston's most beloved street musician, Keytar Bear, on April 26.
Not long after her abrupt return to the grid, Schneider was contacted by a New Jersey-based producer and radio host named Irwin Chusid, who wanted to include one of her songs on a compilation of so-called "outsider music." "Songs in the Key of Z, Vol. 2" helped propagate Irwin's concept of this niche genre of marginal music, one populated by artists operating outside the commercial music industry who often had no formal musical training or who challenged conventional notions of music in other ways. The album introduced Schneider to an entirely new set of listeners; her audience, once comprised of passing businessmen and curious tourists, now included European youths, fans of Chusid's radio show, and legions of the Internet's most curious. At the time, however, Schneider didn't think too much about it.
Her second husband, Eric Schneider, encouraged her to start playing songs again, and she bought a new keyboard on eBay. The first time he saw her perform, Eric remembers, "My mouth dropped open, literally. It was like, 'Holy cow!' Because at that time in her life Susan was very shy. She's still a little bit shy, very humble, but not like that. But when she started playing, it was like something burst loose."
It is hard to pinpoint the precise appeal of The Space Lady. Schneider studied piano as a child, and believes that her mother could have been a successful concert pianist had she not opted to stay home with the kids. Consequently, Schneider's music does not possess the radical strangeness of some of the most notorious outsider musicians—The Shaggs, for example, with their baffling lack of rhythm, or Shooby Taylor, a fantastically inept (or perhaps brilliant) scat singer. Schneider sings with sweet unpretentiousness, treating popular songs, like Peter Schilling's "Major Tom" and Stan Jones's "Ghost Riders in the Sky," to her trademark mellow space vibrations, her voice awash in trippy laser sounds and supported by reverby bass runs and charmingly chintzy beats. The appeal is akin to that of a B-movie sci-fi flick, though admittedly more tasteful: low budget, but earnestly and disarmingly so. It is all accomplished with a cheap keyboard and a phaser pedal.
Schneider got her start as a busker at the Park Street subway station in Boston in 1972. As she tells it, she and her first husband, who had been denied conscientious objector status and was dodging the Vietnam draft, had moved to the city with the intention of coming out of hiding. (Prior to that they had spent a winter in a cave in the forest near Mt. Shasta, California, holed up with a wood stove in a hollowed-out space underneath a tall ponderosa pine tree.) Schneider picked up an old, beat-up accordion at a thrift shop in Jamaica Plain, figuring it would be easy to figure out with her piano training. "[I] wanted to play the accordion because I was so sick of panhandling, and approaching people and asking for money," she says. "It was very humiliating and demeaning and difficult."
When she first ventured down into the grimy, cacophonous underbelly of Boston, Schneider could barely eke out a tune on those dusty bellows. Yet, on that very first day, she raked in more money than she ever did panhandling. "I was playing really simple things, like 'Take Me Out to the Ball Game,' and 'Irish Eyes Are Smiling,' because it was ... just before St. Patrick's Day when I first went down there with my accordion," says Schneider. "So there was just a certain charm and positivity about what [people] saw and heard. And also a naiveté, because I really was fumbling around on the thing. So they knew, they could hear that I was learning as I was earning. It was just a bootstrap operation. I guess there was—what's the word—an integrity in it?"
Schneider eventually switched over to a little battery-operated Casiotone keyboard, and her husband helped rig up the effects and her distinctive winged Hermes helmet. The space aesthetic, she says, was linked to the pacifistic message she hoped to spread through her music—and, yes, to the couple's experiments with psychedelic drugs. Schneider had dropped out of college to join the hippie movement in San Francisco. "I didn't know what I wanted to major in, and I didn't like studying," she says, chuckling. "I was getting stoned, and nothing seemed relevant, that college had to offer. The Vietnam War was at its height of hideousness."
When she recalls that time in her life, Schneider describes a deep, anxiety-producing tension between the roiling political landscape and her desire to achieve some kind of spiritual transcendence through the use of psychedelics and the making of art. "It was such a disconnect. You could expand your consciousness and see how the world should be. And if only everyone could see that we're all part of this big universe and there's no separation. And what the heck is this war all about? And the discord between races and gender, and the gay movement was emerging out of that, too. And it was just so contentious, people hating each other, here on the normal plane, everyday existence. So we couldn't quite make our two worlds come together—but through music, and art."
That sensibility infuses Schneider's music, which oozes with infectious goodwill, and probably helps to explain her enormous appeal. (The first song on "The Space Lady's Greatest Hits" has over 22,000 plays on Soundcloud.) But her music also speaks to the conflict—which became increasingly desperate as her children got older— between the family's nonconformist hippie values and their practical needs. Schneider gave birth to her first two children in Boston, and a third after moving back to California. For a long time the family lived off the grid, barely scraping by, until Schneider decided they should surface so that they could qualify for government assistance. The kids, she says, were ashamed of their mother, hawking cassettes on the streets in a blinking plastic helmet.
For Schneider, a devotee of alternative medicine, the decision to become a registered nurse was the ultimate capitulation to mainstream norms, though she viewed it as a necessary one. The return of The Space Lady is therefore a kind of reconciliation with Schneider's old self—one that she developed as much out of a need to survive as to find fulfillment. Her children, now grown and with kids of their own, are delighted. Says Schneider, "They see The Space Lady in a new light."