Scott Billington Produced The Greats—While Learning The Business From All Sides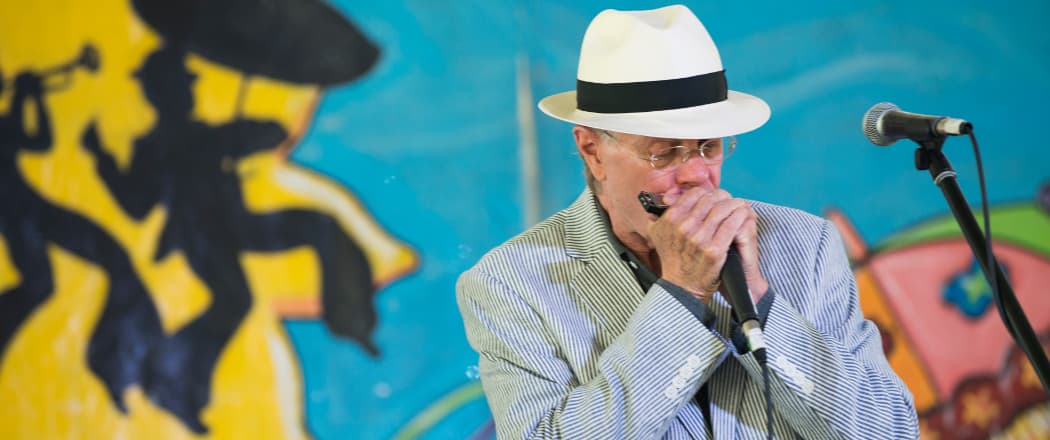 This article is more than 7 years old.
It's the smallest stage, with the smallest audience, but Scott Billington is used to being out of the spotlight. Playing in the kids' tent early on the final Sunday afternoon of the New Orleans Jazz & Heritage Festival, the sandy-haired 63-year-old is beaming as he lays down a bluesy harmonica riff. In his other life, the Malden native has produced some of the biggest names to play this internationally renowned 46-year-old festival, but today Billington is accompanying his wife, guitarist/singer Johnette Downing, both of them looking cool in seersucker jackets and white hats. Together, they serenade an audience of about 30 children and their caregivers, singing jaunty songs about po' boy sandwiches, bunnies and alligators, and why reading is fun.
"Spin your partner," sings Downing, who is also a children's book author. "Go under the bridge." A handful of parents spin the smallest audience members, while others, grateful for shade on this steamy day, watch as their children bounce around to the cheerful tunes. Billington is integral to that bounce, adding sophisticated polyrhythms to the sing-along tunes, both on harmonica and when he sits down to play percussion on a cajon.
The couple, who plan on releasing an album this year, are up against some serious competition on this, the seventh day of the fest. Across the New Orleans Fair Grounds Race Track, dancers are already stirring up the dust as crack Cajun band Feufollet fiddle and bounce on the Fais Do Do Stage, while two local legends, guitarist Walter "Wolfman" Washington and the quirky keyboardist Ironing Board Sam (yes, his keyboard rests on his namesake), bring their own brands of blues to two more of the 12 stages spread across the grounds.
Billington, who started his career playing in bar bands, has performed on those larger stages. His first Jazz Fest was "probably 20 years ago," as he recalls, when he was touring with zydeco great Nathan Williams as one of Nathan and the Zydeco Cha-Chas (who closed Fais Do Do the first Saturday of the fest this year). But the longtime Newburyport resident, who now calls New Orleans home, is best known for making the music happen behind the scenes. Check the small print on recordings by such soul, blues and Cajun/zydeco greats as Williams, Steve Riley, Marcia Ball, Beau Jocques, Johnny Adams, Solomon Burke, the Dirty Dozen Brass Band and a score of others — all one-time Jazz Fest headliners — and you'll find Billington's name as a producer. For his work behind the board on over 100 recordings, he has won two Grammys for production (out of 11 nominations) and numerous other awards, making him integral to the careers of some of the greatest names in American roots music.
While this year logs his 40th anniversary with Rounder Records (for which he now serves as vice president, A&R, signing acts as well as producing their records), Billington says, "I've been in the music business in one form or another since I got out of high school." An early job with a record store, New England Music City in Harvard Square, introduced him to the founders of Rounder Records. And when his own performing career — touring around New England with his swing band Roseland — made the record-store job untenable, he hooked up with the then-Cambridge-based label, handling sales. "We'd play the steakhouse circuit, and I opened [sales] accounts wherever we went."
Rounder was more loosely organized back then, and Billington ended up trying his hand at everything from writing liner notes to designing album covers. His first producing credit came when music scribe and fellow fan Peter Guralnick and he ended up going through some Boston Blues Society tapes. That led to projects with Robert Jr. Lockwood, Sleepy LaBeef, and Clarence "Gatemouth" Brown. When Brown won the label's first Grammy, for 1982's "Alright Again!," Billington's ability as a producer was confirmed.
His love affair with New Orleans grew along concurrent — and similarly organic — lines. Friends in the Crescent City had hosted Billington on visits, and by 1980, he was playing "$10 a set on Bourbon Street" gigs, he recalls. That kind of experience, he says, still informs his producing.
"All those years of playing in what were essentially bar bands gave me a good foundation for communicating with musicians." (He's also done his homework, studying composition at Berklee briefly and ear training with Ran Blake at New England Conservatory.)
It has also given him a deep love and understanding of his adopted hometown. Chatting before the Fest, Billington recalls his work with some of New Orleans' best — at some of New Orleans' hardest times.
For example, Irma Thomas, for whom Billington has produced more than a dozen albums. "I love Irma," he says, speaking of the singer known as the Soul Queen of New Orleans. "She's almost my second mom." (Thomas sang two long sets at the Fest this year, performing her R&B act the first weekend and nearly bringing down the Gospel Tent with her soulful spirituals the second.) "She's like part of the bedrock of New Orleans."
But even with a legend, there are challenges. Readying for a recording with Thomas back in 2006, Billington recalls wanting to push the singer. "I started thinking about Irma and how we seemed stuck in a 1970s R&B mode," he recalls. "I said, I want to make a record that's more about you and less about the genre." Assembling a band that included quintessential Crescent City talents like keyboardist David Torkanowsky and drummer Stanton Moore, they prepared to go into the studio. Then Hurricane Katrina happened.
"The studio we were going to record in, Ultrasonic, went completely underwater," he remembers. "Everybody reconvened at Dockside [Studios] in Lafayette. Most of us hadn't seen each other since before the hurricane. It was a very emotional time."
The first song the group cut was Arthur Alexander's "In the Middle Of It All," and Thomas poured everything she had into it. That take was a keeper, "a live vocal that left us in tears," says Billington. That cut opens the 2007 album, "After the Rain," which won Billington's second Grammy as a producer.
These days, Billington does as much licensing and A&R — signing acts — as production.
"It's harder to make roots music records these days," says Billington. "Through all the years at Rounder, we just saw one genre of music after another that pop threw into popular consciousness — whether it was Cajun music with 'The Big Easy' or the bluegrass explosion with 'O, Brother Where Art Thou' … The whole world is out there and accessible; it's harder to find something that someone hasn't discovered now."
Maybe, one thinks, the key is to go small — like he's done today, on the Kids' Stage, with Johnette. "She's got a voice and the soul to go behind it," says Billington, proud husband and collaborator. "Seeing that applied to the children's music world, to make music that holds itself to a high musical standard as it relates to kids, that's something."
Editor's note: This post originally said Billington was from Medford, but he was actually born in Malden. The post has been edited to reflect this correction.
This article was originally published on May 06, 2015.