Bush And Clinton Take Latest Swings Through New Hampshire
04:13
Play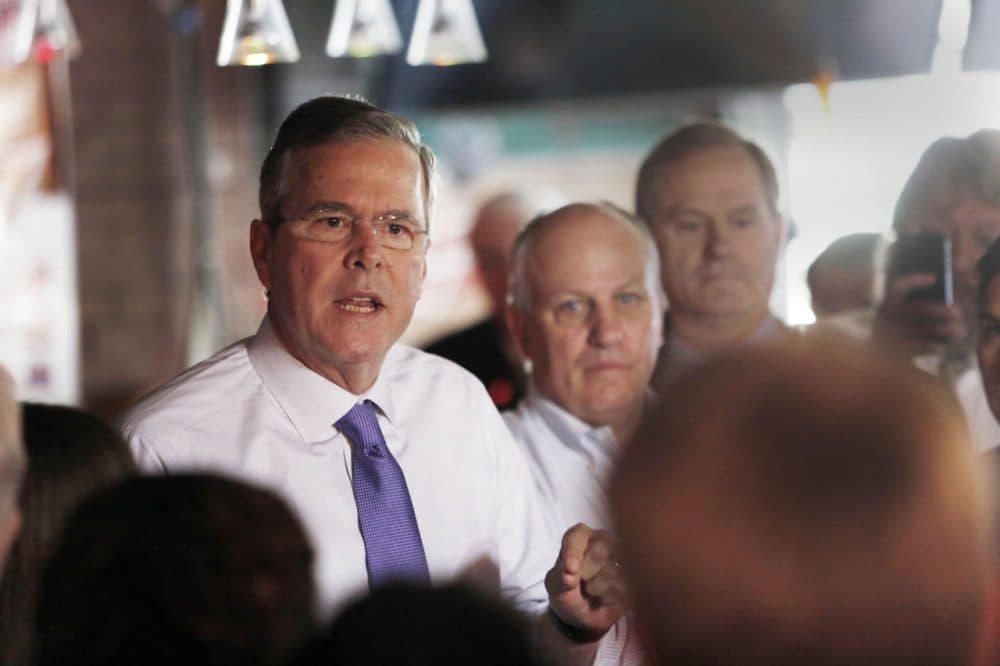 Audio report above from Asma Khalid, text report below from Rebecca Sananes.
CONCORD, N.H. — The Clinton and Bush families have been represented in nearly every New Hampshire presidential primary since 1988. The latest members of these political powerhouses — Republican Jeb Bush and Democrat Hillary Clinton — made their latest swings through the state this week.
On Thursday morning, in a cozy local sports bar in Concord with exposed wooden rafters, Jeb Bush shook hands, smiled and took selfies with New Hampshire residents.
He's not the first Bush to win hearts of voters with his relatable demeanor. In the 2000 election, his brother President George W. Bush was said to have won by his "beer factor" — a reference to his likability.
This is not the only connection people have drawn between Jeb Bush and his older brother, something the not-quite-yet presidential candidate has been trying to avoid. He was quick to tell the New Hampshire voters to separate him from his family, starting his remarks by saying, "There's a little confusion that all family members are supposed to be clones of one another."
Some of the views he expressed Thursday, however, appeared similar. He called for more aggressive foreign intervention, saying "our enemies need to fear us a little bit, we need to make our enemies twitch."
But New Hampshire voters seemed open to evaluating Jeb Bush based on his personal record, not his brother's.
"I treat Jeb Bush as Jeb Bush," said John Potucek, a state representative from Derry, New Hampshire. "He's a candidate and he stands on his own two feet."
Talking to the press after his events Thursday, Jeb Bush proudly said that he's answered upward of 800 questions.
"I don't know why others would be compelled to be in a protective bubble," he said, clearly referencing his potential general election opponent Hillary Clinton, who campaigned in New Hampshire Friday.
Clinton's campaign has been far more tight lipped with the press and her events more choreographed.
At her Friday round table discussion at the Smuttynose Brewery in Hampton, New Hampshire, members of the press were patted down with a metal detector before entering. Fifty members of the New Hampshire community sat in neat rows of folded chairs, separated from the press by partitions, on hard cement floors surrounded by stacks of kegs reaching up to the warehouse ceiling.
Clinton spoke with seven representatives from the New Hampshire business community and said if elected she will be "the small business president," but took no questions from voters.
Clinton did however answer six questions from the press, a rarity so far in her campaign. Unlike Bush, her foreign policy appears far less interventionist.
Speaking about the fight against the self-declared Islamic State, Clinton told members of the press "there is no role whatsoever" for U.S. ground forces in Iraq.
She was then quickly whisked off to another event in Exeter, New Hampshire.
Correction: An earlier version of this story incorrectly stated that Hillary Clinton's Exeter event was closed to the press. We regret the error.
This article was originally published on May 22, 2015.
This segment aired on May 22, 2015.