Historic Gay Head Lighthouse On Martha's Vineyard Moved Inland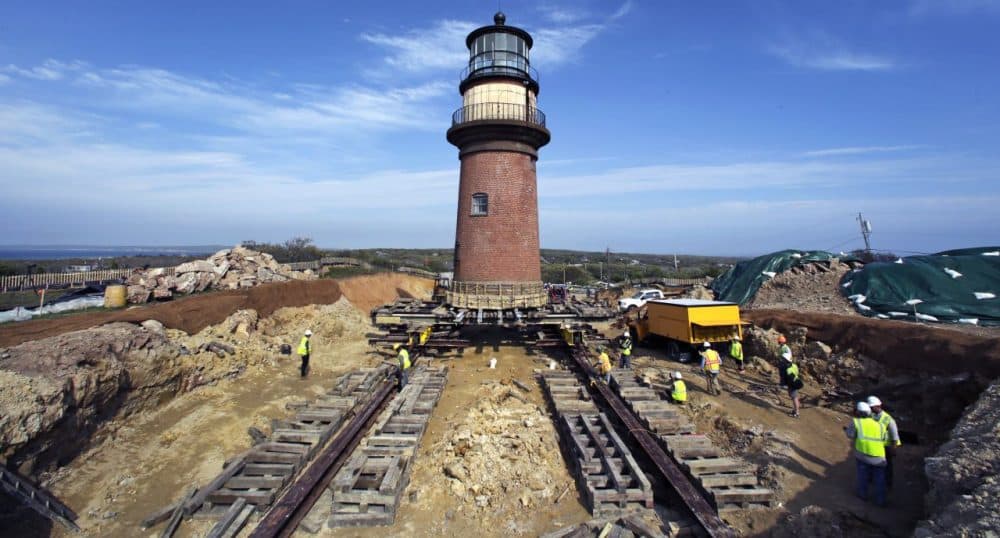 This article is more than 5 years old.
On Martha's Vineyard, the 160-year-old Gay Head Lighthouse has been successfully moved away from an eroding cliff.
By Saturday afternoon, workers finished moving the lighthouse farther inland along steel rails using powerful hydraulic pistons. The gradual move began Thursday.
Project manager Richard Pomroy said it took an enormous amount of time and labor to move the 400-ton lighthouse just over 130 feet in the past couple of days.
"From the earth-moving to the engineering, it represents months — if not years — of planning to get to this stage," he told WBUR.
Experts believe Gay Head Lighthouse will now be safe for another hundred years.
Workers had spent weeks painstakingly digging under the lighthouse to lift it a few short feet off the ground, using dozens of hydraulic jacks supported by a network of wood-and-steel beams.
Located on the sparsely populated, western edge of the resort island, Gay Head Light has been a critical waypoint for mariners since the peak of the whaling trade in the 19th century.
Its red-and-white beam can be seen for almost 20 miles out, warning ships of the coastline and the treacherous shoal extending about a half-mile into the water.
Today, the beacon and its dramatic, brilliantly colored cliffside perch are also a must-see destination for tourists.
Buddy Vanderhoop, a longtime charter fishing captain whose great uncle was the lighthouse's first keeper, was among a handful of locals on hand who observed the start of the move on Thursday.
"That light right here has been significant for me finding my way back home on more than a thousand occasions," he said. "You know exactly where you are when you see the red and the white. That's the homestretch."
Paula Eisenberg, who has lived down the road from the lighthouse since 2002, said the beacon has been a comforting and treasured part of her time on the island.
"At night, my husband and I can see the sweep of the lighthouse beam through our bedroom window," she said. "It's just a big part of our lives out here and we couldn't bear the thought of losing it."
A group of local schoolchildren that had helped raise money for the $3.4 million project also stopped by for a visit when the move began.
"It's pretty cool. I thought it would take a lot of time, maybe a couple of weeks," 9-year-old Yossi Monahan said.
Relocating the lighthouse became an urgent matter after constant landslides caused by ocean waves and groundwater severely eroded the cliffs.
Before its march inland, the lighthouse was just 46 feet from the clay-and-sandstone cliff's edge. Within two years, advocates feared, it would have been too close to the edge to move safely.
"This was a proud symbol of our maritime heritage," said Len Butler, chairman of a town committee overseeing the relocation. "We couldn't let that happen."
The project was paid for through donations and grants, though supporters say they're still about $200,000 short.
Pomroy said they hope to have the town-owned lighthouse re-lit and open to the public by early July.
A temporary beacon has been installed on a simple steel pole nearby to guide ships to safety.
Original post by The Associated Press, with updates from the WBUR Newsroom
This article was originally published on May 28, 2015.