Riveting Examination Of Guilt And Forgiveness In 'Terrible Things' At The Huntington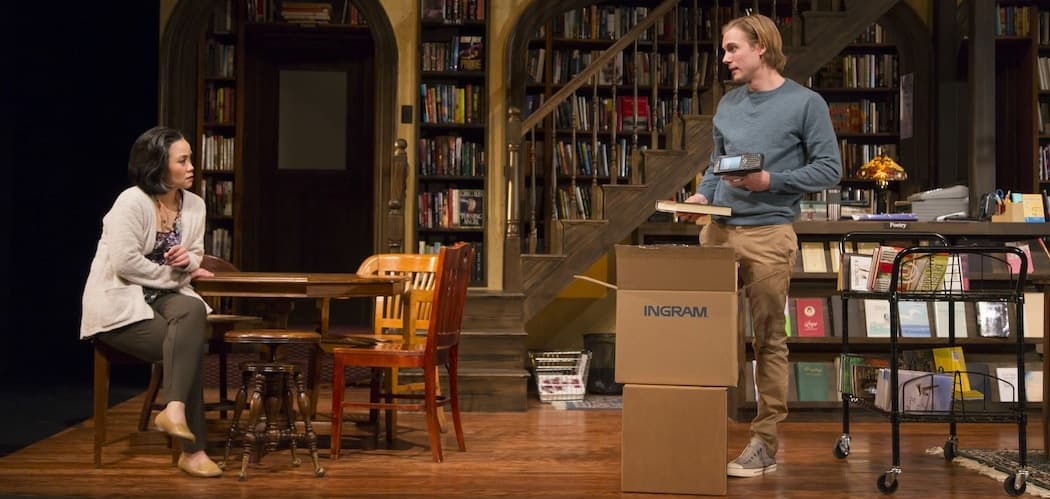 This article is more than 6 years old.
A. Rey Pamatmat, recently minted as an emerging playwright of consequence, packs a lot into "after all the terrible things I do," the two-hander now making its New England premiere in a production at Huntington Stage Company. There's stuff in there about the relationship between art and life, the psychology of a bully and ways that two seemingly disparate people can find common ground, even if in heartbreaking fashion. Perhaps it's ultimately about forgiveness—both giving it and receiving it.
But although the play at one point references the Iowa Writers' Workshop at the University of Iowa (and Pamatmat, 39, is a graduate of the Yale School of Drama), it's to his great credit that the work comes off only rarely like the studied artifact of a graduate student with Something To Say. It feels like the believable emotional journey of two smart people.
It gets there on the strength of two very good performances and the uncluttered direction of Huntington artistic director Peter DuBois. And in the way he plays with audience expectations, Pamatmat rather daringly confronts the theatergoer to examine his or her own notions of empathy.
Zachary Booth is terrific as Daniel, a recent college graduate who has returned to his hometown for the first time in years. He's seeking a simple job and some peace and quiet, he explains in the job interview that opens the show, to lay low and work on a novel. Tina Chilip perhaps has a tougher job with a less clearly realized character, one who goes on less of a character arc than a couple of 90 degree turns. Her Linda is a bull in a bookshop—the one she owns, where Daniel soon starts working.
Clint Ramos' well-appointed, fully convincing bookstore set provides enough depth of field to never seem claustrophobic, even when the frequently shifting relationship between Daniel and Linda becomes flinchingly intense. It also offers an upstairs playing space which, though DuBois uses it sparingly, serves as a sort of palette cleanser for a short scene or two. (Lighting designer Lap Chi Chu too does some fine work.)
The story turns on at least two major reveals, so there's only so much to say about the plot here. Suffice to say, the deepening extent of the overlap between Daniel's life experiences and Linda's is a running feature.
When we meet Daniel, he's an eager beaver with enough of an aww-shucks vibe to seemingly fit in well in this unnamed town, described by the playwright as "unremarkable." (Daniel's affect later suggests an ominous hue, retroactively—though this could be teased out to much more unsettling extent.) He hasn't been around much since he moved to Chicago as a child to live with his father, and looks to be a self-assured bookworm—if a rather strapping and good-looking bookworm. He's quick to quote the poet Frank O'Hara at length, and surprised to find that this town may be less accepting of his identity as a gay man then he had expected.
He's writing a novel about a romantic relationship between two men, one of whom was violently bullied as a youth, and Linda, who is a Filipina immigrant, pries for the autobiographical backstory she assumes is Daniel's inspiration. Linda is not as self-aware as she thinks she is, and smilingly makes inappropriately personal comments moments after cautioning Daniel to be more discreet. She's the sort who barks her way around her own terrain, either not caring what others think of her or assuming they find her behavior idiosyncratically charming. And at times it is. Their repartee is rich with bookstore verisimilitude—listen to the way Daniel says "Barnes and Noble," the words sitting in his mouth like a gulp of sour milk.
As written by Pamatmat, Daniel speaks with the polished craft and complete sentences of a writer—and based on the recitations built into the script, the Huntington could conceivably host an evening devoted to Booth performing the work of O'Hara. But Linda sounds like the creation of a playwright who's not yet mastered the task of capturing the cadences of everyday speech. Their dialogue sometimes feels like an exercise in point/counterpoint, with Linda seeming generally enlightened but letting her casual bigotry slip in easily correctable ways that provide a series of teachable moments.
Still, this is a fully engrossing performance, au courant in its topicality and with a finale that is a sort of photo negative of the pat ending a lesser play (and playwright) might deliver. It takes the issue of bullying, particularly of gay youths, and uses it to delve into broader questions about trauma and guilt. The play is ultimately a success, and a pretty riveting one at that.
This run pairs with a production of "Edith Can Shoot Things and Hit Them" by Company One Theatre (June 4-27) to form the introduction to New England stages of Pamatmat's work. If the Huntington and Company One are positing that his is an important new voice to hear, this production of "after all the terrible things I do" makes the first half of a convincing case.
Jeremy D. Goodwin contributes regularly to the Boston Globe, the ARTery (where he is also an editor), Berkshire Magazine and many other publications. See more of his work here. Follow him on Twitter here.