2 Teens Held Without Bail In Killing Of Dorchester 16-Year-Old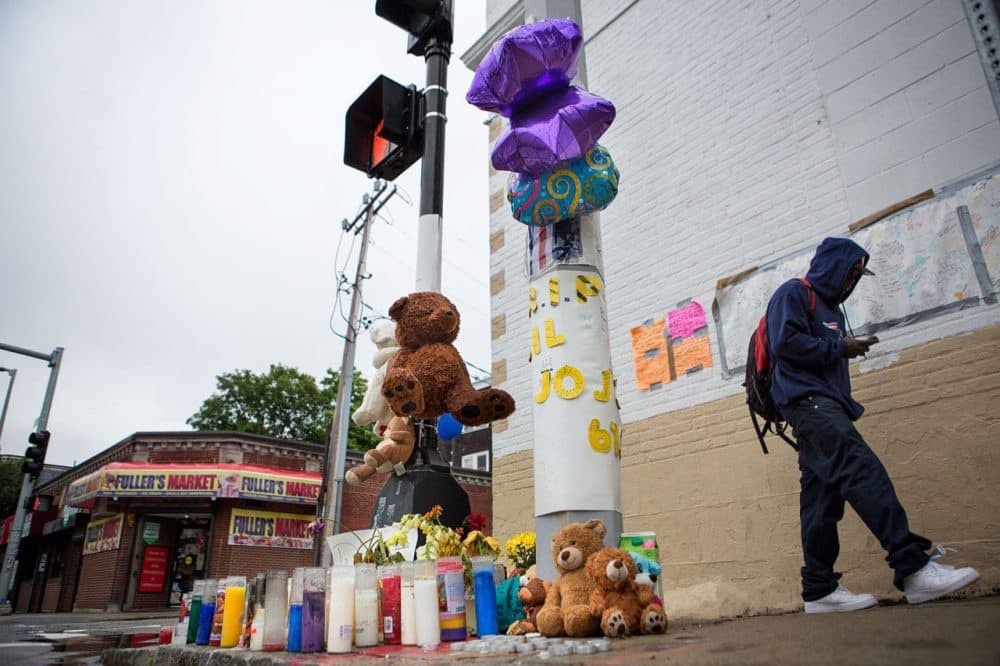 This article is more than 7 years old.
Two Boston teenagers charged in connection with the fatal shooting of another city teen have been ordered held without bail until a probable cause hearing on July 15.
Dushawn Taylor-Gennis, 16 of Dorchester, and Raeshawn Moody, 14 of Mattapan, stood out of sight during their arraignment on murder and gun charges Monday at Dorchester Municipal Court.
Assistant District Attorney Jennifer Hickman said during the arraignment that the two teens are "clearly visible" in surveillance video taken from a nearby store and that they "trapped" 16-year-old Jonathan Dos Santos and shot him five times as he rode his bike near his Dorchester home Wednesday evening.

Hickman said the two suspects seemed to be waiting for someone on the surveillance video, and moments before Dos Santos appears in the frame one of the teens hid across the street. The other teen remained on the sidewalk and acknowledged Dos Santos as he approached, Hickman said, before he made a gesture that caused Dos Santos to duck and turn away. That's when Hickman said the teen who was hiding shot Dos Santos.
Hickman did not say which of the suspects, who are both being charged as adults, shot the victim.
Taylor-Gennis's lawyer, Michael Doolin, denied the allegations.
"The case that's been lodged against him is one of mistaken identity," Doolin said. "We look forward to litigating this case in court. My client looks forward to a fair trial."

Authorities say the three knew each other, but the motive for the shooting remains under investigation.
Taylor-Gennis and Moody were arrested Saturday after their mothers turned them into police.
The Suffolk County district attorney's office said in a statement that while surveillance video helped identify the suspects, "cooperating witnesses" also played a part.
"The facts as we understand them are chilling," Suffolk County District Attorney Dan Conley said in the statement. "Our thoughts and prayers are with the Dos Santos family, and we urge anyone with additional information on Jonathan's murder to share it with homicide detectives. We're still in the early stages of this investigation and every piece of evidence matters."
Police Commissioner William Evans said Saturday that it was not yet known if the shooting was gang-related.

With reporting from the WBUR Newsroom and the Associated Press.
This article was originally published on June 15, 2015.