In Plainville, State's First Gambling Facility Is Set To Open — And Never Close
06:56
Play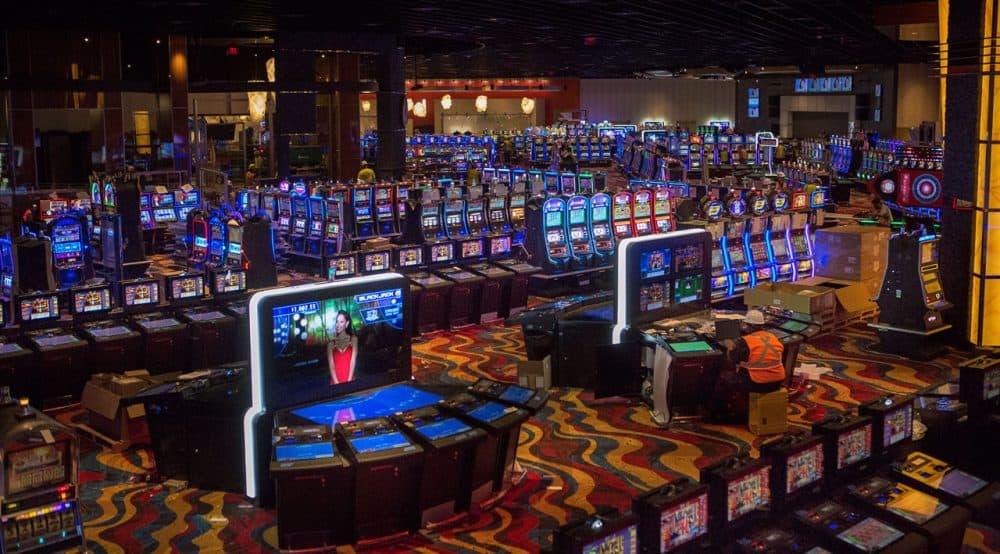 This article is more than 5 years old.
Downtown Plainville is just 3 miles from where the Plainridge Park Casino will open later this month, but it feels worlds apart.
The new slots parlor is in the far northeast corner of town, where Interstate 495 and Route 1 intersect — some 5 miles south of Gillette Stadium. But much of the community looks like a quiet New England town. There's a single story building that houses both the police and fire departments, right across the street from the small town hall where Joe Fernandes works.
"It's a middle class, in large part, blue collar working community. It has not grown dramatically over the last 20 some-odd years," said Fernandes, Plainville's town administrator.
Fernandes was an early supporter of the slot parlor, largely for financial reasons. For the first five years, Plainridge Park will pay the town some $4 million a year — more than 10 percent of its annual budget.
Fernandes said most of that money will be put toward future projects, and that if all goes well, Plainville may never have to borrow money again.
"If someone said, 'I'll pay your mortgage for the rest of your life,' that obviously frees up money to do other things," he said.
Much of the rest of the money will go to offset negative gambling effects: police, fire, water and sewer.
Police Chief James Alfred has already hired two additional officers and plans to add more, but he's not expecting a major increase in crime.
"The odds are that something additional will happen. So if there's 3,000 people there as opposed to 100, obviously the odds are we'll have some types of incidents," he said, adding that he believes most of any increase in crime that could happen would likely be at the facility itself.
"I think we're going to look and see some larceny increases and obviously some folks who've had too much to drink," Alfred said. "We may see some fraudulent credit card use."
In conjunction with State Police, the two new Plainville officers will help the department maintain a permanent plain-clothed presence at the casino, assigned to patrol the gaming floor and its 1,250 slot machines.
That's all you'll find at Plainridge Park. There are no table games here — the key difference between this facility and the three resort casinos allowed under state law.
But you will be able to play electronic table games, complete with their own virtual dealer who periodically calls out, "blackjack anyone?"
Construction at the facility is not quite complete. The machines still need to be tested, ceiling tiles installed, and carpets vacuumed.
But Plainridge Park Casino General Manager Lance George says Penn National Gaming, which owns the site, has been able to meet a roughly one-year construction timeline.
"The coordination of this project, couple that with some off-site road improvements when MassDOT is involved, though all timelines are aggressive, this one was more aggressive than many we've dealt with as a company," he said.
Plainridge Park wants to be a good neighbor in this community of just 8,000 residents, George said, praising the slot parlor's proximity to the highway.
"I think our location is ideal. We are, what? A tenth of a mile off of the 495 exit," he said. "So it's not as if there will be a tremendous amount of increased traffic driving through the streets of Plainville."
That may be why the casino has enjoyed such strong support from Plainville residents. In a town-wide referendum in 2013, 76 percent of voters backed the project. But that's not to say there hasn't been opposition.
Mary-Ann Greanier led the organization No Plainville Racino. She calls the gambling revenue set aside for the town and the state a mirage — something that will never fully materialize.
"My fear is already we have people who are spending the money that's coming in before it's gotten here," she said.
Greanier expects casino revenue to be a boon for a few years, but wonders what will happen when there are three full resort casinos in Massachusetts. She predicts when that happens, Plainridge Park will be drawing more and more of its revenue from people in the local community.
The town, she worries, will become a haven for payday lenders, crime and prostitution. She worries so much, in fact, she's moving to Littleton and plans to put her house in Plainville up for sale next month.
"I don't want to live in a town that garners a good deal of its revenue, its so-called revenue, from what I consider picking the pockets of its residents," she said.
But Greanier also praises town leaders for the approach they've taken to the casino revenue. Nearly all non-property tax payments from Plainridge Park will go into a special fund and cannot be used to balance the town's budget except in extreme cases. That way, if casino revenues fall off a cliff, the town is still protected from becoming over-reliant on the slots parlor.
For most residents, their support for Plainridge Park seems to be more tacit. They see the casino as a net positive for the community, but they're not counting down the days until it opens.
"It's a whole different, new generation coming in," said Del Brown, who owns an auto body shop downtown. "You can't stay back in the '50s and expect to have the 20th century good stuff. It just doesn't work."
Plainridge Park will hold an invitation-only soft-opening on June 22, but won't open its doors to the public until June 24 around noon. After that, its owners say the casino will be open 24/7 for the rest of its life.
This segment aired on June 15, 2015.