Gunther Schuller's 2-Part Interview With Christopher Lydon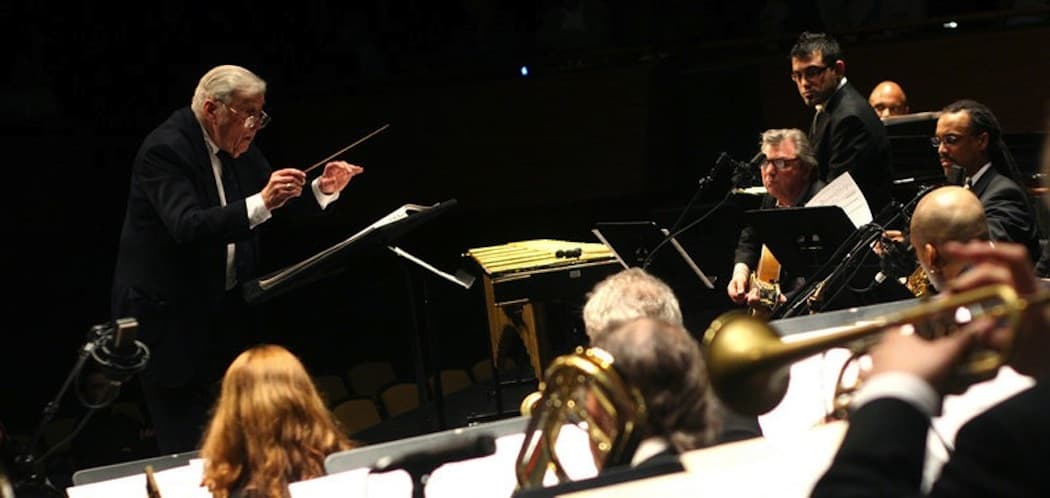 This article is more than 6 years old.
Gunther Schuller was a composer, conductor, horn virtuoso, jazz historian and critic: a one-man vessel of many revolutions in 20th century music. He was the French horn virtuoso in orchestras led by Arturo Toscanini and Fritz Reiner, a modern composer and a jazz player back in the day with Miles Davis, Bill Evans and the Modern Jazz Quartet; also a principal big-book historian of jazz in its early, swing and modern eras; and all his life an instigator of things, like the Ragtime revival that went to Hollywood in the 1960s and '70s.
Schuller, who died Sunday at 89, was the man who first mapped a "Third Stream" of music between classical and jazz temperaments. "All musics are created equal," he used to say. And he walked that walk himself through a 70-year career between Beethoven and Bill Evans, Igor Stravinsky and Charlie Parker.
When we spoke last spring, Gunther Schuller was sitting at his piano, and had a dozen or more commissions for new pieces in his own atonal mode. He talked the talk with us, too, one final time — old, new, jazz and classical music, back and forth intimately and equally because, as he said, "well, they're equal."
Gunther only got through the first volume of his autobiography, "A Life in Pursuit of Music and Beauty," which runs 600 pages through the 1950s in the New York of his boyhood. That's where our conversation began, a time which he remembers as, day and night, a "cultural paradise for all the world."
Listen to Christopher Lydon's two-part conversation with Gunther Schuller here: Part One begins in musical New York, and Part Two begins with the influence of Stravinsky's "Rite of Spring."
Gunther Schuller on YouTube