Boston Celebrates U.S. Women's World Cup Win
Resume
Sunday's crowd on Boston's City Hall Plaza was massive. Well over a thousand people, possibly as many as 2,000, turned out for the city's Women's World Cup Final viewing party.
Cambridge resident Tanya Smith was one of them. She was also at the 2011 loss to Japan, where the U.S. gave up two leads, and eventually lost in a shootout.
"It was incredibly sad," Smith said. "We were ahead during the game, we had the momentum, so it was really, it was a hard loss."
But Smith had a good feeling about this game — a sense that things would be all right.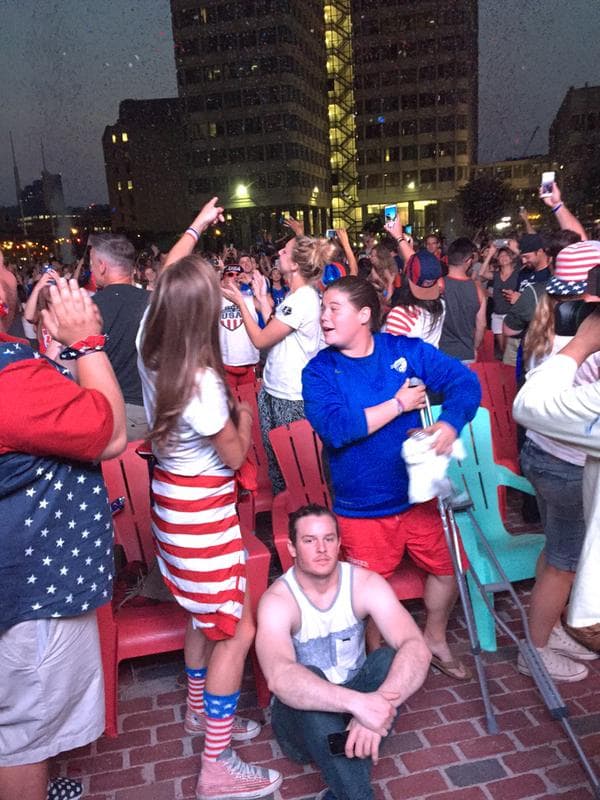 "We've sort of been gaining in momentum throughout the tournament, and you know, Japan hasn't been that strong. The last few games they've played, they really got lucky, frankly, against England."
That feeling turned out to be correct — and it wouldn't take long. Just 3 minutes in, midfielder Carli Lloyd put the USA ahead. Thirteen minutes later, the U.S. had added three more goals — giving them a 4-0 lead and more than they'd need to ultimately win the game, 5-2.
At the front of the crowd were members of Boston's own women's soccer team, the Boston Breakers. Breakers' goalie Alyssa Naeher is the U.S. Women's National Team's backup goalkeeper and her roommate here in Boston is Breakers midfielder Katie Schoepfer.
"We've been texting a lot and talking about it," Schoepfer said. "She's super excited to be there and get front row seats for every game and every time we see her on the TV we cheer, and we're excited for her and it's fun to see."
The loudest cheers came as Naeher got her chance to hold the World Cup trophy, with teammates shouting, "Alyssa, kiss it! Alyssa, kiss it!"
She kissed it, prompting shouts of delight from the home team.
The Breakers are hoping some of the excitement around this year's national team will trickle down to the local level. They still have four home games left this summer — many against teams that feature key players from the new World Cup Champions.
"It's fun to play against them," said Breakers defender Julie King. "That's what you want as an athlete and a competitor: you want to play against the best."
This segment aired on July 6, 2015.