10 Must-See Local Performing Artists At Outside The Box Festival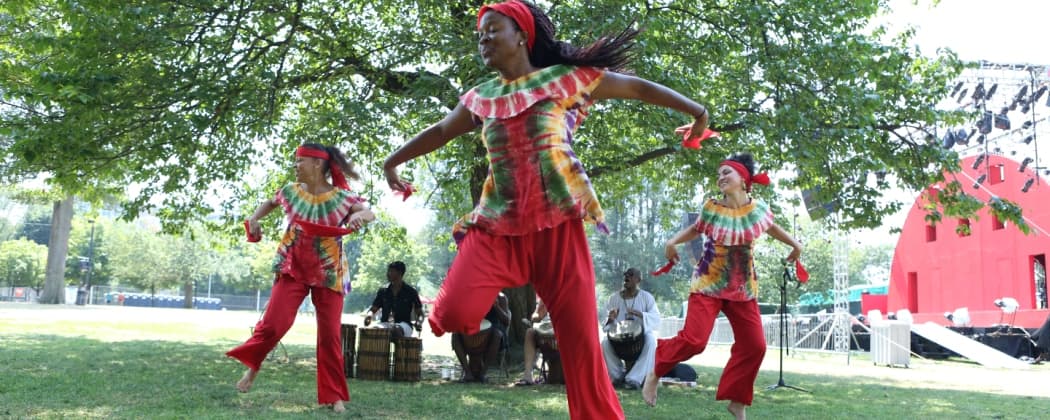 This article is more than 6 years old.
And it's back. After a 2014 hiatus, Outside the Box officially returns for its second year. A six-day, free performing arts showcase at Boston Common from July 14 to 19, Outside the Box will spotlight an array of multi-genre Boston-based performing artists on three main stages alongside Beacon, Park and Tremont streets. Created by Ted Cutler and directed by Georgia Lyman, the event will also include a children's programming area.
With more than 100 performances, it's tough to pick what to see. Of course, famous headliners like Gin Blossoms, Kacey Musgraves and New Politics are a must watch. (Who hasn't heard Gin Blossoms' "Follow You Down" on a movie soundtrack?)
Here are the 10 must-see local artists performing at the festival:
The Voice-Boston
Talk about vocal powerhouses. Former contestants from NBC's "The Voice" return home to grace us with their musical prowess, and trust me, if the celebrity judges turned their chairs for these singers, you'll want to hear this. The performance, presented by The Boston Film Festival, will feature both Jermaine Paul and Sawyer Fredericks, who took home the musical gold in 2012 and 2015, respectively. Also performing are Massachusetts natives, Noah Lis from Palmer and Ria Eaton from Billerica (both from Season 6) and James Massone from Wakefield (Season 2). The past competitors will perform on the Beacon Street stage on July 15 at 5 p.m. Make like Blake Shelton when he first heard Fredericks and say to yourself, "I gotta do it."
---
Boston Gay Men's Chorus
Two hundred voices, but one sweet choral sound. Performing at the Park Street stage at 7 p.m. on July 17, the Boston Gay Men's Chorus has combined music and community since 1982. Their musical repertoire ranges from popular radio hits to Broadway musicals to their heartfelt, emotional commission "Peace," composed by Joshua Shank. With upbeat and amusing or sincere and deeply moving performances, the chorus was named one of the top five choruses in Boston in 2013. They promote and celebrate inclusivity with every performance, and they do it with so much fun and love.
---
OperaHub
Presenting on the Tremont Street stage at 7 p.m. on July 18, OperaHub showcases their unique musical production "Choose-Your-Own Opera." A one-hour experience featuring a wide range of operatic experts, from Mozart to Verdi, "Choose-Your-Own Opera" leaves its characters' fates in the audience's hands. I can't help but wonder what future awaits this interactive show with us in power.
---
Kyle Thornton & The Company
Thornton and his band, The Company, bring their "soul-hop" to the Park Street stage on July 17 at 1 p.m. The musicians' fresh blend of soul, hip-hop and R&B music forces you to sway and dance to their smooth rhythms, and I must admit — I have yet to get Thornton & The Company's single "Lemonade" out of my head. What a catchy, groovy tune.
---
A Far Cry
Nothing quite like a classic to round out one's music itinerary. Better yet, a Grammy-nominated, self-conducted classical orchestra. Consisting of 17 musicians, the highly acclaimed orchestra has even previously collaborated with Yo-Yo Ma. A Far Cry performs on the Tremont Street stage at noon on July 15.
---
Foundation Movement
Fusing music and activism, Foundation Movement creates socially conscious hip-hop that transcends music and tackles injustice and oppression. Committed to producing meaningful music, the acclaimed duo speak to social issues through their rhythmic beats and substantial lyrics. Duo members Eroc and OpTimus perform on July 15 at 4 p.m. on the Tremont Street stage.
---
Benkadi Drum & Dance
African culture meets the Park Street stage on July 15, through Benkadi Drum & Dance's lively rhythms and even livelier dance. A vibrant, energetic group merging art and education, Benkadi Drum & Dance exposes its audience to arts and culture from across the world. Their performance begins at 3 p.m.
---
Bill Banfield
Calling all jazz lovers to the Park Street stage on July 19. At 1 p.m., composer and musician Banfield will present his cool jazz melodies, a symphonic blend of the classical and jazz musical education his adept fingers and melodic voice have spent years learning and rehearsing. Banfield grooves, and it's a groove you won't want to miss.
---
BoSoma Dance Company
Captivating with sharp, dynamic movement and physicality, BoSoma Dance Company presents twice at Outside the Box. The dance company will perform at the July 14 opening ceremonies on the main stage, and later at the Park Street stage at 7:30 p.m. on July 16.
---
Greek Music Ensemble
I have yet to set foot in Greece, but this ensemble's music sends me straight through the country's illustrious white buildings, through long winding staircases overlooking gorgeous, blue waters — the picturesque, made-for-movie Greece view. The ensemble plays an assortment of Greek music, from classic to urban to folk and traditional. In their performances, the distinctive sound of the classic Greek musical instrument, the bouzouki, creates a pleasant, sprightly rhythm rooted in a vivacious culture. Close your eyes and truly appreciate Greek Music Ensemble's symphonies at the Park Street stage at 5:00 p.m. on July 16, and maybe you too will set imaginary foot in Greece.