Company One's 'Colossal' Goes Head-To-Head With Football And Masculinity
"Colossal" is a compellingly physical new work that requires triple-threat performers — in this case, with acting, dance and football chops.
Chicago-based Andrew Hinderaker's play, which is in the fourth tumble of a National New Play Network "rolling world premiere" (following productions in Baltimore, Minneapolis and Dallas), is laid out, in the manner of a tense pigskin outing, in four carefully clocked quarters complete with halftime show, three-man drum team and plenty of testosterone. Everything but the roar of the stadium and the froth of the beer.
But the theater piece, here presented by the ever-adventurous Company One (at the Calderwood Pavilion through Aug. 15), is more than just a gimmick. It means to be a serious consideration of what constitutes masculinity in American culture, not to mention of the pageantry and savagery of football. Interestingly, Hinderaker began the play, which centers on a seriously injured gay football player, before either the concussion controversy or the entrance of Michael Sam into the NFL as its first openly gay player.
However, the dramatist contends that he set out to write an "impossible" play and, judging by this production, he may have succeeded. Unlike Company One's body-slamming 2012 staging of Kristoffer Diaz's "The Elaborate Entrance of Chad Deity," a piercing satire set in the world of pro wrestling, "Colossal" proves somewhat awkward in its melding of dance, drama and athletics. In particular, the production's brawny ensemble proves more persuasive as a sports team than as a terpsichorean entity. More than once, I wondered what the piece might look like if performed by the Mark Morris Dance Group.
This is not to belittle Hinderaker's audacious concept or his more serious concerns. Like the sports therapist in the play, the writer admits to both passionately loving football (he earned a master's degree in playwriting at the University of Texas, where the sport is "in the bloodstream at every level") and being troubled both by its ability to injure and by its overarching machismo. The protagonist of "Colossal" is, in fact, an erstwhile college gridiron hero called Mike, whom we find pondering his past from the confines of a wheelchair (it is built into the script that the part be played by an actor who uses a wheelchair).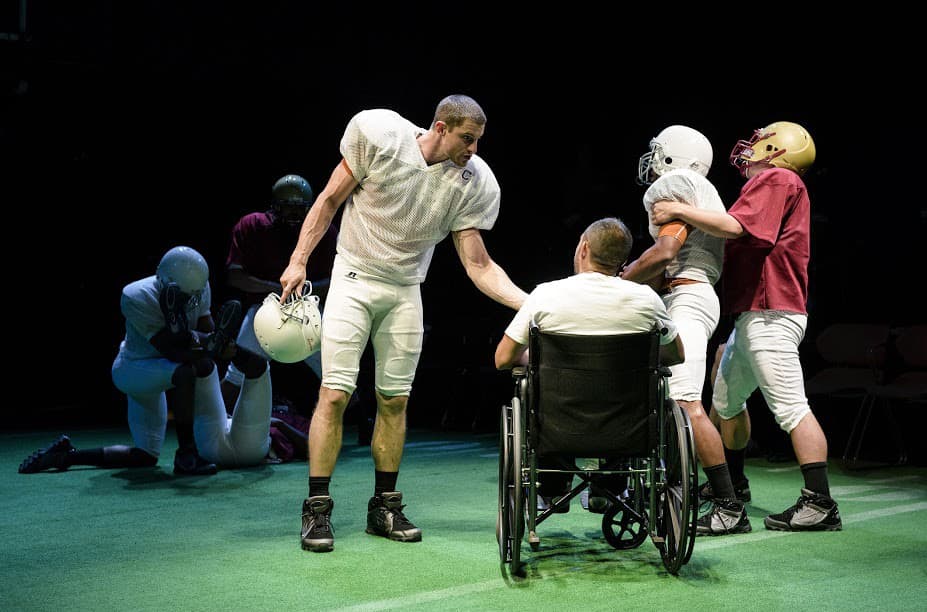 As Mike relives key events, including his love affair with a fellow player and the on-field mistake that changed his life, he freezes or rewinds the action by means of a remote control, avoiding until the end acknowledgement of the most painful moment. And as he does so, between bouts of conversation with his physical therapist and his dad, the ensemble serves as memory. Anchored by Mike's very buff younger self, this cadre of guys acts out, sometimes at speed, sometimes in slow motion, the carefully choreographed plays and swaggering interactions of what is at once an intoxicatingly immediate, disturbingly violent and very intimate game.
Adding both irony and poignancy, we learn that Mike's father, Damon, is no sports-crazed Joe Six-Pack but the leader of a modern dance troupe, who broke with his son over his decision to hone his football talents rather than pursue Dad's calling. As one character remarks, it's "Billy Elliot" in reverse.
For Company One, co-founder Summer L. Williams takes on the daunting challenge of directing Hinderaker's highly compacted yet tricked-out drama, its enforced structure and spare dialogue effectively decorated with flashing scoreboard and ambience-supplying appearances by a trio of Berklee College of Music-trained percussionists (Matthew Grina, Nick Liddie and Seth Pumilia) doing some sprightly dueling of their own.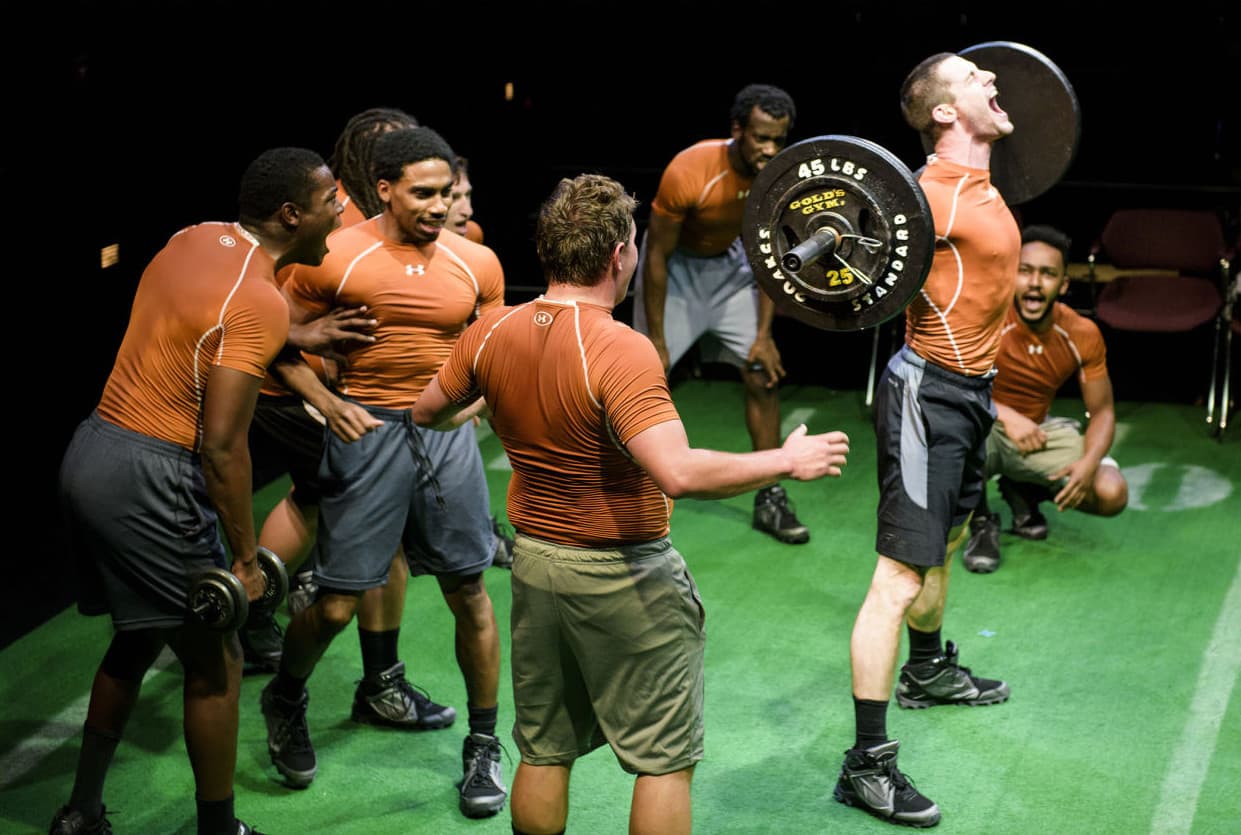 As Mike, cross-country skiing vet Marlon Shepard, a paraplegic for seven years but relatively new to acting, provides a fittingly repressed and brooding presence, wrenching emotion breaching the dam only in the very touching final moments of the play. The reliably likable Greg Maraio imbues the therapist, who double-casts himself as Mike's shrink, with sympathetic toughness, and Damon Singletary effectively underplays the barking coach. Ripped Alex Molina, as preening Young Mike, when not relentlessly goading his older self, proves nimble at demonstrating the dance-like nature of a successful running back's evasive moves. And 30-year dance vet Tommy Neblett both provides the choreography, including a ponderous halftime dance by the football players to drums and whistles, and plays the nervously repentant Damon, whose love proves less conditional than that of the son's ambitious teammate/lover, who is brought to aptly ambivalent life by Anthony Goss.
In all, the muscular yet questioning "Colossal" proves an ambitious effort that, if it doesn't exactly score a touchdown, has no intention of settling for a safety.
Carolyn Clay was for many years the theater editor and chief drama critic for the Boston Phoenix. She is a past winner of the George Jean Nathan Award for Dramatic Criticism.