In Boston, Celebration And Reflection As The Americans With Disabilities Act Turns 25
Play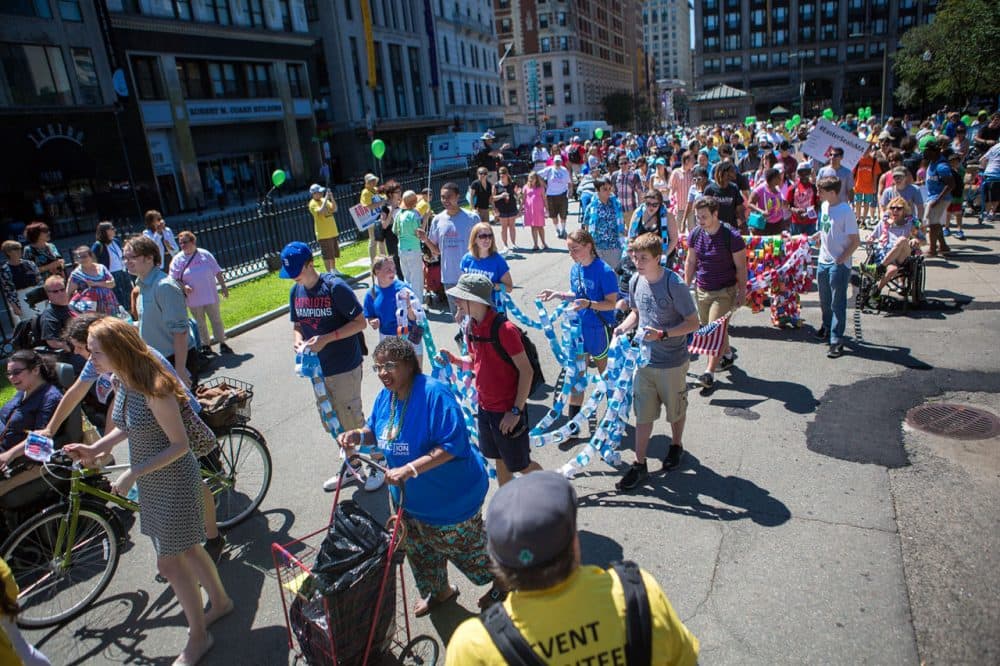 This article is more than 7 years old.
Curb cuts, captions on TV, beeps that replace the "walk" sign for people who can't see: all that has become commonplace in the 25 years since the Americans with Disability Act was passed.
But ask anyone who was in a wheelchair before 1990 and you'll hear a story of frustration.
Rolling around city blocks, looking for a way to cross the street was a daily event. People crawled up stairs if they couldn't find someone who could lift them and their chair. Or they'd order at a restaurant that insisted its bathroom was accessible, only to find it was not.
"[The ADA is] an appropriate thing to celebrate, but it was just a start. It has succeeded legally, but socially it has a long way to go."

William Peace
"That happened a lot, and still happens a little bit now, but back then that happened a lot," said Christine Griffin, director of the Disability Law Center in Boston.
Griffin remembers arriving for a conference in the nation's capital to find the hotel was not accessible. "I turned around and got back in a cab and I flew home," she said.
The late Sen. Ted Kennedy told a congressional hearing back in 1988 that these stories had become too common.
"I bet if you go across this country, there really isn't a member of a family or an extended family that hasn't been touched," said Kennedy, a chief sponsor of the ADA.
To build support for the act, supporters tied disability rights to civil rights.
"This change had an effect on people's thinking," Kennedy said in an interview 10 years after the law passed. "If you think of this as a continuation of the guarantee of equal rights, you come to different conclusions than if you're looking at special legislation to try and look at some particular group."
Now at the 25 year mark, disability advocates are celebrating and mapping their next steps. In Boston, about 2,000 people walked or rolled to Boston Common for a parade, speeches, music, dancing and crafts.

"At one point it was like the lost community within a community," said David Brewington of Boston, who is legally blind. Now the disability community "is speaking in volumes," he said.
Brewington, who was born a few years before the law took effect, is part what's known as the "ADA Generation" — people who grew up with legal protections that helped them manage autism, diabetes, severe depression or lost limbs. State Attorney General Maura Healey on Wednesday accepted an invitation to a wheelchair basketball game and told the crowd on the Common that there's a lot to celebrate.
"Because of the ADA, businesses and employers cannot deny people employment based on a disability," Healey said. "People with disabilities are no longer isolated and segregated by states. Because of the ADA, transportation and public facilities must address the needs of people with physical and mental disabilities."

But Healey and advocates for the disabled say there are still challenges. The ADA may be helping patients with breast cancer, for example, keep their jobs, but many advocates say they haven't figured out how to help those with learning or emotional disabilities finish school and find meaningful work.
"The unemployment rate has been twice that of the general population and has not moved one iota," said Oce Harrison, project director at the New England ADA Center.
And then there's the fact that pretty much every aspect of life is moving online.
"We're trying to ensure that, as everybody starts to put things on the Internet and your access is on the Internet, it has to be accessible to everybody," Griffin said.
Griffin's organization, the Disability Law Center, has sued Harvard and MIT, claiming the schools are in violation of the ADA because online lectures and other videos are either not captioned or have poor captions.

"Expanding access to knowledge and making online learning content accessible is of vital importance to Harvard and to educational institutions across the country," the school's spokesman, Jeff Neal, said. Harvard and other universities are awaiting guidance from the U.S. Department of Justice about ADA online requirements.
"We look forward to the establishment of those new standards and will, of course, fully comply once they are finalized," Neal said.
In Boston, U.S. Attorney Carmen Ortiz reached a settlement with edX, the online education firm created by Harvard and MIT, that governs accessibility for the blind.
But as the legal questions continue, many people with disabilities say they are disappointed by the slow progress of social change. Today, the stories are about strangers who won't look a disabled person in the eye or about fighting for the chance to perform basic job skills.
"I'm kinda cranky about the ADA," said William Peace, 55. "It's an appropriate thing to celebrate but it was just a start. It has succeeded legally, but socially it has a long way to go."