2016 Hopeful John Kasich Hits The Campaign Trail Banking On New Hampshire
Resume
There are now 16 Republican candidates officially running for president. The latest politician to jump into the crowded ring is two-term Ohio Gov. John Kasich, who declared his candidacy on the campus of his alma mater, Ohio State, on Tuesday.
And, as soon as he declared his bid for president, he hopped on a flight to New Hampshire to kick off a three-day campaign swing through the Granite State.
Kasich is not well-known, but he's betting big on the New Hampshire primary. And he's hoping to set himself apart with his moderate politics and strong public/private sector experience.
"I know how it works," Kasich told a crowd at a town hall in Nashua, highlighting his experience as a governor and a former congressman. "I know how you turn the dials. I know how you get in there and build a team of people who can change this country."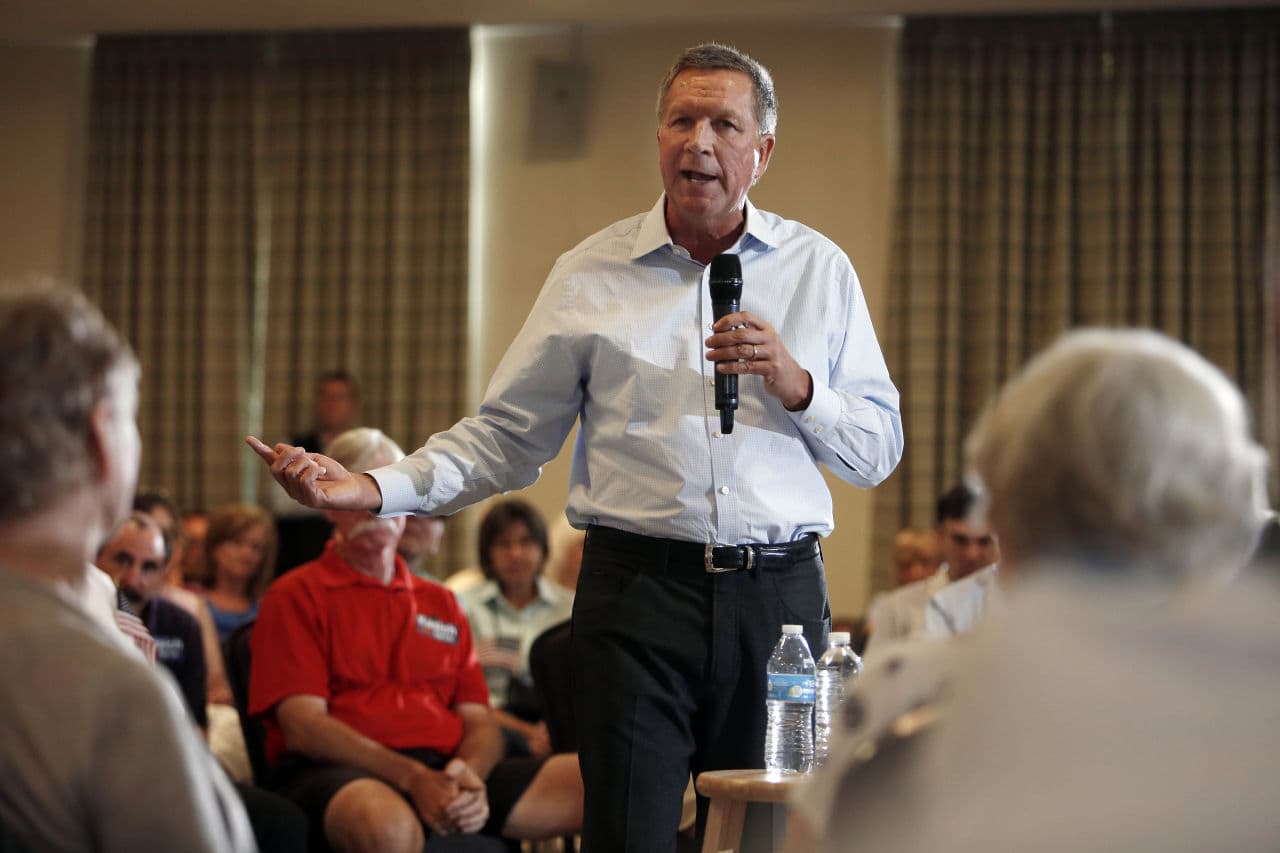 Television ads backing Kasich have already begun airing in New Hampshire. In one ad, a young woman reads out Kasich's credentials: "John Kasich helped balance the federal budget, turned around the Ohio economy and has 18 years experience on the Armed Services Committee. No one else comes close," she says.
That's a message former U.S. Sen. John Sununu seems to echo on the campaign trail. Sununu, a well-known New Hampshire Republican, has become an important ally for Kasich.
"John Kasich has always been about conscience," Sununu said at the Kasich presidential announcement in Ohio. "He didn't worry about polls, he didn't worry about popularity, he did what he thought was right."
But, these days, in New Hampshire, Kasich does need to think about polls.
"Governor Kasich — he's probably said if I don't do well in New Hampshire, I don't know that I can continue," said Tom Rath, a longtime New Hampshire Republican strategist, who is not supporting any candidate yet this election cycle.
But long before New Hampshire primary day in 2016, there's some other polls on the near horizon that matter too.
If Kasich is not able to crack into the top 10 candidates polling nationally soon, the governor of Ohio won't be allowed to participate in the first prime-time GOP debate next month, and that could be embarrassing, because it's being held in his home state.
The problem for Kasich is that a lot of voters outside the Buckeye State don't know him, and he's entered the presidential race fashionably late.
Kasich is hoping it's just not too late.
This segment aired on July 22, 2015.