'The New Electric Ballroom' Lights Up Gloucester Stage
This article is more than 7 years old.
Beckett meets Elvis in "The New Electric Ballroom," Irish writer Enda Walsh's dancehall parable set on the wild Celtic coast of nowhere. Bleakly lyrical, with jangling echoes of "Waiting for Godot" and "What Ever Happened to Baby Jane?", the play garnered an Edinburgh Fringe First and the Irish Times Theatre Award for Best New Play in 2008 and a 2010 Obie.
It continues that winning streak at Gloucester Stage, where interim artistic director Robert Walsh (no relation) helms a touching, almost incantatory production (through Aug. 15) that proves there is more that is euphonious in playwright Walsh than just his Tony-winning book for the Broadway musical "Once."
The scene is a gray, spare Irish kitchen, skewed in Jenna McFarland Lord's design to reflect one character's conviction that the very cliffs and cobblestone streets are leaning in on him. This cheerless space is home to three sisters, two in their 60s, who don't budge from the place, and their 40-year-old sibling, who cycles daily to her accounting job at a cannery where she "turns fish into numbers" but is as trapped as her sisters by their long-ago experience at the 1950s edifice of the title. The women's only visitor is a sad-sack fishmonger named Patsy, who shows up "with the tide," bearing crates of stiff catch and anxious visions of the existential terror outside the play's paltry, unwelcoming refuge.

The remote reaches of Ireland were at one time strewn with places like the New Electric Ballroom, beckoning teenyboppers on the brink of womanhood to throw themselves at the be-sequined leaders of traveling "showbands" like so many virgin sacrifices. In the case of sexagenarians Breda and Clara, the tempter and grail was a rock star called the Roller Royale, who lit a fire and a disappointment in them that has dwindled into the ashy rite that rules all three women's stunted lives today. Ada, the 40-year-old, has been steeped so long in her sisters' story that her main function is as handmaiden/audience/prompter to its recurring reenactment.
The play begins with Breda, her back to us, spinning a speech about talk. "By their nature people are talkers," she opines. "You can't deny that. You could but you'd be affirming what you're trying to argue against and what would the point of that be?" The talk includes gossip, which long ago drove Breda and Clara from the cannery where Ada has taken up the torch. But more central is that age-old theme of Irish drama, the ability of words to shape a tale, whether it's Christy McMahon's bogus account of patricide in John Millington Synge's "The Playboy of the Western World" or the supernatural conjurations of the rural barflies in Conor McPherson's "The Weir."
Enda Walsh takes a deserved place in that worthy company with this mesmeric double riff on Miss Havisham, in which first the nervous Clara and then the harder-nosed Breda are gotten up in slashes of clown makeup and flouncy period costumes to reenact, for the umpteenth times, their youthful, life-crushing experience at the New Electric Ballroom. Forcing them on is the numbed Ada, with hangdog Patsy reappearing like a dull penny. It is only toward the end that something else — something surreal, surprising and delightful — happens before what might be seen as sentimental fantasy disappears with the resurrected Roller.
Like a meaner-spirited "Godot," with its lack of forward motion and even tougher take on the tragedy of birth, "The New Electric Ballroom" depends on flights of rhythmic, sometimes repetitious language and a wacky pathos to carry it. At Gloucester Stage, it also has a quartet of excellent, astutely cast actors to lift it. (The show is a great ad for the Brandeis University theater department, since half the ensemble teaches there.)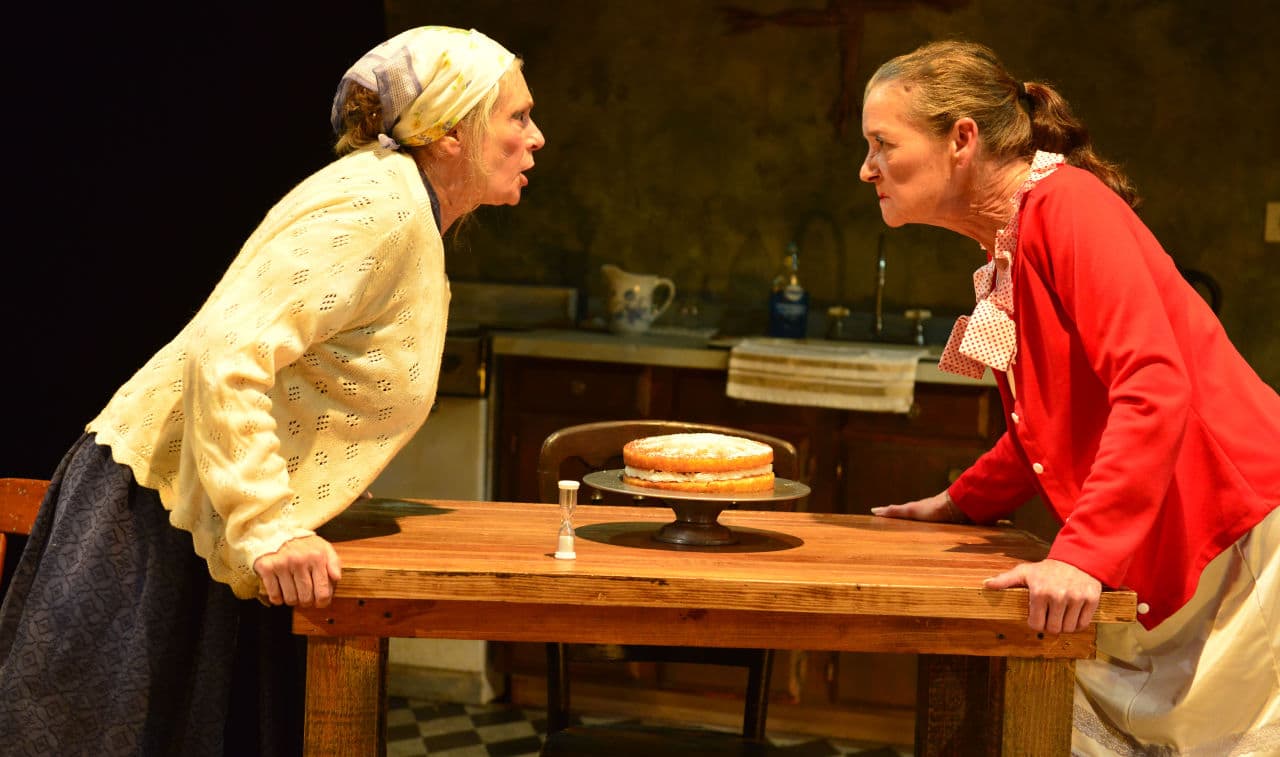 As Breda and Clara, tangled in sibling warfare and a shared disabling past, Nancy E. Carroll and Marya Lowry are beautifully mismatched, the former wiry and gritty, the latter as airy/doughy as the treats her character bakes. (She has a gift for coffeecake, Clara says, like Jesus did for sacrifice.) When Clara retreats down "the yellow brick road" to her distant encounter with the pompadoured Roller Royale ("his quiff, with no respect to gravity, whipped up on his head and reaching skyward"), Lowry flares with lust and pleasure, then seems to literally shrink as she cowers toward the strangling safety of home. Carroll, gotten up in flagrant red and blue for Breda's trip down memory lane, is the more brazen in her approach to idolatry and sex, the more brittle in her disappointment.
As the passive Ada, kept a child even as she insulates her older sisters and directs their rites, Adrianne Krstansky is both transfixed and transfixing. And Irish-born Derry Woodhouse, if too handsomely substantial for the "lumpen" Patsy, vividly and liltingly expresses the character's existential fears and, when temporary set loose from them, rides his part to sly, hip-swiveling heights. Who knew this stage charmer, here a wolf in schlep's clothing, could sing? But he does. And so does the production.
Carolyn Clay was for many years the theater editor and chief drama critic for the Boston Phoenix. She is a past winner of the George Jean Nathan Award for Dramatic Criticism.