With Just Rakes, This Artist Will Transform A Boston Beach Into A Dazzling Pattern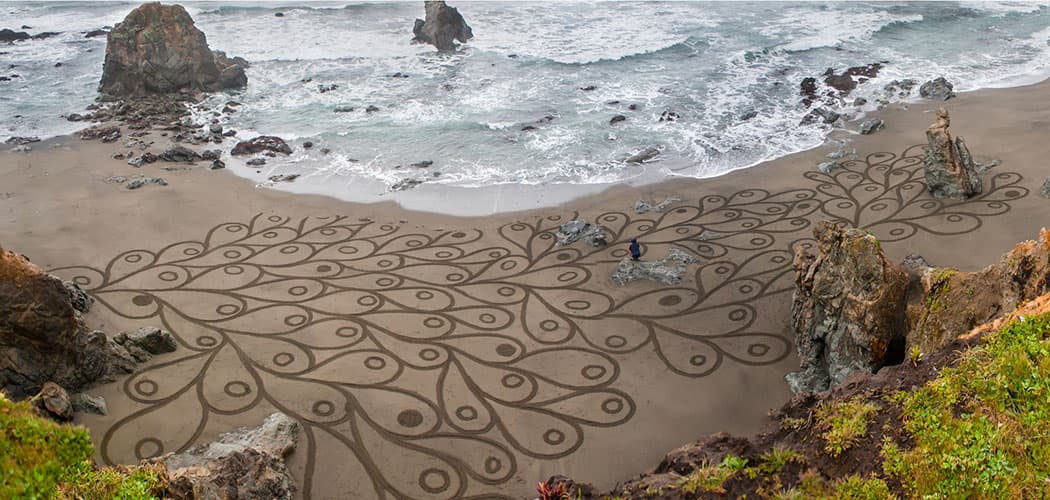 This article is more than 6 years old.
"I've checked out many, many rakes," explains the San Francisco artist Andres Amador. "My preferred rake is a metal leaf rake. And it has to be a certain type, but not a certain brand."
Amador's art doesn't neatly fit into the usual categories. What he does is he rushes out onto beaches at low tide with a rake and scratches giant designs into the sand—circles, cells, bubbles, flowers, leaves—before the water comes back in and washes them away. His combination of catchy designs, size (they're often more than a couple hundred feet across), and reckoning with the great tidal cycles of nature has made him Internet famous on oh-wow design websites. Especially since his art blew up on ViralNova.com in early 2014—expanding his Facebook followers from around 5,000 to 160,000 "in a couple weeks," he says.
Amador's key tool is the rake. Plastic ones tend not to be satisfactory for his needs because they ride up on the surface of the sand. "With a metal one you can really push down and dig into it," he says, to create the lines of his patterns. "Gravel rakes dig in too much."
From 10 a.m. to 1:30 p.m. Saturday, Aug. 8, you can help Amador create his latest design on Constitution Beach in East Boston (not far from the Orient Heights T stop) as part of a free public project sponsored by the Massachusetts Department of Conservation and Recreation and Save the Harbor / Save the Bay, an advocacy group devoted to restoring and protecting the waters of Boston Harbor and Massachusetts Bay.
"We've spent a lot of money in this region on clean water in the past 25 years," says Bruce Berman, a spokesperson for Save the Harbor / Save the Bay. Boston now has some of the cleanest urban beaches in the country. "The best way to save the harbor is to share it."
Which is where Amador comes in. He's been attracting people to beaches with his giant sand drawings for about 11 years. When his online following exploded, he says, "I became much more aware of what I was saying. The takeaway message that I would like to impart to anyone is to follow their light."
"I don't think people treat their lives seriously," Amador adds. "Often people are ruled by—I don't know what it is—fear, or living small."
That's how he seems to have seen himself before he took up art. He had studied environmental science in college and ended up doing IT for a big bank. "I hated it," he says. After the tech boom burst around 1999, he began making large, immersive sculptural installations. "They were kind of psychedelic," he says. "They were very popular at electronic music festivals." But over time, he came to feel that he'd "gone as far as I could go with it." While fishing about for the next thing, he struck on the idea of working on beaches around San Francisco.
"I didn't set out to do art that would disappear or art that was in nature," Amador says. "Realizing that I could do really large artworks on the beach, that's really what set me working on the beach."
"It began with doing geometric designs, similar to crop circles," Amador says. He would use ropes as compasses to measure out the circles. Over time, he developed more modular composition methods, that didn't require as much pre-planning and measuring.
In Boston on Saturday, Amador plans to guide people in creating a giant flower pattern, inspired by henna designs—or at least that's what he's been thinking of so far.
"It's about having fun," he says, "and you can go from idea to finished creation really quickly, but the creation is pretty impressive."
Greg Cook covers the waterfront for WBUR's ARTery. Follow him on Twitter @AestheticResear or on the Facebook.