Manchester Summer Chamber Music Festival Sounds The Songs Of Summer
They can happen anywhere. Summer homes, horse paddocks, in tents or in churches, even just under the stars. Chamber music festivals and summertime go together.
Seasonal festivals have a long tradition — not just in New England. In the early days, orchestral musicians with the summer off would gather colleagues for concerts and bring students along to join in — and pay some expenses. These days, most musicians look at summer festivals as another important piece in a freelance lifestyle that includes an orchestra gig here, opera pit there, perhaps a ballet performance — along with teaching and soloing.
Some festivals have thrived, and built storied traditions. Marlboro. Aspen. Caramoor. Banff. Others, not as old, have grown out of modest settings to become year-round presenters with permanent venues, like the Rockport Chamber Music Festival.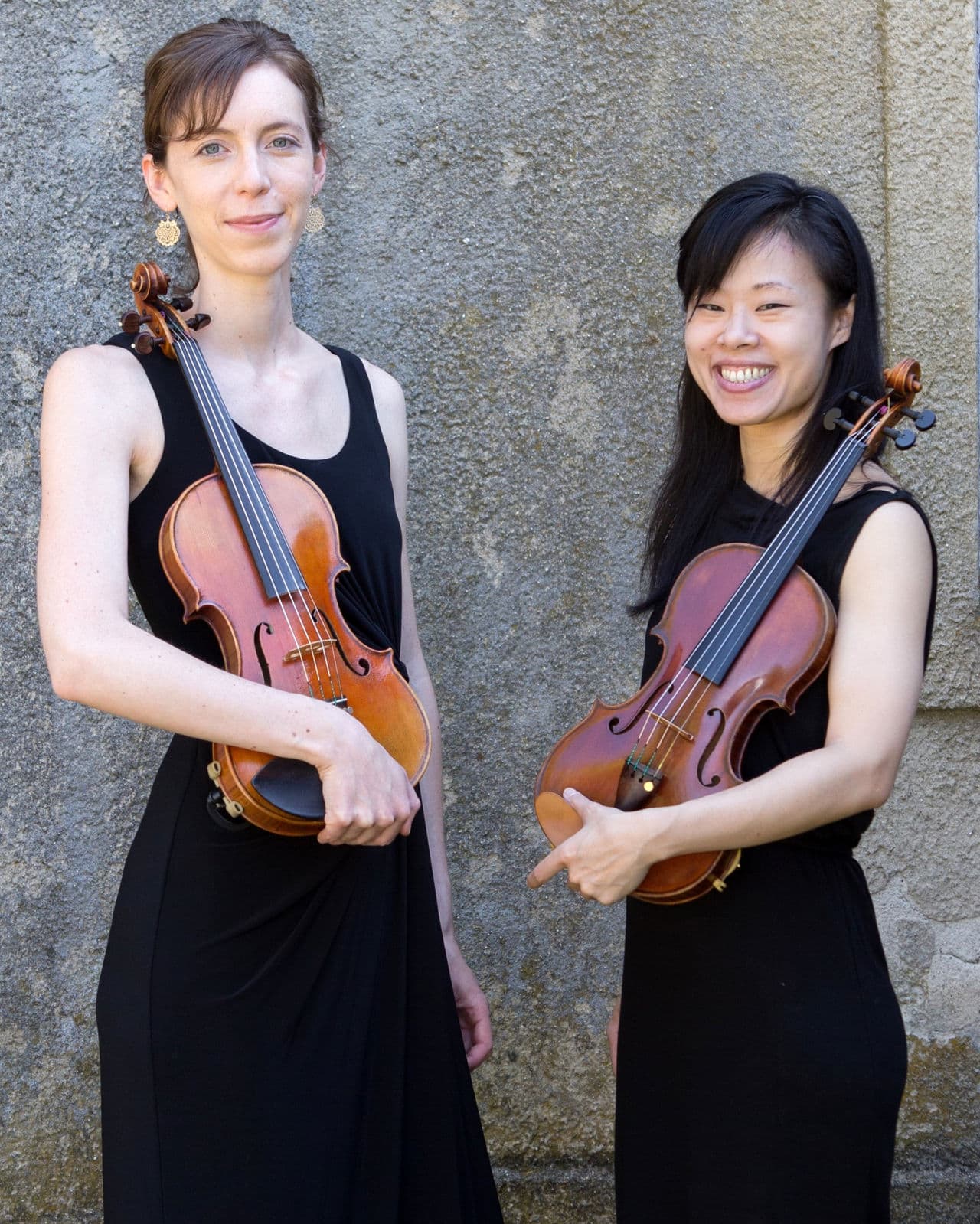 Two young violinists with North Shore roots decided seven years ago to try the same thing, creating Manchester Summer Chamber Music. Sage Cole, now living in New York, teaching and performing with her Hudson Quartet, and Lorna Tsai, principal second violin with the Calgary Philharmonic, met years ago at New England Conservatory's preparatory school. Connections made there, and in their subsequent training — Tsai at Yale, Cole at University of Wisconsin — grew and grew, and when they decided to start a summer festival in Cole's Manchester-by-the-Sea hometown, they had plenty of young, established colleagues to reconnect with.
Among them: Caroline Shaw. In 2009, when the MSCM series began, Shaw was like the rest of Cole and Tsai's friends, working as a freelance violinist, composer, singer. For that initial season, she composed a simple work — "Jacques Duran on the Beach" — a fanciful string trio inspired by the unique sounds produced by the sands at Singing Beach in Manchester. For the 2012 festival she composed a quartet, "Valencia," now a popular work in her catalog.
Then came 2013, when Shaw was awarded the Pulitzer Prize in music for her "Partita for 8 Voices." That, coupled with her rising profile with the vocal octet Roomful of Teeth, brought significant attention, obviously to Shaw herself, but to her friends in Manchester as well — the ones who knew her when.
Other good things were happening to the Manchester players. After searching about for a suitable home, performing in churches and other Manchester venues, Tsai and Cole met Chris Crockett. Crockett sits on the board of Raise the Rafters, a low-key fundraising group dedicated to renewing the performance tradition at Castle Hill, the sprawling estate at Crane Beach in Ipswich. Crockett and Raise the Rafters convinced Tsai and Cole to bring their performances to the Barn on the Castle Hill grounds.
The first series at the Barn, a refurbished horse paddock, came last summer, and attendance, coverage, subsequent fundraising and the overall buzz were all greatly increased. The players had found a home, and Raise the Rafters had found a linchpin organization to help pursue their goal of restoring arts activities to Castle Hill.
For decades — roughly 1960 through 1990 — Castle Hill hosted frequent concerts and theatrical events, with musicians like Duke Ellington and Gunther Schuller leading ensembles on the grounds. "It's been done before, so let's see if we can do it again," Crockett says about the partnership with MSCM.
"This relationship is fortuitous for them and for us," he says. "We put a fundraising mechanism into place, and gave them some financial oversight. They are outstanding musicians, and the Barn is an outstanding venue. Put the two together and it's a pretty interesting opportunity."
MSCM concerts this season begin Aug. 6, at the home of longtime festival supporters Stephen and Isabella Bates in Manchester (a fundraising concert at Castle Hill the night before immediately sold out). Pianist Ryo Yanagitani investigates music of Gabriel Fauré at the opening house concert.
The following three Saturdays (Aug. 8-22), concerts at the Barn offer distinctly different explorations of the chamber repertory. On Aug. 8, multiple prize winning clarinetist Sang Yoon Kim gets featured, performing quintet selections from Weber, Mozart, Busch and Webern, along with the complete Françaix quintet.
Shaw's music gets center stage on Aug. 15. Her new "Songs," for string quartet and contralto (Emily Marvosh), sets texts from three early French trouvère poems. "I'm still figuring them out," Shaw said in an email earlier this month, admitting that she's frantically at work on the piece. "I know the text, but I'm not sure if I'll use all of it or part of it." Shaw sits in as first violinist for the quartet, which also includes Tsai, Kerry Kavalo (viola) and Ying-Jun Wei (cello). Shaw's quartet "Punctum" is also on the program, along with Barber's "Dover Beach" and other works.
The finale, Aug. 22, traces the history of the string quartet, with select movements from pieces ranging from Haydn to Shostakovich. In keeping with MSCM's original programming concept, single movements illustrating different aspects of the repertory get performed. "It gives it kind of a summer feel to do just movements sometimes," Tsai says. "It makes it more friendly, and audiences appreciate things in a different way."
In addition to Shaw, Yanagitani and Kim, guest appearances this season include cellist Estelle Choi, whose Calidore String Quartet has just been named resident ensemble with the Chamber Music Society of Lincoln Center; violinists Emilie-Anne Gendron and Eliot Heaton; and cellist Jacques Lee Wood.
The Manchester Summer Chamber Music festival opens Aug. 6 with a concert at the home of Isabella and Stephen Bates in Manchester. MSCM performs the following three Saturdays, Aug. 8, 15 and 22 in the Barn at Castle Hill, 290 Argilla Rd. in Ipswich. For tickets and information visit the MSCM website or call 978-704-1041.
Keith Powers, former music critic at the Boston Herald, now freelances for a number of newspapers and magazines. Follow him on Twitter at @PowersKeith.