Baker Bill Seeks To Speed Up Solar Power Growth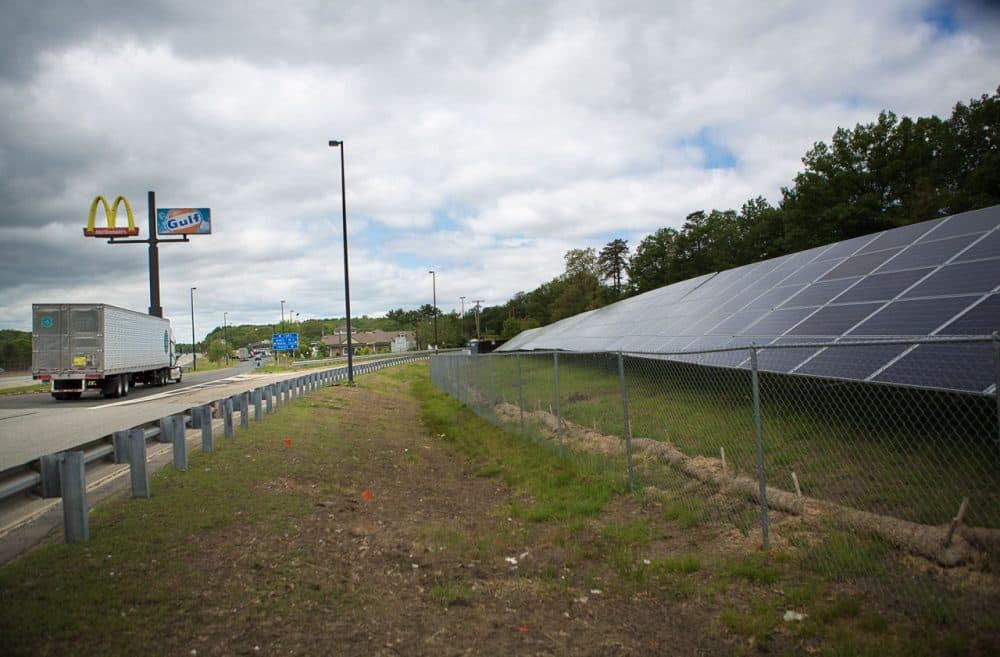 This article is more than 5 years old.
Adding to a hydropower bill that he's already laid before the Legislature, Gov. Charlie Baker on Friday filed legislation to accelerate the growth of the solar power industry in Massachusetts.
According to the administration, its bill will help the state meet "well ahead of schedule" its goal of 1,600 megawatts of solar power by 2020, while lowering costs associated with large-scale projects and encouraging residential and small business rooftop projects.
The bill, filed in the House, raises private and public caps 2 percent each, which Baker officials say will represent a 50 percent increase in the amount of solar energy available for net metering credits for public entities and a 40 percent increase for private entities.
Baker's plan also calls for maximum use of federal solar investment tax credits prior to their expiration on Dec. 31, 2016.
Baker's team said the legislation "will provide immediate support for projects being developed in service territories where the caps have already been reached, and provides the Department of Public Utilities with the authority to raise the caps further, as needed in the future."
In a letter to the Legislature, Baker said his bill also proposes changes to transition the state to a "more balanced solar incentive program" upon reaching the 1,600 megawatt goal, measures that quickly drew some skepticism from industry officials.
"The current incentives were designed to jump start a new solar industry," Baker wrote. "This legislation recognizes that the industry has matured, and as we continue our support of solar development, we must also protect ratepayers and provide long-term stability to the solar industry."
According to Baker, reaching the 1,600 megawatt goal will trigger changes in solar generation incentives. Solar generators receiving net metering credits will continue to receive those credits under the existing program for 20 years, Baker wrote, while all residential and small businesses will continue to be excluded from existing or future net metering program caps. All new medium and large-scale solar generators would receive credits equivalent to the monthly commodity price of energy, he said, and the state will create a solar incentive program for new solar generators and may create similar incentive programs for other renewable technologies.
In a tweet, Sen. Jamie Eldridge (D-Acton) called Baker's overall bill "good" but said he was concerned about proposed market-rate credits.
"This legislation continues to support and encourage solar power generation while promoting an orderly transition to a stable, equitable, and self-sustaining solar market at a reasonable cost to ratepayers," Baker wrote.
There are 806 megawatts of installed solar capacity in Massachusetts, according to the Solar Energy Industries Association, with the state ranking sixth in the country on that metric. The industry group says there's enough solar power in Massachusetts currently to support 12,000 jobs and power 131,000 homes, with 250 additional megawatts of solar power scheduled to be installed by the end of 2015.
Association officials credited Baker for "moving the conversation forward" and said the bill's passage would assist projects that are stalled in 171 cities and towns in Massachusetts, but association president Sean Gallagher said Baker's long-term changes in solar incentives "would be a backward step for solar in Massachusetts."
"As the bill moves through the legislative process, SEIA urges policymakers to join other states that are leading on solar, such as New York and California, which are figuring out how to fairly compensate customers who go solar, even as they move to the next generation of solar policies. The Senate's version of the net metering bill, passed two weeks ago, would do that," Gallagher said.
This article was originally published on August 07, 2015.