Shifting From Public Theater To Broadway, 'Hamilton' Shines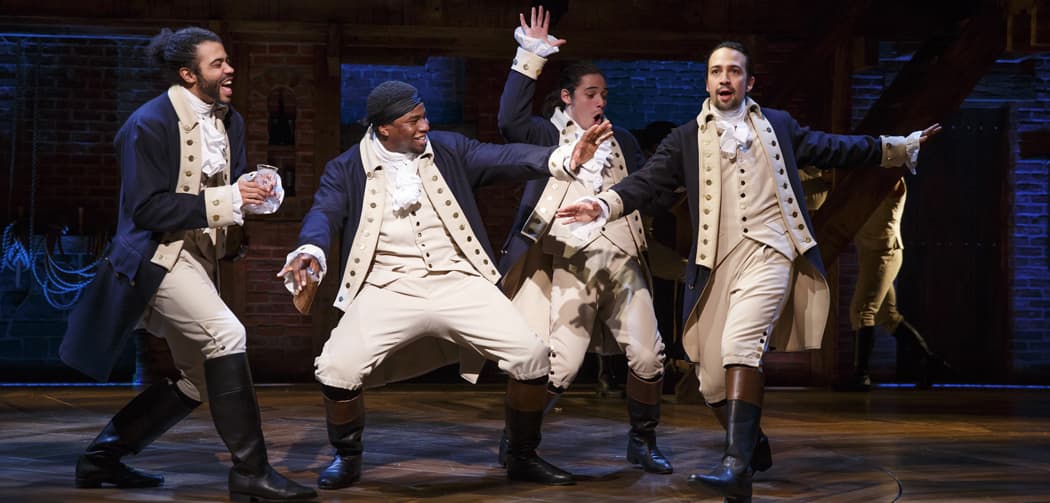 This article is more than 5 years old.
Madonna may have been notoriously texting throughout the second act of the watershed new musical "Hamilton" last spring, her face illuminated by the glowing screen of her smartphone for all to see. But if the Material Girl had actually been paying attention to the buzzy-bio musical about American Founding Father Alexander Hamilton, which premiered at The Public Theater in February, she would have witnessed the arrival of an audacious new show that may not reinvent the American musical idiom, but boldly pushes and pulls at the boundaries of the form in the same way that shows like "Hair," "Rent," "Spring Awakening" and others have before.
Thanks to creator Lin-Manuel Miranda's hip-hop-infused score, a color-blind cast of Hispanic and black actors playing many of America's early revolutionaries, and a narrative that's jam-packed with historical detail but also sweeps the audience up in the emotional life of the characters, seeing "Hamilton" felt like you were watching history, both the early American and musical-theater kind, unfold on stage. The show opened to rave reviews last winter and became the hottest ticket in New York, attracting a litany of celebrity attendees, including First Lady Michelle Obama and former Vice President Dick Cheney.
As "Hamilton" makes its transfer to the Richard Rodgers Theatre on Broadway, where it opened Thursday night, it stands as the buzziest new show to open on the Great White Way since "The Book of Mormon," and it's already the front-runner for next spring's Tony Awards — before the season has even started.
So does the show live up to the hype in its Broadway bow? That would be a resounding yes.
Miranda and his collaborators, including director Thomas Kail and choreographer Andy Blankenbuehler, have tinkered and toiled, streamlined and pruned. It wasn't a major revamp, but the result is an even stronger show, one that's as thrilling, inventive, multi-layered and poignant as anything on Broadway right now.
In its best moments, the inventive lyrics reach the heights of musical theater's greatest wordsmiths: Sondheim, Rodgers and Hammerstein, Kander and Ebb, Comden and Green. And the music is just as wildly varied and instantly memorable. With mic-dropping rap battles, moving ballads like "Helpless" and "It's Quiet Uptown," and R&B-style pop anthems like "Room Where It Happens" and "Satisfied," Miranda has written a score (Alex Lacamoire is the orchestrator) brimming with songs that sounds like they could be on today's radio playlists. There are lyrical and musical shout-outs to everyone from Rodgers and Hammerstein, Gilbert and Sullivan and Sondheim, to Notorious B.I.G., Grandmaster Flash and Kanye West.
Even before "Hamilton," Miranda, Kail and Co. had already succeeded at diversifying Broadway. Their previous show "In the Heights," about Latino characters living in Washington Heights, won the Tony Award for Best Musical in 2008 in part thanks to a salsa, reggae and hip-hop-infused score.
Miranda and his team trust their audience to see past the political rhetoric. They delve into the nitty-gritty details of early American history, Constitution-building, debates about the national debt and Wall Street, and the unruly governing of a nascent nation.
Indeed, high school history class has never been so entertaining. Inspired by historian Ron Chernow's bestselling 2004 magnum-opus biography of Hamilton, this bio-musical traces Founding Father Hamilton's fascinating life story: His rise from orphan immigrant roots in the Caribbean to college graduate and young striver and rabble-rouser; from right-hand man of General George Washington (Christopher Jackson) during the Revolutionary War to Constitution molder, his tireless work penning the landmark "Federalist Papers" and his service as America's first treasury secretary and architect of the modern U.S. banking system.
But the musical doesn't just focus on the man who became the face of the $10 bill. It chronicles his rivalries with political adversaries Thomas Jefferson (Daveed Diggs), James Madison (Okieriete Onaodowan) and, of course, Aaron Burr (Leslie Odom, Jr.), a lifelong friend and antagonist who engaged in the notorious duel with Hamilton in Weehawken, New Jersey, that ended in tragedy. And those other Founding Fathers are as central to the story as Hamilton himself. There are also Hamilton's young, rebellious French comrades-in-arms — the Marquis de Lafayette, Hercules Mulligan and John Laurens — who at one point, after a battlefield victory, triumphantly declare, "Immigrants. We get the job done," to cheers from the audience.
In addition to penning the show's book, music and lyrics, Miranda also plays "the young, scrappy and hungry" Hamilton, with his tunnel-vision striving and a tendency toward firebrand provocation. The actor ably captures the manic ambition, motormouth wit and lust for confrontation that propelled this bootstrapping upstart throughout his life.
Javier Muñoz plays Hamilton at some performances. While he doesn't quite capture the anxious, youthful yearning of the young Hamilton, he does poignantly project the inner turmoil and soul-scarred pain of the chastened older man, who endured the country's first sex scandal and was pushed aside by his scheming political rivals.
Kail, Miranda's college friend who also directed "In the Heights," helms the show with an evocative and smooth fluidity, hitting a high-water mark in his career by creating an electrifying yet edifying spectacle that's both a history lesson and a vivid character study. Blankenbuehler's choreography is by turns propulsive and movingly rapturous.
Jackson makes for a commanding George Washington, and their surrogate father-son relationship is played for both laughs and poignancy at times. Diggs, who also plays Lafayette, gives Jefferson a flamboyant, easygoing arrogance as he disdainfully plots against Hamilton and debates his rival in presidential cabinet meetings that turn into mic-dropping rap battles.
Odom Jr. makes for a silkily shifty Burr, one of Hamilton's earliest friends who became an adversary and bitter rival, capturing his snaky charm and calculating refusal to stake out political positions. He also gets one of the musical's biggest showstoppers, "The Room Where It Happens."
In any other show, Jonathan Groff's haughty King George III would steal the show, cooing three Tom Jones-style '60s heartbreak songs like a cheeky spurned lover. Groff is not as zestily cartoonish and slyly malevolent as Brian d'Arcy James was when he played the role during the first couple of months of the Public Theater run. But it's hard to screw this one up when you get to toss off killer lines like, "And when push comes to shove/I will send a fully armed battalion/to remind you of my love," to a jaunty melody.
But it can be argued that the story ultimately belongs to the show's female characters, the Schuyler sisters, the good-hearted yet strong Eliza (a heartbreaking Phillipa Soo) and the vivacious Angelica (a powerful Renée Elise Goldsberry), who are left to deal with the fallout from the life-altering decisions (and delusions) of these powerful men. Angelica may have shared an electrifying attraction with Hamilton, but she refuses to betray her sister, whose heart is pure and good. In the end, both are left to tell Hamilton's story, despite being disgraced by the man they both love.
"Who lives, who dies, who tells your story?" sings the company, with stirring grandeur, at the end of the show.
If the real Alexander Hamilton could be beamed into the present to see his story unfolding on stage, he might quibble with its portrayal of him and the events of his era. But he'd no doubt cheer the electrifying storytelling and the torrent of wondrous words that tumble forth in "Hamilton." And, perhaps, he'd recognize a fellow kindred spirit in the "young, scrappy and hungry" Miranda, another ambitious, word-drunk rebel with a cause.
Christopher Wallenberg is a freelance arts and entertainment reporter and a regular contributor to the Boston Globe, the New York Times, and American Theatre magazine. You can email him at chriswallenberg@gmail.com and follow him on Twitter at @chriswallenberg.