5 Dead In Several Shootings In Boston Area
Police in Boston, Cambridge and Everett are searching for suspects in four separate shootings that left five people dead.
Three of the victims were killed in Boston.
"We are a better city than that," Mayor Marty Walsh said Thursday afternoon in Roxbury, near the site of one of the fatal shootings. "I'm asking for help from people, I'm asking for help from elected officials, to step up here and work with us. Work to get these guns off the street."
He added: "We're going to be asking city employees and police to stretch themselves even more. But that's within our control. But what's not within our control is the families. We need the help from the families, we need the help from the community."
Two of the Boston victims, both males in their 20s, died after sustaining gunshot wounds in an incident at 12 Ernst St. in Roxbury. They were identified Thursday night as Andrew Reed, 28, and Angel Oller, 20, both of Boston. A third victim had non-life-threatening injuries.
Also in Boston, three men were shot, one fatally, in the area of 41 Hosmer St. in Mattapan at about 10:20 p.m. Wednesday. The victim was identified Thursday night as Darwin Adilas, 21, of Randolph.
The shootings happened within minutes of one another. It is unclear if they're linked. Boston police say the shootings were likely gang related.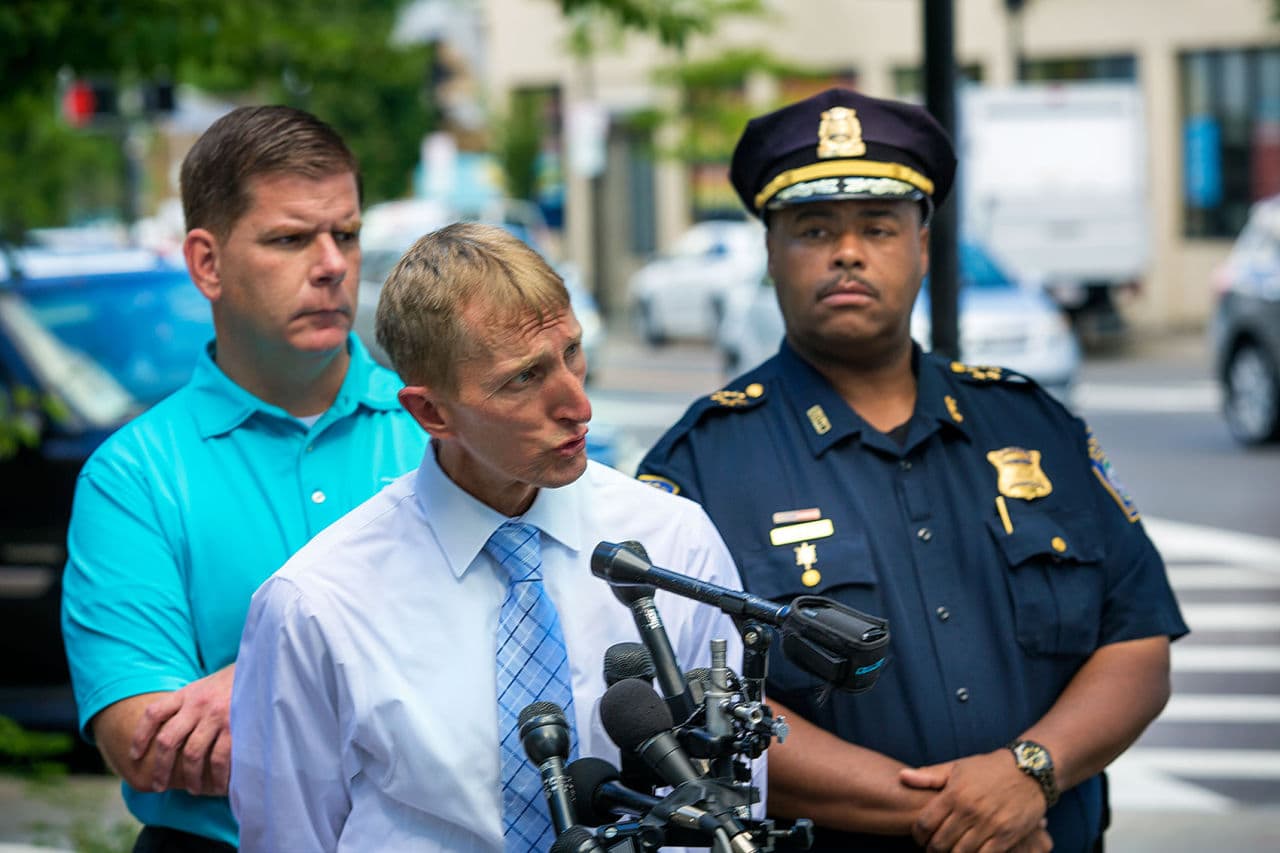 Commissioner William Evans said Thursday he will deploy extra officers in Mattapan and Roxbury in an effort to prevent revenge killings.
"We're gonna be out canvassing the neighborhood over the next day or two, looking for the public's health," Evans said. "We're going to be doing what we do great, working with the youth, building strong relationships."
Shootings are up in Boston this year, compared with last year, though homicides are down, according to police statistics.
In Cambridge, authorities say Rasaun Nichols, 31, of Cambridge, was struck by gunshots in a vehicle that was departing Newtowne Court — in the vicinity of 119 Windsor St., near the Massachusetts Institute of Technology campus — at about 8:40 p.m. Wednesday. The vehicle was driven down Main Street toward Kendall Square, where it later stopped.
The driver of the car hit by gunfire is cooperating with police.
In Everett, authorities say Ashlee Berryman, 21, of Malden, was fatally shot just before 1 a.m. outside the Braza Bar and Grill, at 158 School St.
Authorities believe Berryman was an "unintended target in this shooting."
As of Thursday late afternoon, there was no word on any arrests in any of the shootings.
With reporting by WBUR's Jack Lepiarz and Benjamin Swasey
This article was originally published on August 13, 2015.