These 'Kinky Boots' Are Made For Dancing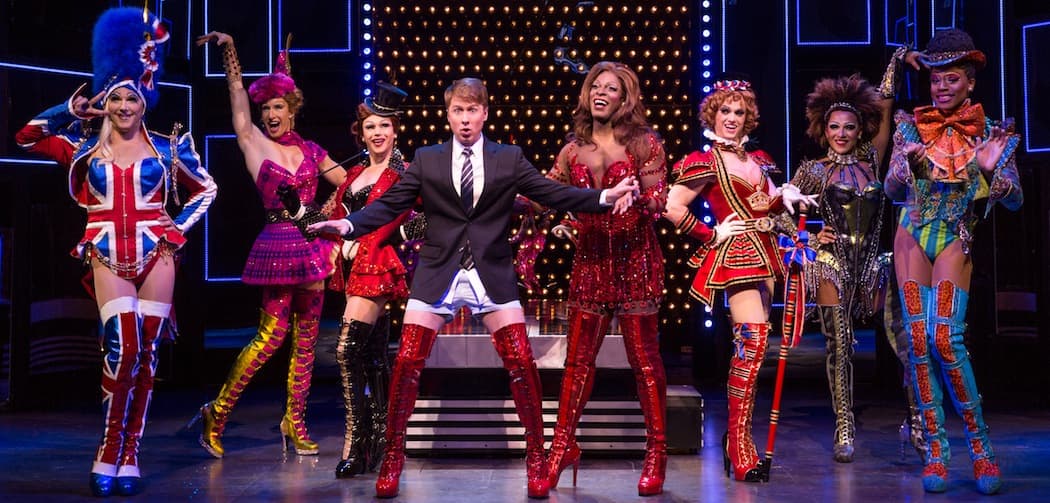 This article is more than 6 years old.
"Kinky Boots" is a runaway popular success — and won the 2013 Tony Award for best musical — not because of intricate plotting, nail-biting suspense or a particularly good love story. Its feel-good message is written in neon letters six feet high, and sung in unison to the four-to-the-floor beat of brassy disco music. Accept yourself, the musical intones over and over, accept other people and be sure to have some fun while you're at it.
"Fun" really is the key word here, and there's plenty to go around in the touring production of the show playing at the Boston Opera House. (The original Broadway production is still going strong.) Cyndi Lauper wrote the music and lyrics, as you've probably heard by now, and Harvey Fierstein adapted the book from a 2005 film.
Here's a clip from the Broadway production:
The plot concerns a family-owned shoe factory in the north of England. When upwardly mobile Charlie Price (a generally appealing but somewhat ingratiating Steven Booth) inherits the struggling business from his father, his all-around decency leads him to put his new life in London on hold and find a way to save his employees' jobs—leaving his fancy fiancée Nicola (Grace Stockdale), who happens to look amazing in a short dress and pumps, to feel left out and very irritated.
But the beating heart of the show is Lola, a drag performer who inspires a light bulb moment for Charlie, who sets out retooling his production line to make high-heeled boots in ladies' styles that are sturdy enough for cross-dressing men to wear. The production depends on an instantly charismatic Lola, and it has one in Kyle Taylor Parker. The exaggeratedly rolled Rs and humorously theatrical line-readings may be rooted in Billy Porter's original performance of the role on Broadway, but Parker brings a winning charisma that puts the audience in his corner from moment one.
The feature attraction, particularly in a first act that sizzles at length once it stops fiddling around and introduces Lola, is Lauper's dancefloor-ready songs. Unlike the progressive disco of David Byrne's sung-through musical "Here Lies Love," these songs don't advance the form. Most could have been on the radio at any point since the late 1970s. But just try to resist the gaudy charms of "Sex Is In The Heel," subject of a busy and impressive set piece in which Lola hips Charlie's factory workers to the amorous appeal of a well-made shoe. (Parker's finest moment, though, is the ballad "Not My Father's Son," which he delivers with glistening soulfulness that almost recalls Aaron Neville.)
Lindsay Nicole Chambers is a scene-stealer as the plainspoken factory employee who, we all see right away, deserves Charlie more than does his fiancé. Aided by the witty choreography of Jerry Mitchell (who also directs), she is hilariously self-conscious in the solo number "The History of Wrong Guys," feeling the full force of a new crush while making a running gag of air-conditioning her underarms.
Though Booth's Charlie is called upon to provide the occasional burst of angst, the story generally glides forward without friction; when complicating plot points appear, they do so out of nowhere and are quickly resolved. Some stuff about unresolved father issues is thrown in, but "Kinky Boots" is all about enjoying the ride and is not terribly concerned with being coy about the destination.
David Rockwell's set creates various locations inside and outside the Price & Son shoe factory, but amps up the glam (and the LED lights) for a climactic runway show. Gregg Barnes outfits Lola and company in the most gloriously gaudy costumes, conjuring more than a hint of Las Vegas in the showy closing number.
This raucous finale, "Raise You Up/Just Be," is a self-affirmation anthem that proudly wears its platitudes on its sleeve. Its sing-along lyrics hit with blunt force—"Just be who you wanna be/ never let'em tell you who you oughtta be/ Just be, with dignity/ Celebrate yourself triumphantly"—but land with the oracular wisdom of a "We Are Family."
"Kinky Boots" is not a complicated theatrical creation, and it holds no ambiguous lessons. It's a high-energy romp that invites the audience to applaud itself. And what could be more in-tune with contemporary culture than that?
"Kinky Boots" is at the Boston Opera House through Aug. 30. 
Jeremy D. Goodwin contributes regularly to The Boston Globe, The ARTery (where he is also an editor), Berkshire Magazine and many other publications. See more of his work here. Follow him on Twitter here.