Strike A Party Pose: With Glow Sticks And Glitter, New Rave Yoga Trend Hits Boston
04:26
Play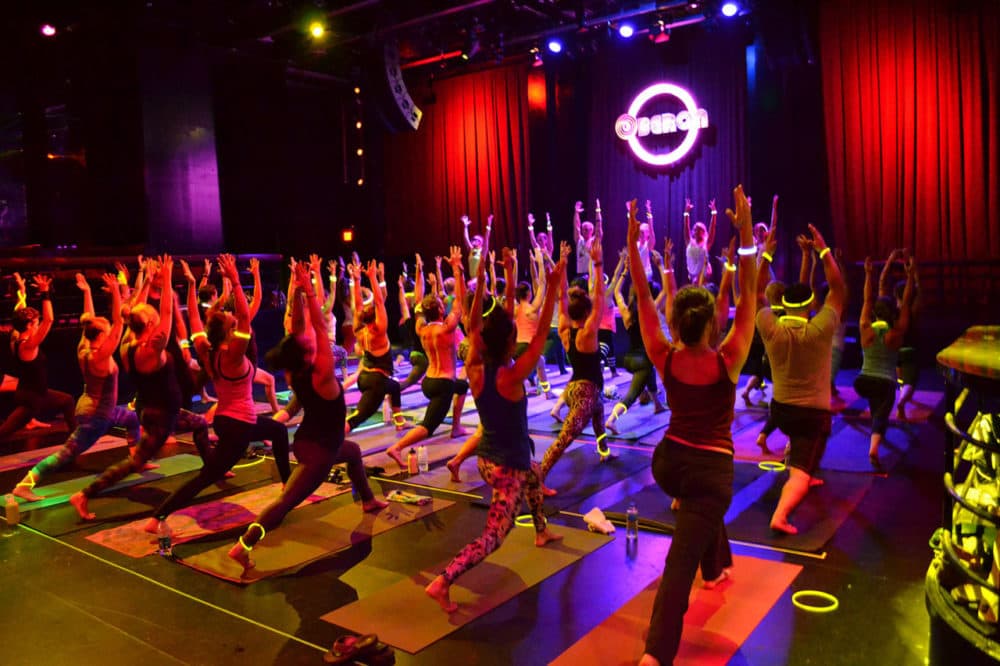 This article is more than 5 years old.
Some things just go together: bread and butter, peanut butter and jelly, white and rice. But yoga and raving?
Recently, more and more people have been saying "yes" to the unexpected combination.
There's No Problem 'Grooving A Little Bit' While Doing Yoga
About 50 people, ranging from age 18 to 60, lined up yoga mats at Club Oberon in Harvard Square. They were wearing what you'd expect of yogis: leggings, shorts, athletic tank tops and T-shirts. But there were other accessories you might not expect, like glitter, neon face paint and glow sticks. For most participants, it was their introduction to "rave yoga."
Sarah Bowman, of Salem, was one of the newbies.
"So far it seems pretty great. I like the music, everybody's super glowy, and I don't know, it looks like fun," she said during the Aug. 5 class. "I've never done anything that combines rave music and yoga before. I've done each thing independently but not together."
There were also more men than you might typically find at most yoga classes.
"I like good, loud music and yoga, so I think this will work well," said Jurrien Timmer, one of several men who took the class that day.
Yoga raves have popped up across the globe -- from Argentina to Thailand — as alternatives to the drug-fueled parties that keep people out well past sunrise more commonly associated with rave culture.
The movement spread to the U.S., moving from California to New York, and now, to Boston, where most of the yoga rave options are early morning, before-work events.
The inspiration for the Cambridge event was a little different than most, explained David Magone, a longtime yoga practitioner and teacher.
"I was at a concert of the Icelandic band Sigur Rós, and they're really well known for doing amazing concerts with beautiful lights," he said. "I was at the show, and I was really inspired, and I thought it would be so much fun to do yoga in that type of environment."
Magone has been teaching his own type of yoga for 15 years. His classes have been named the "Best in Boston" by Boston Magazine, and his studio is listed among the top 25 in the world by Travel and Leisure magazine.
Magone is committed to his regular classes, stressing the combination of physical practice and meditation. He said he's excited to shake things up a bit, too.
"If you're simply trying to reduce some of the stress in your daily life, and you want to be able to practice in a modern context, then I think it's totally cool to move a little bit and have fun and even to dance while you're practicing," he said. "Personally, it's just my view, but I don't see any problem at all with grooving a little bit while you're doing some yoga."
He says that's why he hopes to host more events like his rave yoga class.
That day, the crowd seemed quite in support of grooving while doing yoga. Donna Hughes, of Brookline, said it's a great alternative to traditional classes.
"They serve different purposes in your life. Sometimes you get strength in music, and sometimes you get strength internally," she said. "I think it just depends on what you want when you show up. What I wanted was to party. Yeah, I got it."
Like most yoga classes, this one ended with everyone in corpse poses — releasing their thoughts and stresses with deep breathing and mediation.
But there was a twist, as glitter confetti dropped from above.
"That's certainly a first for me, and probably for most people," Timmer said. "I didn't know what the hell was going on. So, you're not supposed to open your eyes in Shavasana, but you have to kind of look, and then you see it all coming down from the ceiling, which is a really cool, kind of a hypnotic, visual effect. So that was a very nice touch."
Everyone left with smiles on their face -- which Magone says is the point of yoga.
"I'm not sure it really matters how you practice," he said. "As long as you're feeling better at the end of it, and as long as that better feeling helps you to benefit yourself and others, then I think that's a wonderful practice, no matter how it's presented."
All that really matters, Magone says, is that you find a way to calm destructive emotional states. So: Yoga and raving. Tranquility, peace, balance — and throbbing bass lines.
Namaste.
This segment aired on August 17, 2015.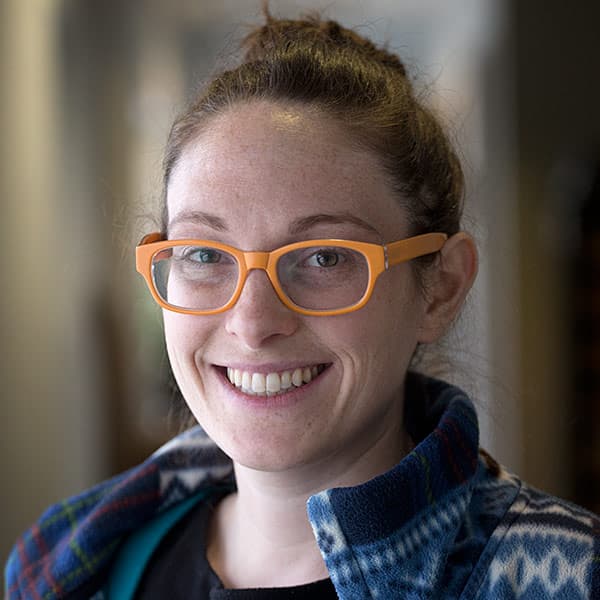 Rachel Paiste News Writer
Rachel Paiste is a news writer and editor at WBUR.