With Win Last Weekend, Boston Poetry Slam Team Sweeps All 3 National Titles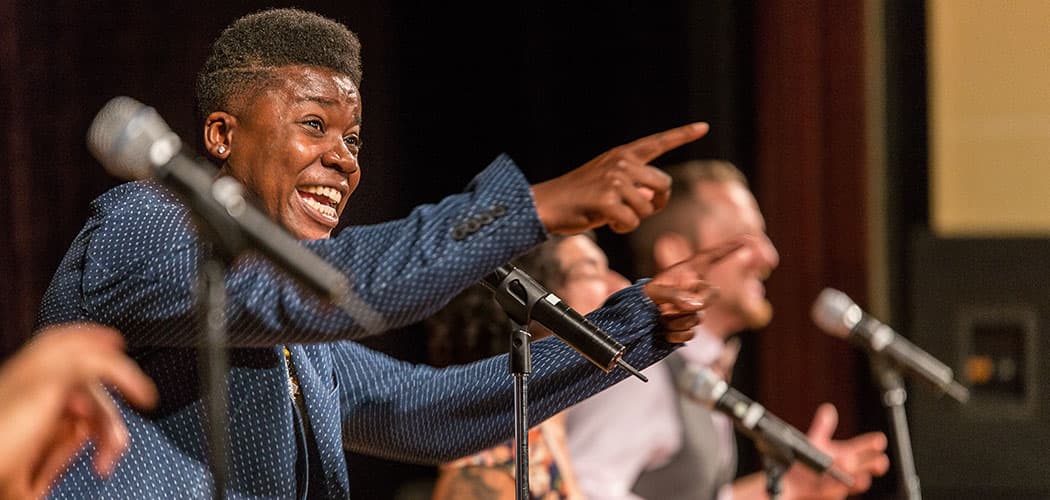 This article is more than 7 years old.
In the world of slam poetry—a competitive version of spoken verse—there are three top national prizes: individual champion, Women of the World champ (for poets who live their lives as women) and the National Poetry Slam team championship.
Last October, Porsha Olayiwola—who, along with Janae Johnson, co-founded the House Slam at the Haley House Bakery Café in Boston's Dudley Square in July 2014—won the Individual World Poetry Slam Championship in Phoenix, Arizona. In March, Johnson won the 2015 Women of the World Poetry Slam Champion in Albuquerque, New Mexico. Then on Saturday in Oakland, California, House Slam's five person team—Olayiwola, Johnson, Melissa Lozada-Oliva, Jonathan Mendoza and Erich Haygun—beat 71 other teams from all over the country to become National Poetry Slam Champions.
This made House Slam "the first venue in history to simultaneously hold the country's three major slam titles," according to Poetry Slam Inc., the organizing body.
Slam poetry, in case you're unfamiliar, involves poets reciting original, three-minute compositions that are graded on the spot, Olympic-judges-style, by "randomly selected" audience members each night. The readings can bring to mind beatnik patter, rap battles, personal confessions, political rants, stand-up comedy and street preaching.
The House Slam team leans toward topical poems of protest and liberation. "Poetry has always been a response to what's happening in the world. James Baldwin, Langston Hughes, they were responsive to what was happening in the moment," Johnson says. "…There's a lot going on right now. There's a shift in the culture as far as, like, the culture I was born into and as far as it is now. Gay marriage was legalized. … There's an awareness of Black Lives Matter, of how many black people are being killed at the hands of police.
"That," Johnson says, "is transforming how people think, is transforming how people treat each other."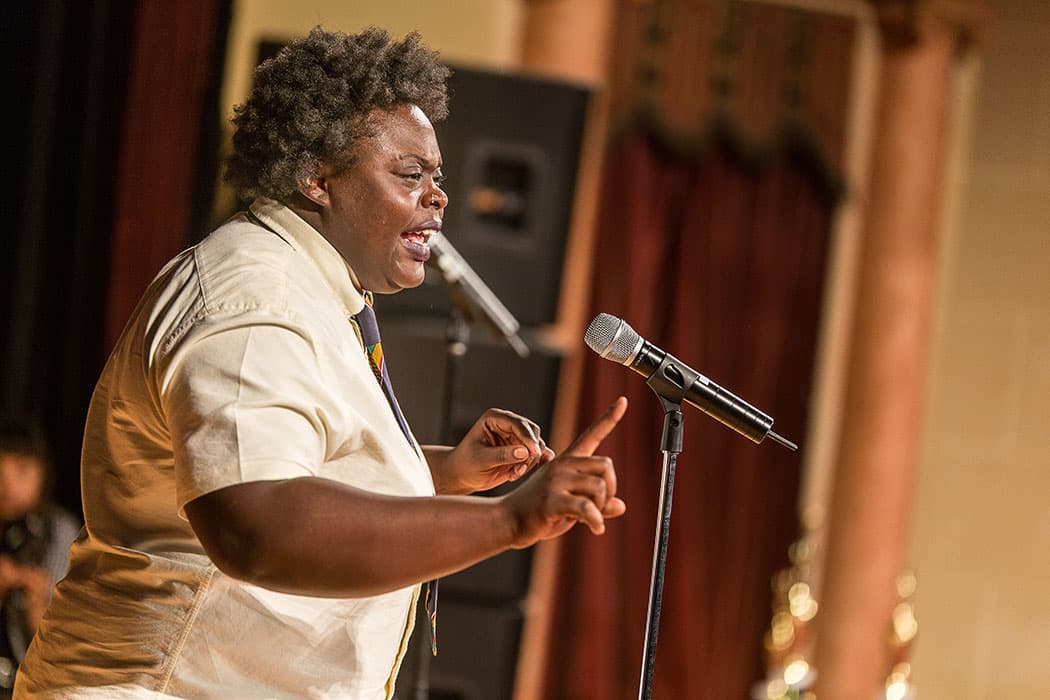 At the Women of the World competition, Johnson performed a poem declaring "Motown music was its own civil rights movement." She recited her poem "Hallelujah," a charged, joyous, sexy celebration of lesbian romance that begins "Hallelujah to the booty." (Highly recommended—though probably not safe to watch where you work.)
At the Individual World Poetry Slam Finals, Olayiwola delivered a fierce poem about being accused of sounding "too stupid, too poor, too black, too woman" and her heartbreaking poem about "Father's American Dream": "He didn't say to hell to his family and walk out. ... No my father was an immigrant, so he got reported on that sh*t, was kicked out of this country."
The national team competition in Oakland was four nights of slam poetry that began last Wednesday. It came down to four teams performing Saturday night at Oakland's Scottish Rite Theater—Hawaii; Berkeley, California; Denver, Colorado; and House Slam from Boston.
In the first round, Olayiwola delivered a poem "about how individuals forget about women's voices in the Black Lives Matter movement," Johnson says. In particular, Olayiwola spoke about the absence of outcry over the fatal 2012 shooting of the unarmed Chicago woman Rekia Boyd by an off-duty police detective. In the second round, the whole team performed a group piece declaring "dancing is what sets us free."
But heading into the third of four rounds, the Boston team found themselves in second, trailing Hawaii. "It was a pretty close bout," Johnson says.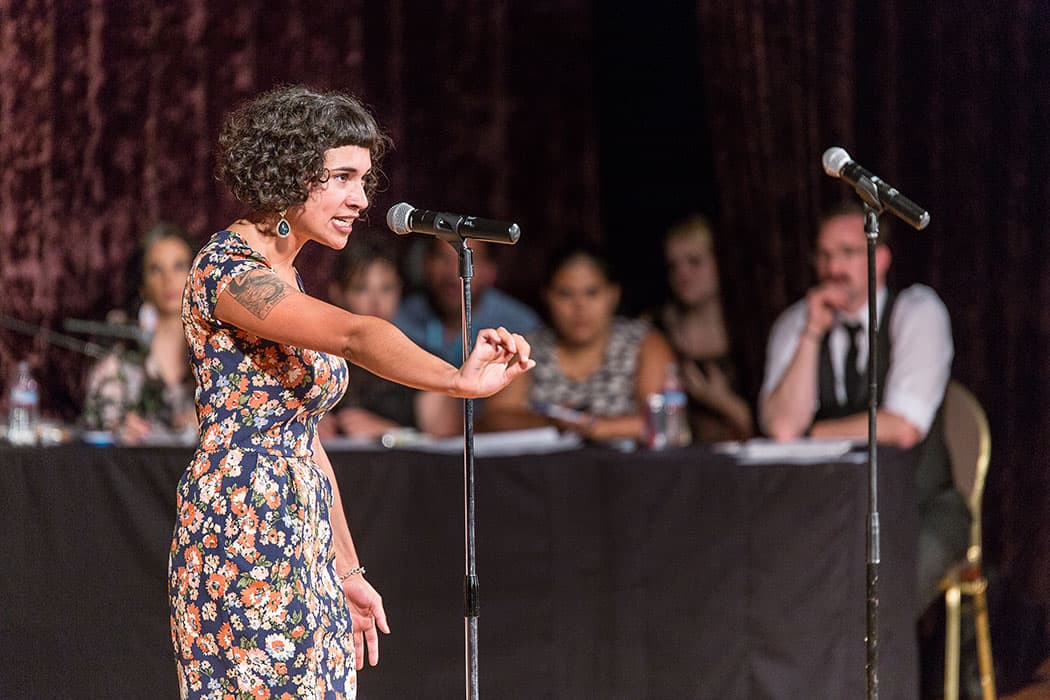 Johnson performed a poem about "black rage," connecting an apology she was forced to give after a childhood fight with now, as an adult, "having to hold in the microagressions and not being able to express yourself freely." In the fourth and final round, Lozada-Oliva responded to a New York poet's mocking of millennial women's ways of speaking by charging that "men silence women's voices."
"I knew that when Melissa did her last poem, when we got the first judge's score, that we'd won," Johnson says. They were awarded two trophies—including one resembling a sword stabbed through a pile of books. They hugged. "There were definitely tears."