Strandbeests—Giant, Wind-Powered, Centipede-Like Robots—To Walk Around Boston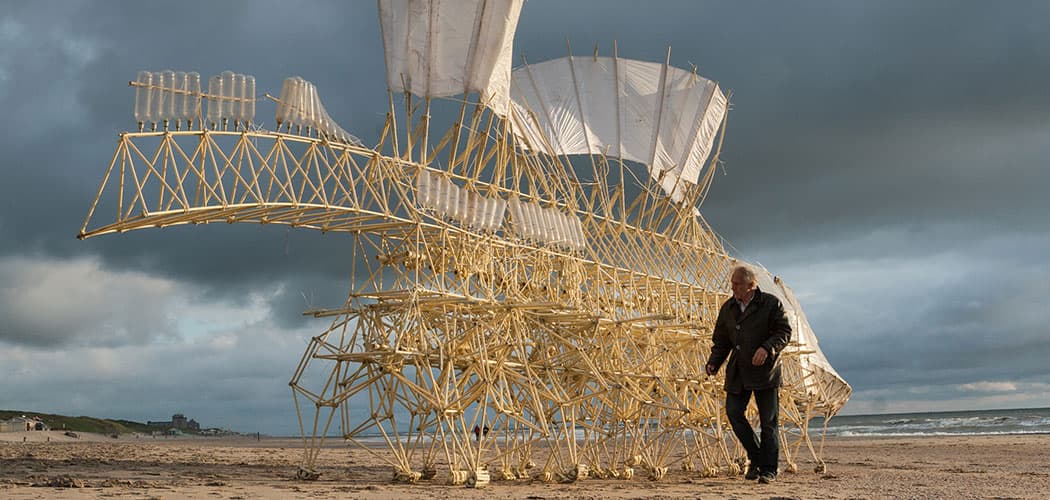 This article is more than 5 years old.
This piece was originally posted on Aug. 19, 2015. 
---
This Saturday will be your first chance to see the giant, Internet famous, wind-powered, centipede-like robots known as "Strandbeests" (Dutch for "beach animals") running loose in the Boston area.
"It gets a gust of wind and it kind of wobbles. Then when it starts to move, your heart goes out to it," says Trevor Smith, curator of "Strandbeest: The Dream Machines of Theo Jansen," billed as "the first major American exhibition" of the Dutch artist-tinkerer's kinetic sculptures, which opens at Salem's Peabody Essex Museum on Sept. 19. The exhibition will showcase "Strandbeests," as well as "fossils" of parts, recordings of the artist and photos documenting the kinetic sculptures over the years. "The videos look like magic. The videos are about that dream of perpetual motion."
You can see "Strandbeests" in person during one of the several public walks the Salem museum has scheduled:
10 a.m. to noon Saturday, Aug. 22, at Crane Beach in Ipswich
11 a.m. to 1 p.m. Friday, Aug. 28, at Boston City Hall Plaza
4:30 to 7 p.m. Friday, Aug. 28, at Dewey Square on Boston's Rose Kennedy Greenway
5:30 to 7 p.m. Thursday, Sept. 10, on the plaza outside the MIT Media Lab, 75 Amherst St., Cambridge.
The "Strandbeests" are elaborate, elegant and fragile-looking contraptions, assembled from open skeletons of plastic tubes. The largest one in the exhibition comes in at 10 feet tall and 42 feet long, Smith says, though they average around 7 feet tall and a dozen feet long. Many have spined wings made of plastic sheeting and clear tape that wave in the wind like the wings of an insect testing the air for flight.
"Strandbeests" can appear alien. But also like something cobbled together by someone who grew up in lashed-together stilt houses and aboard old sailing ships. Or they can give the impression of a robot assembled in his spare time by a daydreaming Leonardo da Vinci.
Their wind-driven walking seems part insect, part like a team of horses. Their PVC pipe construction can give the impression that they'd sound like dancing skeletons. At times, the wind whistles through them. You can hear the sound of plastic squeaking against plastic. Altogether, it seems uncanny—as if these machines are feeling their way along, as if somehow they're thinking.
"I first encountered 'Stranbeests' the way a lot of people did," Smith says. "Someone suggested I check out a website. People are suggesting I check out things all the time. It's much rarer that it's something I hadn't seen before. … When you see those videos, you feel it in your body. You kind of empathize with these creatures."
Jansen, who grew up on and continues to live on the northwestern coast of the Netherlands, around The Hague, had been painting landscapes. But he'd also studied physics. Then, Smith says, "around 1980, he few a UFO over the skies of Delft and sort of caused a 'War of the Worlds' sensation." It was a helium-filled saucer covered with plastic sheeting that emitted beeping sound-effects. People stared and police chased it before the untethered, uncontrolled craft drifted off toward Belgium. "It made him think that maybe painting was not the best way to make an image that would impact the world."
Jansen subsequently invented a painting machine. Then, in 1990, he published an idea in a newspaper column he was writing regularly of whimsical observations of everyday Dutch life and customs. On this occasion, he sensed that the beach tides seemed higher than usual.
"He sort of imagined there was some sort of creature that would pick up the sand and place it on the upper part of the dunes to protect against the rising seas," Smith says. This response was part of the perpetual Dutch question of how to reclaim land from the sea and then how to defend it from being taken back by the waters. "It's more evocative of something we're all thinking about now. This Dutch obsession has kind of become a global obsession."
Half a year later, Jansen began concocting what would become his first "Strandbeests." Smith says, "He just kind of becomes obsessed with this idea. He decides I'll give myself a year to work on this. The project turned out to be longer-term and much more all consuming than that. Over time, it became less about piling up sand and more about the nature of life, evolution, how we decide if things are alive or not."
Greg Cook is co-founder of WBUR's ARTery. Follow him on Twitter @AestheticResear or on the Facebook.